Burning the Midnight Oil for a Brawny Recovery
"Tell me how spending $8 billion,"
asked House Minority Leader John Boehner (R-OH) on the floor,
"in this bill to have a high-speed rail line between Los Angeles and Las Vegas is going to help the construction worker in my district."
(h/t Matthew Yglesias)
Now, lets look at the Federally Designated Corridors -- and you have to have a designated corridor to get any of the $8b. (Update: Full size maps here)
Yup, no corridor to Vegas. Oh, and what's that we see ... two, count 'em TWO corridors through Ohio ... Cleveland to Chicago and Cleveland / Columbus / Dayton / Cincinnati.
Update at bottom of main text below the fold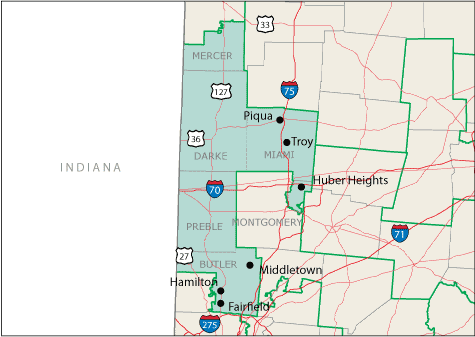 Indeed, the Triple-C route ... which at present has no interurban rail service, because back in 1960, Columbus was a little cow town of 300,000, and its growth to a metro area of 1m+ happened during Amtrak's long struggle to avoid the ax ... goes right past through Boehner's District.
And look more closely, at the full fledged Ohio Hub: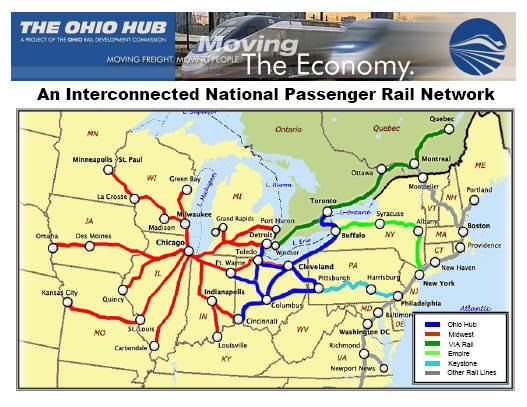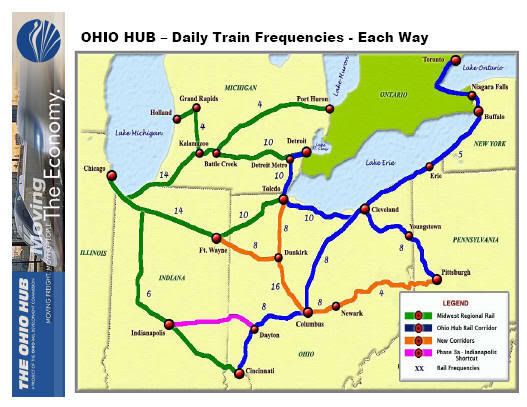 ... if we can roll out the system, Boehner's constituents will be able to catch a train in outer northern Cincinnati or Dayton and get to Philadelphia, or New York, or DC. Now, y'all who live in big metro areas might think that's a long trip ... but the reality for someone living in Boehner's district heading to one of those destinations is normally a much longer drive to an airport, then a puddle jumper to a hub, then a flight to the destination.
And getting "shovel ready" projects on the corridor is straightforward. Since the Ohio Hub is designed along existing rail rights of way, there are few alignment headaches to hammer out. And since it is targeted to being a 110mph Rapid Rail system, one of the essential projects required will be upgrading crossings to the quad gates, speed-sensitive train detectors, and improved signaling to allow crossing at 110mph.
That is, a large number of small upgrade projects, spread across the state. Including projects just east inside of Boehner's own district, therefore certain to be employing some of Boehner's own constituents.
Look, Boehner -- can I call you John? No? How about Clueless Dick, would that be alright? -- you are trying to undermine work for your own constituents, to get a substantial down payment on a transport system that will, one day, be highly valued by your constituents.
When they do the redistricting, I hope they take your "safe" Republican district and do to you what you SOB's did to Franklin County Democrats after the 2000 Census. I just want to see you defending your fight against jobs and economic opportunity in Southwestern Ohio in a swing district.
Now that would be Change that I would Really Truly Believe In!

Update
With 400+ comments, and well over 100 by people other than myself, there's a lot of additional information which would take a while to find in the comment thread.
The Ohio Hub ... this is not a "flight of fancy" ... the Ohio Rail Development Commission has put in a lot of work into the preliminary planning of the system. According to their analysis, the 79mph version of the system would recover between 80% and 90% of operating costs, while the 110mph version of the system would recover more than 100% of operating costs. The 2004 estimated project cost, in 2002 dollars, was about $3.9b in infrastructure spending, and about $4.9b for the whole system, trains and all. When I say "under $10b", its to avoid arguments over appropriate inflation indexation.
RTFM: the maps have labels that say what they are. The maps above are not Amtrak Maps and they are not a proposed national HSR network ... the DoT High Speed Rail Corridor designations are for corridors that have qualified for, applied for and received official designation. In many cases, such as the Front Range corridor, there is preliminary planning work going on now, but it has not reached the stage to qualify for designation. And for the Ohio Hub, the ORDC has only sought designation for stage 1, since until the final impact analyses are completed and funding for construction of stage 1 is secured, there is no immediate benefit in getting the next stages designated.
When we start building our HSR corridors, these designated corridors are furthest along to getting Federal funding and getting started ... they should be seen as the cornerstones of the eventual system, because more corridors will gain designation in the future as the first corridors begin to experience success. For example, the gap between Houston and Dallas is because the alignment has not been agreed to, between the current Amtrak route, a triangular system, or a T-bone system.
And when looking at the Ohio Hub maps, bear in mind that they do not replace Amtrak services. Indeed, when we get it up and running, it will act as a recruiter for the longer haul Amtrak services, and we might be able to get additional services on one, two, or all three of our Amtrak routes to go through the state at a more useful time of day.
Boehner is flat out lying. The funding in the Stimulus Bill is for HSR related works on corridors with HSR designation. California, for example, could apply for funds to keep its project planning and detailed impact analysis on track so the schedule for breaking ground in 2010/2011 is not upset by the ongoing (and seemingly perpetual) California budget crisis. The Northeast Corridor could apply to upgrade the overhead wire south of NYC to allow the Acela trains to run at 150mph instead of the current 135mph speed limit, and to fast-track the Connecticut alignment straightening projects so it does not have to crawl at regular Amtrak speed between NYC and New Haven.
And, of course, the Commissions overseeing the majority of the designated corridors, like the Ohio Rail Development Commission, can put together packages of projects that are part of the works required for their corridor, which will both speed up establishment of the systems when they are funded, and make it easier to fund the systems by bringing down the amount that has to be funded.
And "$8b for Sin City to Hollywood" is therefore a pure and simple lie, because in the time it would take to get designation to add Las Vegas to the California system, much of the money will already have been handed out.
This is not the be-all and end-all. Don't fall into the Republican Trap of playing off local transit against inter-regional transport, and bullet trains against Rapid Rail against Interurban Express services. On the same logic, the road system would choose between having a street in front of our house and having an Interstate Highway.
And in particular, supporting the Rapid Rail Ohio Hub is not opposing a bullet train from NYC to Chicago ... quite the contrary. The Ohio Hub would allow a bullet train from New York City to Chicago to start operating as soon as the first main stage of the corridor finished construction, with the rest of the route finished on the Rapid Rail network ... and once the bullet train corridor has been finished, the Ohio Hub will act as an important recruiter for the bullet train.
After all, Japan, a long time innovator in bullet trains, is also a long time innovator in Rapid Passenger Rail, and Spain, whose AVE system is rapidly coming to dominate the air transport market between Madrid and Barcelona, is another one of the early leaders in Rapid Passenger Rail tilt trains in its existing rail corridors.
Yes, we should have bullet trains. But in such a large and diverse country, we should not settle for bullet trains and nothing else: we should aim higher than that. The Ohio Hub is well-developed plan that can be part of that broader ambition.
Prior work. For those who missed it the first three times, I also have a proposal for a nationwide rail electrification to provide Rapid Passenger Rail coast to coast, save 10% of our petroleum imports, and allow the transcontinental Amtrak services to crank along with 110mph all-electric trains. Not as exciting as calling Boehner names, I know, but still, I quite like it. The three part series (with related diaries) is indexed in my "Christmas List" diary: Action: Green Transport for Christmas