While the financial crisis may have been triggered by subprime losses, the current problem is that losses from overleveraged toxic exotic assets such as synthetic CDOs are pushing large investment banks into insolvency.
More after the flip:
At this point, mortgages are little more than a talking point used to squeeze additional taxpayer dollars to cover losses from derivatives.
The subprime mortgages that started all the trouble have mostly been written down already and the capital replaced. What's left on the balance sheets – the problem US Treasury Secretary Timothy Geithner is now trying to grapple with – are the collateralised debt obligations, and especially the synthetic ones.
Synthetic CDOs are securities backed by insurance (credit default swaps) instead of physical assets.
A Collateralized Debt Obligation is a financial product based on an asset, where the asset is an income stream (of the type being made by buyers of CDS to sellers). To create synthetic CDO's all that was necessary was to divide up the CDOs into groups which would enable buyers of CDOs to buy into a spread of payments from a range or portfolio of different companies rather than just one. Unlike normal CDOs the synthetic variety didn't need to own an underlying bond or equity...The wider CDS and CDO markets are estimated to be worth as much as $40-50 Trillion.

The companies involved represent some of the largest, and what were seen more than a year ago as the safest companies in the world. Companies that were then seen as being a very remote chance of defaulting – think Freddie Mac, Fannie May, American Insurance Group, Ambac, MBIA, Countrywide Financial, Lehman Brothers, and Bear Stearns, to go with major corporates such as GM and Ford, and even international institutions such as Icelandic Banks – which have now either passed into history or which are fending off the prospect, remain parts of the portfolio for numerous synthetic CDOs.

The way that the synthetic CDO is often structured means that when an 'event' – which is often the default of a number of companies from a portfolio, often more than 100 companies - occurs the sellers are looking at paying off, with the size of the payoff varying according to the number of companies which are defaulting. As an example - and a regular one - 33% when, say, 7 companies from the list are in default, 66% when 8 companies are in default, and complete redemption when 9 companies from the list are in default.
CDSs were the poison by which huge institutions such as Washington Mutual, Bear Stearns, and Lehman Brothers met their ill-begotten fate.
Under the rescue deal, JP Morgan Chase will take over Bear Stearns' $13.4 trillion contracts - lock, stock, and barrel.

But JP Morgan is already up to its neck in this soup, with $77 trillion of contracts. It will now have $90 trillion on its books, a sixth of the global market.

Risk is being concentrated further. There are echoes of the old reinsurance chains at Lloyd's, but on a vaster scale.

The most neuralgic niche is the $45 trillion market for credit default swaps (CDS). These CDS swaps are a way of betting on the credit quality of companies without having to buy the underlying bonds, which are less liquid. They have long been the bête noire of New York Fed chief Timothy Geithner, alarmed that 10 banks make up 89 per cent of the contracts.
The biggest issue with the default swaps is that their value exceeds the size of the market against which it insures. (H/T to Jamess)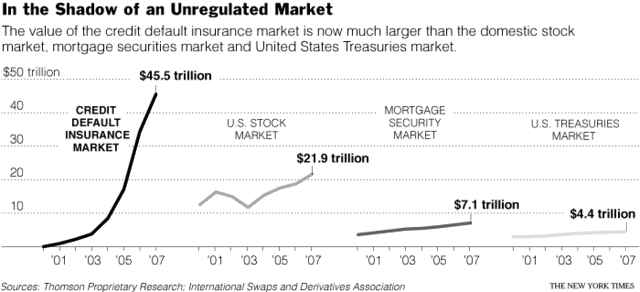 According to former Fed Director Bob Eisenbeis, the problem we are facing is neither liquidity or lending. It is in fact an accounting problem. He suggests that the solution is to turn off the Treasury / Fed spigot, and allow the FDIC to seize insolvent banks such as Citigroup.
The law, the Federal Deposit Insurance Corporation Improvement Act, was signed into law in 1991. In an interview with Financial Week, Bob Eisenbeis, a former research director of the Federal Reserve Bank of Atlanta, said the FDICIA contains more than enough tools for regulators to help stem the current financial crisis.

If regulators had applied FDICIA's provisions once the solvency of major banks was first called into question, Mr. Eisenbeis said, many would already have been taken over by Uncle Sam.

That would mean that their good assets would have been separated from their bad and sold off to healthy institutions or other investors. This, he claims, would have gone a long way toward solving the credit crisis.

The most obvious candidate for such a takeover is Citigroup, which is considered by many analysts to be insolvent because its liabilities are worth vastly more than its assets. Christopher Whalen, principal in the financial consulting firm Institutional Risk Analytics, estimated on Friday that Citi needs roughly $200 billion in additional capital, and that this would become apparent after the bank reports further losses in the first quarter of this year.
Further insurance of toxic assets would be a complete waste of public money, as the debt is being valued at less than 10 cents per dollar in the market. Under the Financial Stability Plan, taxpayers could lose an additional trillion dollars.
Public-Private Capital: This new program will be designed with a public-private financing component, which could involve putting public or private capital side-by-side and using public financing to leverage private capital on an initial scale of up to $500 billion, with the potential to expand up to $1 trillion.
Its likely that the public will give up at least 70% of that investment since that is the current spread between the treasury's price (80c per dollar) and the market price (10c per dollar).
Beyond the fiscal problems, there is widespread crime hiding behind the derivatives market bailout. Offshore accounts were used as a go-between for derivatives and their insurance.
In a recent Financial Times article, Lloyd Blankfien, CEO of Goldman Sachs, noted that in January 2008 there were 12 triple-A rated companies worldwide. At the same time, there were 64,000 structured financial instruments, such as collateralised debt obligations rated triple-A. A significant portion of these CDOs (an acknowledged source of much pain in the current situation) were domiciled in offshore jurisdictions.
Sites such as the Caymans where special purpose vehicles for derivatives were setup are home to trillions in tax evasion.
The Cayman Islands – Caribbean territories under ultimate UK control – are currently the target of reformers. Alastair Darling was yesterday challenged in the Commons over allegations that UK banks have been using the Caymans for massive tax avoidance schemes. Barack Obama, before he reached the White House, was one of the senators who singled out the islands as a blot on the US fiscal landscape which ought to be investigated.

Elmer says his interest is in the network of tax havens. "People don't know how the system works. They may hear of some case, but the big picture always disappears into bank secrecy, professional secrecy with lawyers and accountants, and tax secrecy. But they need to know that this is a system which undermines our society, our democracy." He has lodged copies of files with Jack Blum, a veteran lawyer in Washington DC and an outspoken critic of the behaviour of tax havens.

Lawyers and accountants make up a tenth of the 52,000 population of the Cayman Islands, which are English-speaking, politically stable, in the US time zone, and with zero taxes. This British Overseas Territory with palm trees and luxury hotels, measuring less than 100 square miles, is the fifth largest financial centre on the planet. Tax Justice Network campaigners estimate that tax havens collectively hold more than $11.5 trillion. Some comes from tax avoidance. Each year the US may lose a total of about $100bn in potential taxes, France about $50bn, Germany $30bn, the UK between $20bn and $80bn - and the developing world loses up to $800bn in stolen capital. But in the Caymans, a prison sentence awaits anyone who discloses bank information.
As Markopolos testified, offshore sites are seeded with between 5 – 50% money from organized crime.
Major players in the derivatives market such as AIG are being investigated for fraud.
Set up by Cassano, who ran it until he left in March, AIG-FP wrote billions of dollars of CDSs, largely insuring against potential default rates on parcels of corporate debt and home loans known as "collateralised debt obligations" (CDOs).

Between 2004 and 2007 the notional value of CDS contracts across the global markets ballooned from $8.4tr to $62tr. London was a major hub for the trade. AIG-FP reportedly paid staff $3.56bn in the last seven years. The unit had 377 people.

The SFO's inquiries are being conducted in co-operation with the Financial Services Authority and with US authorities, which are probing the same business. In November AIG told shareholders "certain public disclosures, transactions and practices of AIG and its subsidiaries" were being reviewed by the SEC and the Department of Justice. Investors were told attention has been focused on "AIG's valuation of and disclosures relating to the AIG-FP super senior credit default swap portfolio".
Its time to plug the taxpayer drain, seize the insolvent banks (no matter the size) and arrest any firm which refuses to disclose proper accounting for their role in the derivatives market. We have to bury the zombie banks before the remainder will regain their health.