So, how is that bi-partisanship going here in California? Not so much. Calitics has been following the action with grace and much needed info for us poor citizens who are locked out of these budget negotiations. We're left out in the cold, literally (Well, except for twitter which is keeping us in the loop). Cutting like crazy, tax hikes we can't afford, the whole thing is FUBAR on the scale of The Daily Show's, "Clusterfuck to the Poorhouse". This is the phrase I use and have used for a while to describe California's failing "Democracy".
California lawmakers worked into early Wednesday but couldn't pass a budget to avoid the possibility of laying off 10,000 more state workers.
But it was the headline that got me. Those we've elected to run our state "Can't solve the budget crisis". The only reason? Ideology. Hard nosed, don't budge an inch ideology that goes before what's doing best for the 8th largest economy in world. THE WORLD.
I've written about the no tax pledge signed by all Republicans in the legistlature in August of 2008 (except one). This kind of promise is not possible. Then you have local radio hosts putting people heads on sticks because why? Who knows. They admit at least Democrats didn't sign a pledge.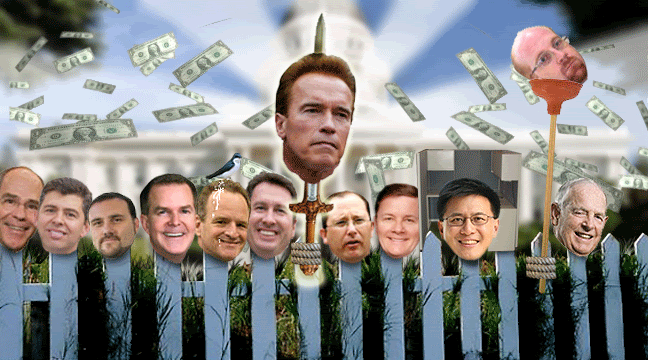 Republicans, they can't budge because they painted themselves into this ridiculous corner.
Lawmakers brought blankets and toothbrushes to work Tuesday, planning to stay as long as it took to pass a budget, but as of 2 a.m. PT (5 a.m. ET) Wednesday, it appeared they had taken a step backward.

Late Tuesday, Republicans ousted their leader, Sen. Dave Cogdill of Modesto. The move was likely to complicate debate because Cogdill had headed up negotiations with Democrats on the budget impasse.
Cogdill not only headed up negotiations, he was speaking reasonably and like someone who was able to put their ideology after what is best for the State.
"My deal, one more time, has always been that I would try my best to get it to a position where I felt it was as good as I could get and I was willing to release my members," Cogdill said in a brief interview in the hallway outside his office. "That's where I am. So I'm not guaranteeing any votes; it's up to them (his members) to make that decision."

"But I've negotiated it to the point where I think it doesn't get any better," Cogdill said.
This is a mess. I wrote yesterday about how even if we laid off all Government workers, we'd still have a 16 billion dollar hole. That would mean closing schools, national parks, prisons, the list goes on. That would mean the end of California as we know and I don't doubt that this makes many Republicans giddy with joy.
So why do I think this is important at Daily Kos? Because it's just a symptom of a much bigger issue. California is where this started with the Howard Jarvis tax revolt of the seventies and the birth of Ronald Reagan as the great conservative thinker of the late twentieth century (eye roll). California is feeling it now, America is going to feel it worse if we continue to let Republicans push this poison called trickle-down economics. It has failed and this State is held hostage (Thanks Calitics) by just a handfull of overzealous and very far right politicians because of our State's 2/3's rule. No new taxes, no budget without 2/3's and as of last night, we were under the impression that this hinged on the vote of one Republican Senator. ONE.
So, we can listen to them, just has Obama has and hopefully learned from, but we can't let the crazy people run the asylum, it's basically sending California down a spiral it may not come up from. This doesn't just impact California, this would hurt the whole Country.
So yes, I think it's relevant for Daily Kos and I think it's relevant for the whole Country. Republicans want to obstruct progress because it proves them wrong.
I know that California's solution is far from perfect, it's quite fucked up actually as education and every other vital service to our State is being slashed (almost $800 per student in my daughter's school district alone, talk about "Generalional Theft"). But I do think as progressives we have to remember that it's "Progress, not perfection". We're not perfectionists, we're progressives.
So as Republicans sit on their hands and refuse to budget, the rest of us wait to see if one State Senator can grow a conscience and do the right thing. And we hope that the rest of the Country realizes that, no, the stimulus package isn't perfect, but it's progress. Slow and steady wins the race. We have to keep this in mind always.