In the most horrific day in Oakland Police Department history, a parolee shot to death three police sergeants within two hours of one another Saturday afternoon.

When officers tracked down the suspect, a fourth officer was shot and was in critical condition Saturday night.

The three veteran officers killed were sergeants: Mark Dunakin, 40, of Tracy, a traffic officer with the department since 1991; Erv Romans, 43, of Danville, a 13-year veteran with the force; and Dan Sakai, 35, a nine-year veteran, police said.

(snip)

Officer John Hege, 41, of Concord, was on life support at Highland Hospital.
Officer Hege was declared brain-dead earlier today.
Gov. Arnold Schwarzenegger visited the officers Sunday afternoon but did not comment publicly.

Inside, he met with the officers to express his condolences and tell them how much he appreciates what they do, said an officer who was there. Schwarzenegger also spoke about finding state money to reward witnesses who aided police Saturday, said Oakland Mayor Ron Dellums.

As news of the officers' deaths spread, police officials received calls and offers of help from around the country and the world, including Australia, Canada and France. Residents placed dozens of bouquets of flowers and cards and letters of support outside police headquarters Sunday.

There was little information filtering out about the traffic stop and circumstances surrounding the fatal shootings. Thomason said that everyone wants answers, but the investigation is not done.
Here are these men: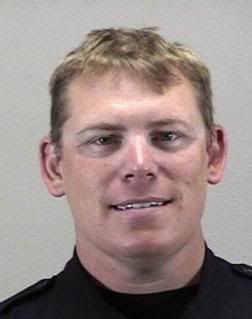 Sgt. Mark Dunakin, 40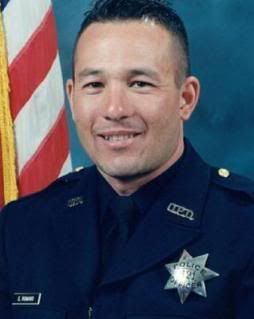 Sgt. Erv Romans, 43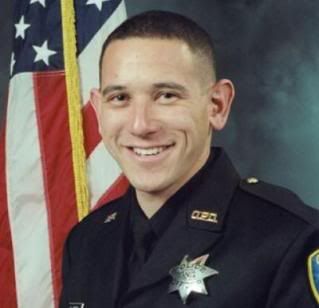 Sgt. Daniel Sakai, 35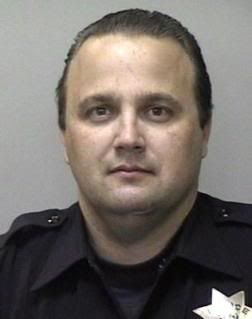 Officer John Hege, 41
What happened, with photos. Oakland Tribune.
Fifteen years ago, when I was living on the tip of a barrier island off the coast of St. Petersburg, Florida, I woke up in the middle of the night to the sound of the sliding doors of my porch being slid open. Having grown up in New York, I was very safety conscious . . . but I had hosted a party that night, that had gone very late . . . I was sure I had locked them. But as I heard that creepy slim sound, I became more afraid than I ever had been before.
There was no place to go, really. The sliders were in the living room, next to my bedroom. And the only door was in the living room. So I crept under my bed, with my phone, and dialed 911.
The woman who answered the phone was a calm voice to my terror, and she promised help right away and told me to stay on the phone with her. And during those minutes -- that seemed like days, as I lay, terrified, under my bed, with that little lifeline to the police, I prayed very hard. The police showed up in minutes. I've never, ever been so glad to see flashlights and badges and help.
They never did figure out who opened the doors; and, frankly, I don't care. I was just so relieved to have trusted help on that scary night.
Our first responders -- our police and our firefighters -- are always there for us. None of us will ever forget the simple heroic kindness of those firefighters and police who went in -- as everyone else was streaming out -- on 9/11.
But our first responders do these miraculous acts of heroism every day.
And, tonight, four of them are dead.
Tonight, I ask for prayers or special thoughts for the families and friends of these officers in Oakland, California. I am so very sorry.