I've had about enough of this stuff, from our Congressman going John Galt to our Newspaper letting people pick on good Democrats who kiss the President on the Cheek.
I'm tired of no health care for all and a neglected infrastructure that should include more sustainable building for our schools and community buildings. I'm tired of hearing about too many taxes and not enough services from the same people who want to throw teabags at the homeless.
I'm tired. And I've decided it's going to stop. There has to be someone better than John Campbell for Orange County. THERE HAS TO BE!
Well it sure isn't me!!!!!!!!!!!!

The reality is Beth Krom is running! for Congress in my District!
But Beth Krom is that alternative we need in Orange County. Beth is the former Mayor and current City Council person for Irvine, CA. Not only is Irvine a thriving city in the heart of the OC, Obama won the 48th in November of '08. It shouldn't have happened and yet it did. It's our momment to get rid of another Ayn Rand follower in our Congress and have someone who wants to work for us, not against us!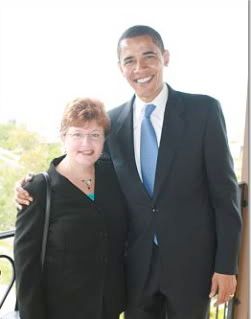 Beth Krom with Barack Obama.
My Fellow blogger Joe put it much better than I could by writing the following about Beth Krom...
She can win elections.
Beth Krom has won five campaigns, In 2006, she garnered 60% of the vote in her re-election as Mayor and in 2008, won her current City Council seat with 8000 votes more than the next candidate.

She gets things done.
We need elected officials who have experience getting things done for their constituents. Beth Krom is a strong advocate for environmental stewardship. Her vote was instrumental in cleaning up the water along the Orange County coast: she was the first "inland" representative to advocate for full secondary treatment of the effluent the OC Sanitation District pumped out into the ocean and was the "swing vote" in getting the board to fund implementation.

She's a visionary.
Beth Krom understands that Orange County needs leadership that will advance innovative, integrated transit solutions, sustainable development practices and green technology and jobs initiatives.
She can work across party lines.
Beth Krom has the respect of so many people throughout Orange County because she works with people, regardless of political affiliation, to get things done.

Irvine is one of America's best run cities.
What other Orange County elected, at the local, state or federal level, can lay claim to the legacy of forward-thinking leadership that Beth Krom has provided in the City of Irvine? "Safest City in America" four years straight; a balanced budget and more than tripling city reserves during her term as Mayor, and advancing a project of regional importance - the Orange County Great Park

The people of the 48th Congressional District - which includes Irvine, Tustin, Newport Beach, Newport Coast, Lake Forest, Laguna Beach, Laguna Woods, Laguna Hills, Laguna Niguel, Aliso Viejo, Dana Point and parts of Santa Ana and San Juan Capistrano - deserve real representation and not just a "congressional seat-warmer." Beth Krom is a candidate they can enthusiastically support.
And from Beth Krom...
"The people of the 48th Congressional District deserve a representative who will work with us, not against us; a representative who will be a tireless advocate for education, protection of our coastal resources, public safety and economic prosperity; and a leader who will show real political courage to keep all the cities of the 48th District moving in a positive direction."

When President Obama came to Orange County last week, it was very good omen. After all, he was the first Democratic President to win the 48th District in more than 60 years - and when I take this Congressional seat in 2010, we will make history again!

Let's show John Campbell and the GOP establishment that the voters of the 48th District are paying attention. Let's make it clear that strident partisanship and a refusal to work with the communities you represent will not be tolerated by the voters of the 48th.

Let's put down a marker on March 31st that shows we have set the pace for our $1 million campaign and we are going to win this seat in 2010!

Thanks in advance for your early support.

We're writing the first chapter of "Mrs. Krom Goes to Washington," and with your generous support, we're sure to make it on the best-sellers list!
Yes, Beth Krom is starting early because she must, she has to raise big money to get the attention she neds and the votes it will take to win the CA-48, but wouldn't you love to send Campbell packing and make Orange County just a bit more blue in the process?
You can donate here...
We have to be realistic, the more Progrssive Dems we have in Congress the less of this we have to put up with...