Greetings from Olympia, WA, this weekend's entry in LaughingPlanet's travel series.
The Travel Board needs volunteers for future installments. There are many wonderful places left to visit and chances are that you live in one we would like love to learn more about. If you'd like to do so, contact LaughingPlanet. You can also volunteer in a comment and I'll forward it.
Photos or not, or just a write-up about your city or region or favorite place, as brief or as in-depth as you'd like. Share your world with us! Please!
Before landing at today's destination, Olympia WA, we'll take a couple of short detours to get you situated. So lets get going.
When most people think of the Pacific North-West they generally think of Seattle or Portland which are nice places if you like huge cities but you can also spend a lifetime exploring our picturesque area and never see the same thing twice. Spend time in the city if you will but if you visit WA or OR take time to get out and see the real scenery.
Ocean
This is the Pacific part of Pacific North-West. The Pacific Ocean at Half Moon Bay,Westport Washington on 4-4-09. It was in the low 70s, sort of the first day of summer. It also gives me a chance to stick in a Woozle picture. Lots of Woozles out walking their humans that day but they were having too much fun playing to stand still for pictures. Olympia is about 40 air miles inland from the mighty Pacific.
Seattle

You might have guessed that this is Seattle not Olympia. I used this picture to orient you but mostly to sneak in my favorite picture of the big city . Kinda pretty isn't it. I lived in Seattle for 10 years and would again except that it is now too expensive and congested for my tastes.
This picture is taken from the First Hill area of Seattle. Twenty years ago I delivered the Seattle P-I early in the morning and used to take my coffee break here looking out over the city and was always impressed by it's beauty.
Now we'll travel 60 miles South. You could drive I-5 from Seattle(boring) but why do that when you can ride our super cool, high speed, Talgo Cascadia train, which operates 4 times a day between Seattle and Portland with stops at Olympia.
Cascadia Talgo shoreline running in the Nisqually Delta just north of town.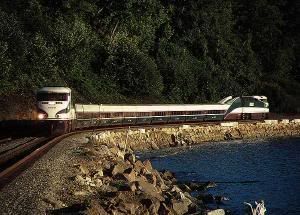 Go green. Go union. Go Amtrak.
Dress is always casual here in the NW so come as you are and feel free to kick off your shoes and get comfortable.
The State Capitol
This is Olympia or at least the Capitol. Folks in WA have a tendency to conflate the two which annoys many Olympians. Olympia is actually the the town where the capital is located and the legislature meets. Don't blame Olympians for all the hot air (See wind turbine blades unloading below ha ha.) and whatever mess they make of things. As you can tell, the capitol building is a close replica of the big one in DC.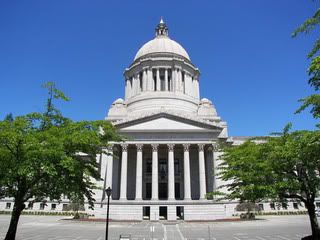 With a population of only 45,000 Olympia, the Capital of Washington State is more of a town than a city. Even with the adjoining incorporated sprawl areas of Lacey and Tumwater we have less than 100,000 or about the same as a Seattle Seahawks crowd. I live downtown and this diary will be mostly about it. Regionally, housing ranges from a few houses that were built at the turn of the 20th century to now bankrupt and abandoned developments that were just getting off the ground before the recession hit. Like most places, housing downtown is largely apartments.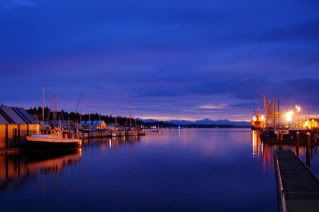 Waterfront Sunset
The Olympia waterfront was once industrial but now the state government is by far our major industry. This a double edged sword. Government employment is generally stable but huge chunks land owned by the state are not part of the tax base so the city is always scrambling just to keep up. Another major employer is the US Government in the form of the sprawling Fort Lewis, part of which is in Thurston County.
Peace Bro
Ironically for a county that is predominately liberal and has had continuing anti-war protests weekly since before the invasion, the war produced a lot of economic growth because we are home to part of Ft. Lewis and because the DOD moved military cargo through our port. It also created local tension between the "support the troops" crowd who couldn't get their head around the fact that the "end the war" bunch did in fact support the troops. Our motto: "Support the troops. Bring them home." Their counter protest motto, well: "Support the troops." Duh.
Vets for Peace Rally 2008
We continue to rally at the waterfront, as we have since 2003, Friday afternoons at 5PM no matter what he weather. Saying you are pulling the troops out is not the same as having pulled the troops out. The war isn't over yet.
Street Scenes: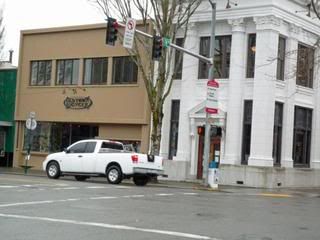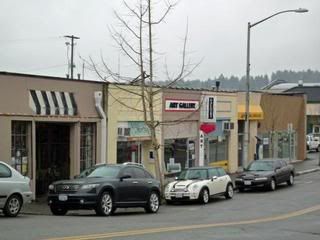 At first this restaurant was called the Herb & Onion but people kept running the first two words together so they gave up and re-named it.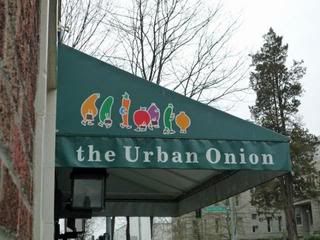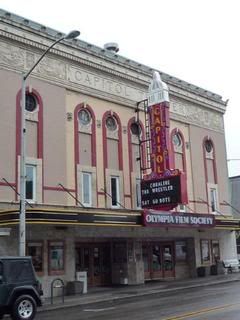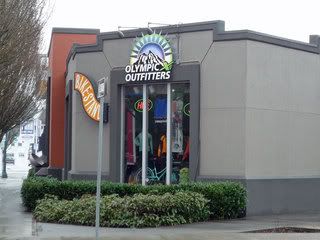 In normal times I would leave out the word generally in relation to stable state government employment. These are unfortunate times and our state, like most, is facing a massive deficit and resulting layoffs. To date we have survived the downturn relatively unscathed but that is about to change. If you are looking to buy property in Olympia then hang on for a bit because it is likely to drop even more as the state trims it's employment roles.
The NW, including Olympia, is in what is known as a Maritime Climate. Although we are farther North than most of Maine our climate is quite mild because we are warmed by our proximity to the Pacific Ocean and the mild Japanese current that flows down the western coast of North America.
We sort of joke about having two seasons, rain and not rain, because three-fourths of the year is mild and damp and the remainder equally mild and dry. We really are a four seasons region so I've included pictures from different times of the year. Most but not all were taking in the past year and some within the past few days.
Got Food

All sort of neat cafe's and restaurants downtown. These are just a few of my favorites. Be sure to try out the food if you come to Olympia.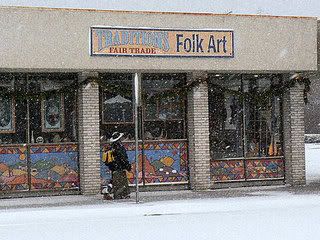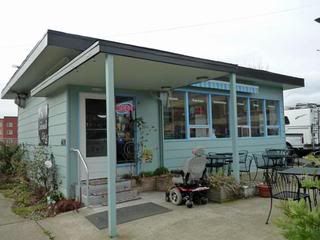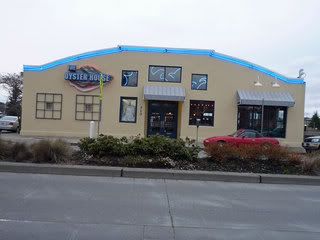 The Bar-B-Que Place is actually 10 miles outside of town but I had to throw it in a a #1 fav.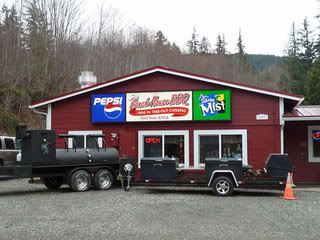 And We've Got Beer
Fish Brewry and Brew Pub is across the street. Great food, great beers. Progressive folk, support lots of progressive causes.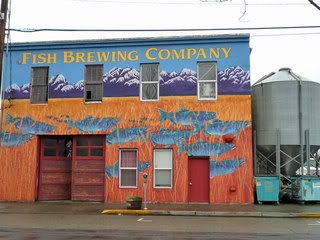 Hanna's Tavern
Hanna's made national news last Fall when they carded our governor and wouldn't admit her because she didn't have an ID with her. Hey it's the law. Actually Hanna's is a great "Cheers" sort of place. The owner hosted our Obama Election Night and Inauguration Night Parties at another of his clubs called The Vault. No Governor Gregoire wasn't mad. In fact they ended up putting a Gregoire yard sign Hanna's window. This picture was taken around Christmas.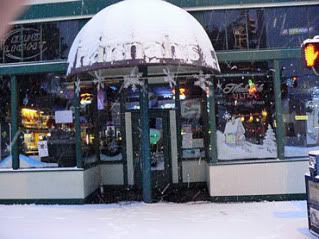 And Pretty Girls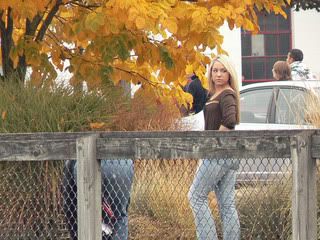 And, Oh Yeah, Hot Cars
Shelby Cobra 409 0-60 in 4.7 Sec.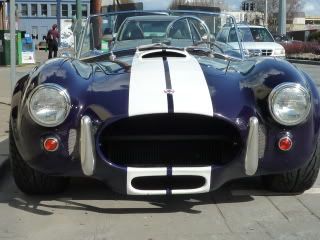 Did I Mention Coffee?

Batdorf and Bronson Coffee Roasters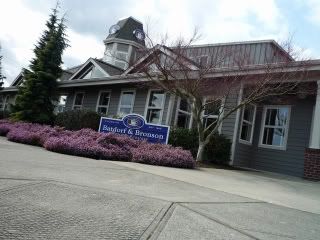 Yes we're a big coffee town. There are too many coffee shops to mention. Batdorf and Bronsons HQ is downtown and they operate The Dancing Goatcoffee shops as well. If you come to Olympia try some local coffee instead of Star-Bucks.
The Port
Olympia is a salt-water seaport city. We are at the southern terminus of the Puget Sound; a big inland sea from which we join the Pacific Ocean at Cape Hatteras at the mouth of the Strait of Juan De Fuca some 125 miles away. We're only about 40 air miles from the ocean but the Sound meanders a lot before it gets to us. In case you don't know, a Sound is the same as a Fjord. I read somewhere that we are at the end of the worlds longest Fjord.
We Export Logs--Log Ship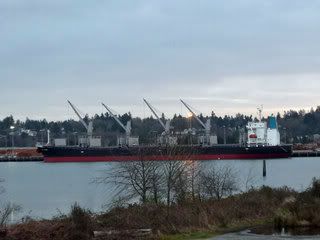 A self loading log ship here on 3-23-09. The port is just now ramping up for a new contract with the Weyerhaeuser Corporation to become the major raw log exporting port on the west coast.
And Import Wind Machines--Wind Turbine Blades-4-06-08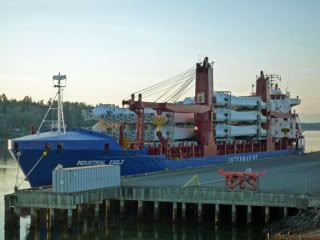 Of note: During the Bush administration they sent several military ships to Olympia to load and unload Iraq supplies. We had demonstrations with property damage and arrests each time. Some were convicted and other cases were tossed. There are still several who are changed and being prosecuted but none of this ever made the national media. In fact it barely made even the Seattle papers. All this happened just blocks from my boat. In hindsight I could have blogged it all but I hadn't found DKos.
There is lots of street art.
The Kiss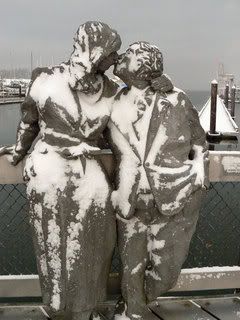 Seafood Shop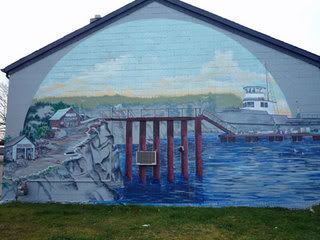 Water Lilly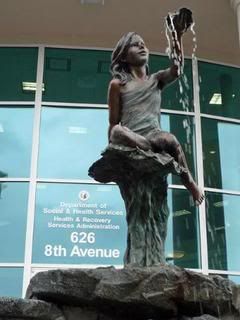 Dancing Goats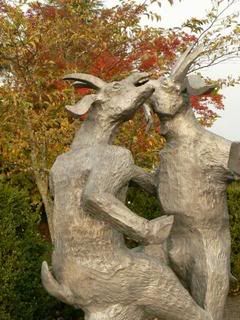 Mt. Rainier
Mount Rainier, 14,410 ft. brackets, the city to the East. (For full disclosure I took this particular picture from my boat off of Anderson Island which is North of Olympia.) There aren't many places that you can take a completely unobscured picture of our mighty mountain from land but on a clear day it's majesty is the centerpiece of the view throughout the region.
Mt. Rainer is an live but not currently active volcano. It is considered by many to be the most dangerous mountain in the world. When it erupts again, which could be at any time, there are over 1 million people living in the probably path of the lahar which is what a volcanic flow if called. The city of Tacoma is built on previous flows and could be completely wiped out in a matter of hours. So the next time Bobby Jindal makes a wise crack about volcano monitoring think of Tacoma and the 70 miles of smaller towns and homes and farms between it and as we say around here "The Mountain." It adds real meaning to the term "Burn baby burn."
The Olympics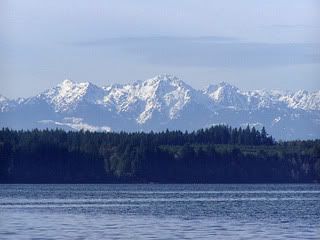 The Olympic Mountains bracket the city to our North West. Olympic Mountains are our coast range, are the youngest mountains on Earth and still growing. Mt Olympus is 7,962 ft. and growing. In fact in a few million years the Olympics may be higher than the Rockies. The same Pacific Plate pressure that pushes them skyward also provides the heat for Mt Rainier and our other volcanoes. We don't get the publicity about it but Washington has the same chance of a massive earthquake as Southern California which is to say that there is a 100% change that it will happen. We have interesting and beautiful but very dangerous scenery.
Hereis a good article explaining exactly what is happening.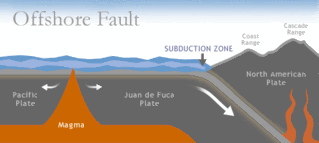 Water has been central to both the landscape and culture of the NW throughout the time it has been occupied by humans. Water is also central downtown Olympia, so much so that it's hard to do a diary that isn't to an extent a boat show. There are five marinas down town and a couple more out in the county.
Lots of Boats: Christmas snow 2008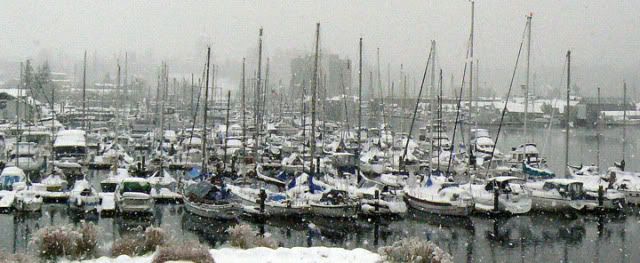 Historic 1910 Tug Boat "Sandman"
Tiny Tug
This isn't a model. It has a motor and the owner sits on board and drives around. There is also a tiny barge he pulls behind. It's the worlds smallest operating tug boat.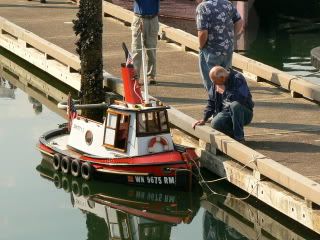 Hydro Fun on Capital Lake: August 2008
Scott and Jack,in red,heading out. (Jack's full name is Jack Daniels, no kidding.)

Downtown Marinas
Yellowdog's (Yellowoozle's??) homeport during the Christmas snow in 08. I've lived on a sailboat for 15 years and no it isn't cold. I have heat just like you. That's the first question usually get asked.
Here's the "First Mate Pootie. We've been all over the NW and half-way to Alaska together and she's absolutely fearless. I have to keep her fastened below when it gets rough because she'll be right out on the pointy end and is likely to get washed away if I don't.
The Well
Wells were once the center of civilization. As a central gathering place they were sort of like the Intertube before it had tubes. People met at the well, got water and shared stories.
We still have a free-flowing artesian well downtown. The water has been underground for thousands of years. The water is sweet and cold and flows freely for all to take. You can carry water home or stop by for a cold drink on a hot day. In warm weather its a very unusual not to find a small crowd gathered, getting water and just, as people have done for centuries in villages across the Earth, hanging out at the well and talking. There once were dozens of wells downtown and there have been attempts to shut this last one but so far it continues to flows as it has for the past hundred years.
I have it on good authority that community wells are, ah-hem, actually ancient communist socialist endeavors but don't tell a Rush Limburger or anything. You know the rethugs would either pitch fit and get it closed or figure out a way to profit from it. The mural is on the wall behind the behind the well.
Anyway, long live the well and the centering of community that it represents. The mural is on the wall behind the well.
The Downtown Business Association and Chamber of Commerce bitch about how bad things are downtown but in reality it's has a lot of vitality. Shops come and go but there are few boarded up buildings like many small towns. You know what the "real shopping districts" look like so I won't bore you with pictures of Wal-Mart.
Old State Capitol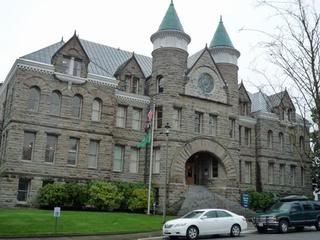 4th Ave.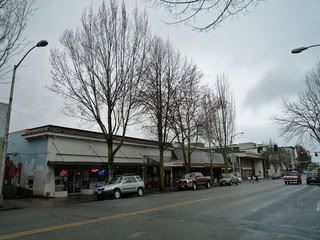 Olympia Farmer's Market and Downtown DASH Shuttle
Downtown is state office buildings, café's, coffee shops, art galleries, hotels, outdoor shops, books stores, tattoo parlors, a small brewery, some fast food, marinas, the farmer's market and an eclectic mix of other stuff thrown in for good measure. It's a pretty little town about 1.5 miles square. You easily walk anywhere in town or you can take the DASH shuttle bus for free along Capital Way from the Farmer's market at one end and the Capitol on the other.
4th Ave. Bridge
The old bridge was destroyed in a major earthquake in 1999 which also severally damaged the State Capitol Dome. The new bridge opened in 2004.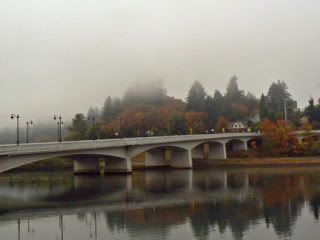 Kids in Fountain- March 31, 08
Just the day before it was snowing and sleeting. Then the sun came out and the kids hit the fountain. On hot days hundreds will gather at our "vertical" wading pool.
I put a big picture in so you could appreciate how big this "little boy" is. He was having as much fun with the water jets as the kids.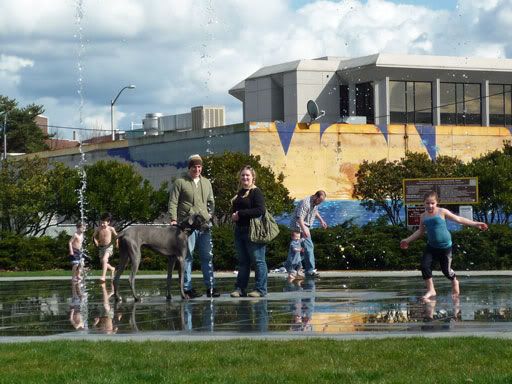 No Glass Ceiling
WA State has no glass ceiling in politics. Here is our Governor Chris Gregoire (middle)and our two Senators Maria Cantwell (right) and Patty Murry (left) at a Gregoire campaign rally last Fall.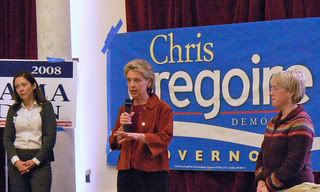 Coincidentally all three of our county commissioners are also currently women.
Obama HQ
In 2008 Thurston County voted about 66% Democratic. Except for the more conservative areas around Ft. Lewis we would have been much higher. As far as we are concerned our Thurston County Democratic Party is the best organized in the state and for much of the Presidential Primary season our little house was the only Obama office open in the entire state. Why? You ask. Because true grass roots people don't sit around waiting to be told what to do. We raised our own money and just kept organizing between the caucus in February and when Obama accepted the nomination in June.
Many great and heroic campaigning feats came out of this run down little building. Obama won the county by 33 points in both the primary and the election and we gave Governor Gregoire a comfortable margin of help in her much closer race.
So this picture is a hats off to all those who gave so much of their time and money in the most exciting campaign in history.
I'll relate two fun anecdotes: Thanks to pre-planning with our printer I had Obama/Bidens signs made up as soon as Biden was announced and over-nighted a package to our delegation at the convention in Denver. The next day our people could be clearly seen on TV waving the only Obama/Biden rally signs on the floor. Everyone else still just had Obama signs. We beat OFA out by at least 24 hours. Even more fun was when we shipped yard signs to the Obama people in Wasilla Alaska, Sara Palin's home town. Ah, the Palins. The gift that keeps on giving.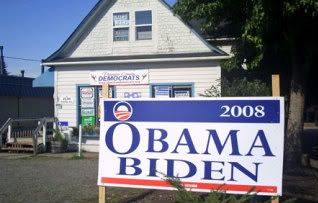 The Lake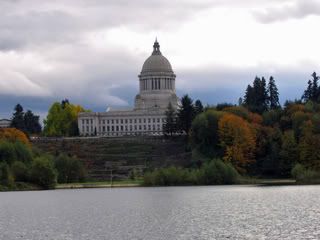 I'll end were we began with the Capitol across Capital Lake. Above is last Fall when Barack Obama was busy becoming our president and the world was looking good. Below, from yesterday 4-11-09. The pink trees are at their peek and the are wonderfully beautiful.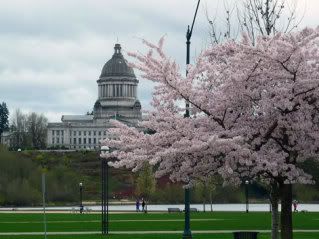 I hope I was able to convey some of the love I have for my town and region and that you've enjoyed today's visit. I know we have other Kossacks in the area and would like to encourage them to join the fun and show the rest of the world more of the paradise we live in here in the NW.
Weather permitting I plan to photo blog our up-coming Procession of the Species Parade in which people dress themselves, their kids and pets up all weird and have a just for fun parade to celebrate Spring. There will be kids, pooties and woozles at their finest. I hope to put it up on May 3.
Then on May 10 I'm leaving on a 7 day Alaska cruise and will blog SE Alaska if anyone is interested.
List of Past & Future DKos Travel Board Diaries:

USA

Alabama
left my heart
Arizona
Phoenix - Leftcandid
California
Monterey Peninsula - eugene
Northern CA - SallyCat
Northern Orange County - Seneca Doane
Sacramento - tgypsy
San Diego - SDChelle (can offer advice)
Southern - Jbeaudill
Colorado
Lakewood/Denver - carver
DC area
lulu57
Florida
Oceanview - ObamOcala
Panhandle area - panicbean
Hawaii
Big Island - Purple Priestess
jlms qkw
Indiana
Southern part of state - kathryn1812
Maine - Cartoon Messiah
Coastal Islands - ksingh
Massachusetts
oceanview
Boston - tnichlsn
Minnesota
Minneapolis - parryander
Missouri
St. Louis - GoldnI
Montana
Big Sky Country Part 1 - Ed in Montana
New Jersey - Blue Jersey Mom
New Mexico - linc
Santa Fe and north - claude
Albuquerque – votingformydaughtersfuture
Southern – 4 corners
New York
New York City - plf515, LarryinNYC, DrSteveB
North Carolina
Charlotte - eeff
Chapel Hill - chunyang
Oklahoma - karesse
Oregon
Portland – arenosa,
Portland – Hardhat Democrat
SE Portland - Hardhat Democrat
coastal - Jbeaudill
Pennsylvania
Pittsburgh - Pandora's Box, housesella
Lancaster - spedwybabs
Central PA, Harrisburg - wishingwell
South Carolina
Charleston – CamillesDad1
Tennessee
Great Smoky Mountains – RantNRaven
Nashville – fiddlegirl
Chattanooga – Sandy on Signal
Texas
Dallas-Fort Worth – drchelo
West – 4 corners
Utah
Salt Lake City – jlms qkw
Vermont
North-central - 4freedom
Virgin Islands Caneel
Washington
Leavenworth - marlakay
Olympia - YellerDog
I-90, WI-MN border - 1864 House


Other countries

Belgium - Cartoon Messiah
Cambodia - LaughingPlanet
Canada
Alberta – TexMex
Montreal - dragOn
Thunder Bay - Howth of Murth
Vancouver - Purple Priestess (can give information)
China
Shanghai – mweens
Sichuan – LaughingPlanet
Yunnan - LaughingPlanet
Colombia
Bogata - bogbud
Costa Rica - Alice Olson
Croatia - seenos
England
London – shazzbot
North England – Cartoon Messiah
France
Lyon - melanchthon
Germany - lizah
Haiti - parryander
India
Musical - WarrenS
Sacred Cities - LaughingPlanet
Indonesia
Sumatra - LaughingPlanet
Italy
Rome - lizah
Japan
Tokyo – YoyogiBear
Korea - LaughingPlanet
Laos - LaughingPlanet
Mexico
Cancun, playa del Carmen, Tulum - davidseth
Colonial Mexico - TKWow
Jalisco (SW Mexico) – mango
Nepal - Wayward Wind
Pakistan
Northern Areas- LaughingPlanet
Scotland - linc
Edinburgh - SDChelle
Spain - Cartoon Messiah
Thailand - anniesamui
Bangkok – Shunpike
Tibet - LaughingPlanet
Wales - linc

If you are traveling, you may contact the person listed to see what they can do for you. They may be able to host a person, or have a meal, or just offer advice. Note they are not obligated to do anything; these are just people who have told us what areas they live in or have expertise. Also, any arrangements you make are between you and the person you write to.

If you care to volunteer for future weeks in this franchise, please contact me, LaughingPlanet or mention where in the comments below.
This series was started by plf515