Each week I watch the weather for the coming weekend. For me, good foraging weather means a sunny to partially cloudy day in the 70s with little wind. (Windy days make closeup photography much more difficult.) The weather for the preceding three days also plays a role; fungi hunting is best after rainy days, while berry hunting is aided by sunny days. (For a multitude of reasons, this series won't be covering fungi. To learn more about mushrooms, go foraging with a local group.)
Alas, Saturday's forecast was for rain, followed by intermittent rain with a light chaser of rain. Today was supposed to be even wetter. So yesterday I packed an umbrella and raincoat. But it didn't rain a single drop, and the only clouds that dotted the blue sky were the puffy cumulus kind. The 70 degree weather made me feel silly walking around with a raincoat tied at my waist. (Left: Central Park Waterfall by wide eyed lib)
At least I found some delicious greens to munch.
Covered: curly dock, mallow, ground ivy & fiddleheads
[As always, if you're new to foraging and want to give it a try, please read the first diary in the FFF series for some important information.]
Curly dock, also known as yellow dock, makes its first appearance in early Spring as a basal rosette with leaves that can exceed 1 1/2 feet in length. Originally from Europe, curly dock has long, narrow, bright green leaves with lighter ribs and veins. The veins are unusual in that they spread out toward the edges of the leaves but curl back inwards before they actually arrive. The frilly edges of the leaves give curly dock its name. The surest way I've found for identifying curly dock is to feel along the leaf axil where the leaf stems spring from the basal rosette. At the base of the youngest leaves, you will find traces of a slimy, transparent sheath. Once you feel that slickness, you can be reasonably certain you have the right plant. On older leaves, the sheath may dry up and become crinkly or disappear entirely. (Above: Curly Dock by wide eyed lib)
In summer, curly dock shoots a grooved, stiff flower stalk up to 5 feet in the air. Alternate leaves spring from the stalk, and toward the top where the leaf stems meets the stalk, individual flower stems soon become clustered with tiny flowers with 6 white, pink or green sepals. The dense flowers yield to equally dense, 3-sided, reddish-brown and papery husks, each of which contains a small seed. When I say dense, I mean dense; a single curly dock plant can have as many as 40,000 seeds.
Curly dock is found coast to coast in the U.S. and the Southern provinces of Canada and is classified as invasive in many places. There are many similar species of docks (such as bitter or broad-leaf dock), all related to buckwheat and all edible, though some may have unpalatably bitter leaves or overly woody taproots.
All parts of curly dock are edible, from the large yellow taproot to the rusty brown seeds. The leaves are delicious with a wonderful lemony tang. They can be eaten raw or lightly steamed. Some sources say that the peeled stems are also edible, but I found them far too woody, even after peeling. (Word of caution: cooked dock leaves very quickly turn an unappetizing grey-green color and have a distressing tendency to become slimy. Both issues can be solved by using a wet cooking method and/or cooking them with other greens. I recently made a side dish of sauteed curly dock that, while absolutely delicious, was disconcertingly slimy and grey.) The leaves get increasingly bitter once the flower stalk appears, and the flower stalk gets woody once the flowers appear, so gather accordingly. All green parts are exceptionally nutritious, with high quantities of Vitamin C, protein, calcium, potassium, iron and beta carotene, among other virtues. (Above: Curly Dock Leaf by wide eyed lib)
The long, yellow taproot can be cooked and eaten like any root vegetable, although some people may find it bitter or tough. If you try it and don't like it, taste the water you cooked it in. This "tea" contains loads of potassium, iron and manganese and has been used to treat anemia. It is also good for the blood, liver and skin. All parts of curly dock also have a mild laxative effect.
Some sources say that because of the husks, the seeds are too much trouble to bother with, but others say that the quantities that can be easily gathered make the effort worthwhile. Once winnowed, the seeds can be eaten raw, roasted or dried and ground into flour.
Like wood sorrel and sheep sorrel, curly dock leaves are high in oxalic acid, so people with kidney problems or calcium absorption issues should proceed with caution. Additionally, the seeds are very high in Vitamin A. While eating the seeds alone or sprinkled over salads is pretty unlikely to result in Vitamin A toxicity, the flour should be used sparingly in conjunction with other flours. About a tablespoon contains the full RDA of Vitamin A.
@-->-- @-->-- @-->-- @-->--
Common mallow, like its more famous cousin marshmallow, is a perennial or biennial herb with concave leaves that resemble scoops. Both plants are non-native, with the former found everywhere on this continent and the latter mostly in salt marshes and tidal rivers in the Northeastern U.S. and Canada. I've never found marshmallow in my area, so my focus here will be primarily on common mallow. (Left: Common Mallow by wide eyed lib)
Common mallow's ruffle-edged, slightly lobed leaves are round and have seven prominent veins eminating from the stem, which appears to grow from the center of the leaf. It grows wild on lawns and meadows and is often planted decoratively as well (in which case you should probably leave it be unless you have permission). The plants are usually about 1 foot high, and the leaves balance atop long, somewhat ungainly leafstalks. The mid-Spring flowers can be white, pink or lilac colored, and all have five, distinctive, notched petals. Shortly after the flowers drop off, the plant produces a small, disc-shaped fruit with segments that resembles a wheel of cheese about 1/4 inch across (and they are, in fact, referred to as cheeses).
All parts of the plant are edible, nutritious and slightly mucilaginous, much like okra, to which it is related. The leaves and stems are delicious raw or lightly cooked and can be used to thicken soups, the fruit has a pleasant gummy quality, and the root can be boiled until translucent and eaten like a vegetable. If you can find the roots in sufficient quantity, you might be able to use them as people have traditionally used marshmallow roots-- to make candy. To do this, peel the root, slice it and boil in just enough simple syrup to cover. The root will first turn translucent and then virtually melt away. The liquid should be reasonably thick at this point and, after straining any remaining solids, can be dropped by the spoonful onto waxed paper to dry or whipped into a chiffon-like confection, perhaps with some fruit folded in. (Right: Common Mallow Leaf by wide eyed lib)
Marshmallow, should you find it, has somewhat hairy leaves that extend to a point and is a more upright plant in general. The flowers and fruits are very similar to common mallow, but about twice as large. Because salt marshes are fragile ecosystems and generally under threat, please don't harvest any roots. Instead, if you'd like to make the classic confection, most health food stores sell dried marshmallow root that works just as well, without the extra work and potential environmental damage.
@-->-- @-->-- @-->-- @-->--

A common form of the large and meandering mint family, ground ivy, also known as gill-over-the-ground, is a fragrant, trailing or upright plant with square stems and round to heart-shaped, prettily scalloped leaves that range from about 1/4 of an inch to a full inch in size. It loves meadows, lawns, walls and the verges of roads, as well as lots of sun, and grows throughout Southern Canada and the U.S., with the exceptions of Hawaii and the drier Southwestern states. Because of its ability to grow roots from any place where a leaf stalk meets a stem, it can either grow upright or trail along the ground. In mid-Spring, ground ivy develops tiny, dark purple flowers only about 1/4 of an inch across that superficially resemble small violets. When crushed, the leaves smell strongly of basil. (Above: Ground Ivy by wide eyed lib)
Like many culinary herbs, it's overpowering by itself but its pungent basil-meets-mint flavor would enhance any number of dishes, from salads to soups to sauces. It's delicious paired with tomato, for instance, or used in pesto. I bet it would also be delicious with fish. It makes an outstanding herbal tea with diuretic and cough suppressing properties. The leaves are high in vitamin C and have been used in beer brewing and as a poultice for wounds and sores. (Right: Ground Ivy Flower by wide eyed lib)
Unfortunately, its best qualities are lost if it's frozen or dried, so ground ivy isn't easily stored. Luckily it's available fresh in a sunny spot near you from early Spring until at least the first frost.
@-->-- @-->-- @-->-- @-->--
The final plant for today, and just in the nick of time for the tail end of the season, is the fiddlehead fern. Fiddleheads are not a particular type of fern but rather the name for all immature, tightly scrolled ferns or bracken in early to mid-Spring. The fiddleheads of bracken are shaped like a claw, with a few curls at the top and a single curl an inch or so lower, while fern fiddleheads are a single, tightly coiled spiral, like the carvings on the head of a violin or fiddle (thus, fiddleheads). The particular kind I harvest is called the ostrich fern because its upright fronds resemble ostrich plumes. The sterile fronds of the ostrich fern are large and flexible, while the fertile fronds are upright, somewhat stiff and commonly persist over winter so that you can sometimes use them to locate fiddleheads the following Spring. (Left: Ostrich Fiddlehead Ferns by wide eyed lib)
.
There are no poisonous fiddleheads; however, some ferns or bracken produce fiddleheads that are tough or have a papery coating that is difficult to remove and others are too bitter to be enjoyable. Once unfurled, however, all ferns and bracken are poisonous, so it's important to harvest early. Caution: studies in Japan of people who eat commercial bracken fiddleheads year-round have linked eating bracken fiddleheads with stomach cancer. "Wildman" Steve Brill has this to say on the issue:
Nevertheless, I wouldn't be afraid of eating reasonable quantities of wild [bracken] fiddleheads during their short season.
As always, caveat forager, and if the idea makes you uncomfortable, look for fiddlehead ferns instead.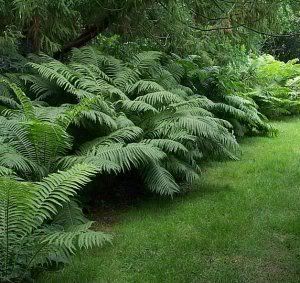 Fiddleheads are one of the wild edibles that can take a few seasons to harvest. Unless someone you know already has a location staked out, it's best to visit a few wet, shady places to find them in the summer when their feathery fronds are easiest to identify and mentally mark the spot so that you can come back early the next Spring to harvest them. (Right: Ostrich Ferns by SwimmingJewel, courtesy of Photobucket)
If you are lucky enough to find such a spot, please only harvest about a third of the fiddleheads from any one plant, and only harvest from half of the plants there. Keep in mind that you are unlikely to be the only person harvesting from that location, and if you see that an area has already been harvested, it's best to find another location or try a little earlier next year. These precautions will ensure that the ferns survive, not only for the fern's sake but also so that they can continue to offer us this delicious Spring vegetable for years to come.
Fiddleheads taste a little like slightly bitter asparagus and should be cooked before being eaten. Although they're good in soups and casseroles, they're especially delicious lightly sauteed in butter. Bon appetit!
___________________________________________________________
If you're interested in foraging and missed the earlier diaries in the series, you can click here for the previous 6 installments. As always, please feel free to post photos in the comments and I'll do my best to help identify what you've foraged. (And if you find any errors, let me know.)
Here are some helpful foraging resources:
"Wildman" Steve Brill's site covers many edibles and includes nice drawings.
"Green" Deane Jordan's site is quite comprehensive and has color photos and stories about many plants.
Green Deane's foraging how-to clips on youtube each cover a single plant in reassuring detail.
Linda Runyon's site features only a few plants but has great deals on her dvd, wild cards and books (check out the package deals in particular).
Steve Brill's book, Identifying and Harvesting Edible and Medicinal Plants in Wild (and Not So Wild) Places is my primary foraging guide. (Read reviews here, but if you're feeling generous, please buy from Steve's website.)
Linda Runyon's book The Essential Wild Food Survival Guide contains especially detailed information about nutritional content and how to store and preserve wild foods.
Steve Brill also offers guided foraging tours in NYC-area parks. Details and contact info are on his website.
Finally, the USDA plants database is a great place to look up info on all sorts of plants.
See you next Sunday!