Thanks to Laughing Planet for running this series, and to Eddie C for the great pictures.
I live in New York City, and have lived here for 46 of my 49 years. I love it. There are lots of reasons, but, one day, standing on line for breakfast, a counterman yelled to the kitchen:
Trabajando un bialy with a shmear!
I love New York!
For those who don't understand the block quote:
"trabajando" is Spanish for "working"
a bialy is sort of like a bagel
a shmear is cream cheese spread on a bagel, bialy, or even bread, I suppose!
Spanglish I hear every day, but Spanish/English/Yiddish in one sentence!
More on diversity later.
Some history
The area that is New York City was originally inhabited by Indians of the Wappani or Wappinger (there is a town called Wappinger's Falls, north of NYC) and Lenape tribes. The first European explorer to reach NYC harbor was Verrazzano (he's got a bridge named after him), but the first European to explore the area was Henry Hudson (he has a river named after him) and although it isn't the name any Manhattanite uses, he has a highway named after him as well, the West Side Highway?
OK, it's real name is the Henry Hudson Parkway.
The first European town here was Nieuw Amsterdam, and it was Dutch; the English conquered the area in 1634 and renamed the city. NYC was the first capital of the USA (only from 1789 to 1790).
Some facts and figures
New York City is the most populous city in the USA, and has been for a long time, at least since the census began, in 1790 (when NYC had 33,131 people and Philadelphia had 28,522). In the 2000 census, NYC had more people then the next two cities, combined:
New York: 8,310,212
Los Angeles: 3,834,340
Chicago: 2,836,658
it is also, by far, the most densely populated city in the USA, at 26,404 people per square mile. Despite the crowds, there are some parks in NYC, in fact, we have dozens. Eddie C seems to think that New York has the finest park in the world.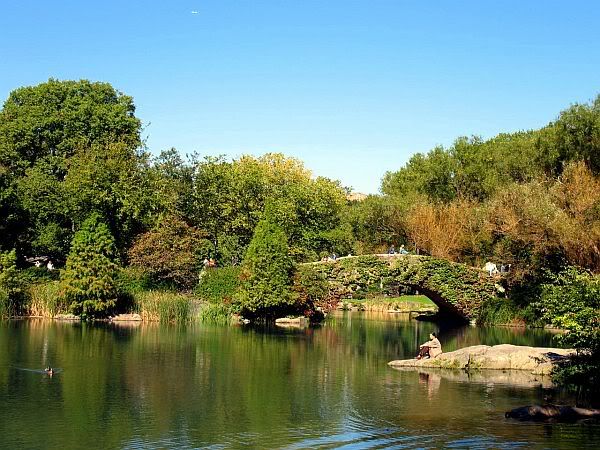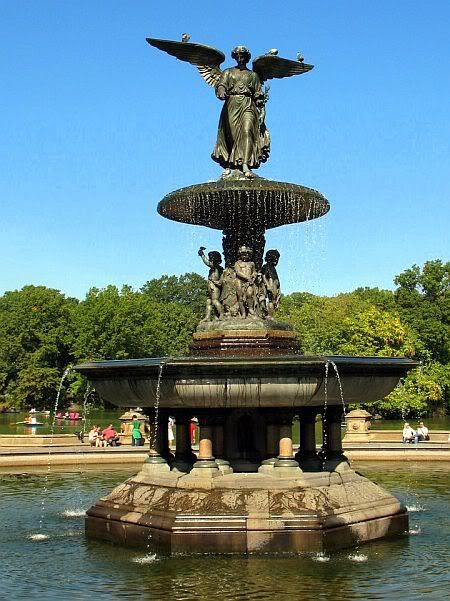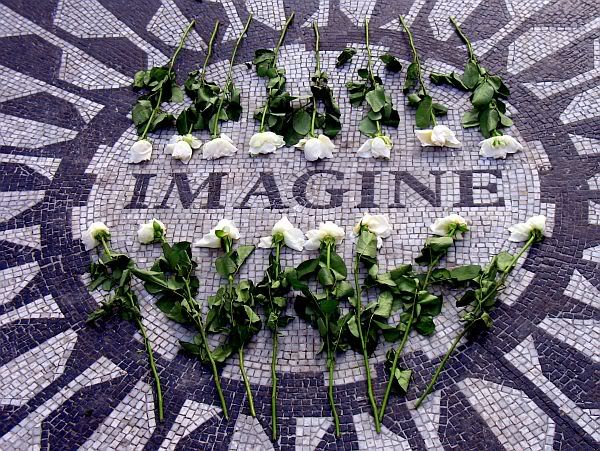 If you disagree, Eddie suggest that you may want to "Take it up with Snappy."
New York City is composed of 5 boroughs. Somewhat confusingly, each borough is a county, but the names don't match:
Brooklyn = Kings County
That's the Cyclone, at Coney Island (Woody Allen, in Annie Hall, claimed his boyhood home was under a Coney Island roller coaster).).
Queens = Queens County

That's the site of the World's Fair in 1964, which I very vaguely remember attending (I was 5 that summer).
Manhattan = New York County

As I'll discuss later, a lot of NYers take the subway. This shows one reason why. That sea of yellow is taxicabs.
Bronx = Bronx county

That's the New York Botanical Garden (more on that below, and in OTHER POSTS BY EDDIE C
Staten Island = Richmond county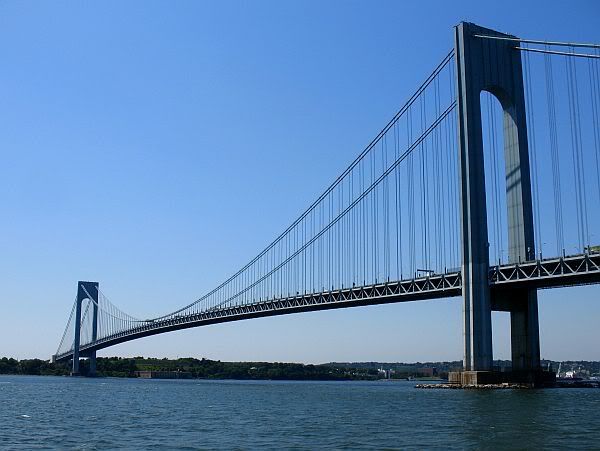 and that is the Verazanno Narrows bridge, which connects Brooklyn to Staten Island (you can also get to Staten Island from Manhattan via the Staten Island Ferry - a great ride!)
thus, my apartment is in New York county, which is part of New York City, which is part of New York State.
One of my favorite things about New York City is how ethnically mixed it is. Racially and ethnically it is:
35.1% nonHispanic White
23.7% nonHispanic Black
12.1% Asian
27.4% Hispanic
but that's just the start!
Per that same site, Queen county is the only large county in the USA where median income is higher among Blacks than Whites; and it's the most ethnically diverse county.
We're diverse every which way, some are not so good: We have the most billionaires of any city in the USA; 72 of the Forbes 400 live in NYC, and the most poor people as well - 1.5 million New Yorkers are below the poverty line.
On the other hand - 52% of NYers are Catholic, 18% Jewish, 17% unaffiliated, and only 9% Protestant. That means that NYC has more Catholics than Rome or Dublin; more Jews than Jerusalem or Tel Aviv; and more Hispanics than San Juan. And, while we certainly don't have as many Chinese people as Beijing, or as many Filipinos as Manila, we do have just about as many people with Irish ancestry as Dublin does.
One thing I love to do is eat! And New York City has restaurants of every description. You can go to Gray's Papaya and get 2 very good hot dogs and a drink and get change from a $5 bill;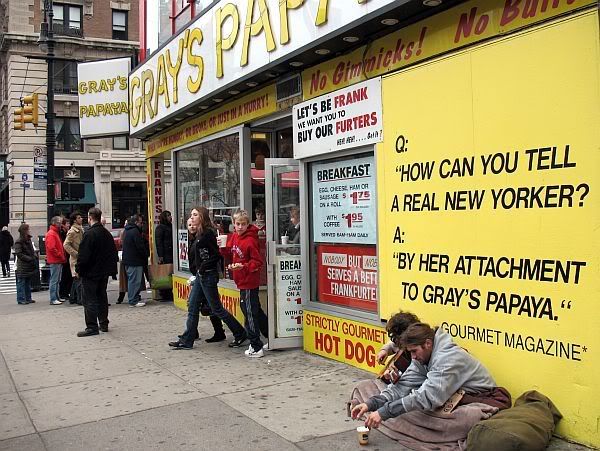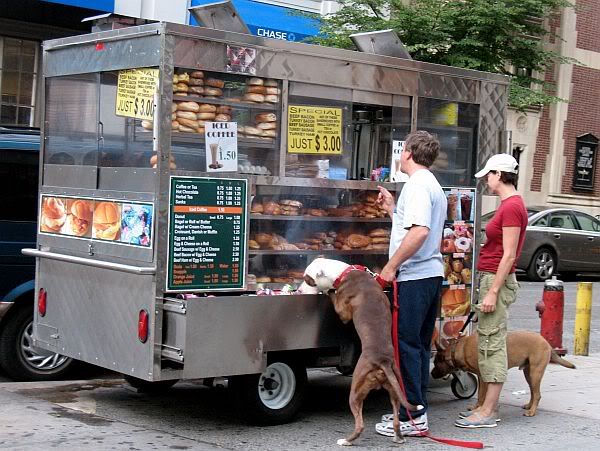 Or you can go to Masa and spend $500 a person for some really, really good sushi (so I hear). We have cuisines from Afghan to Vietnamese; we have restaurants specializing in raw food (would that be Italian crudo, Japanese sashimi, French steak tartare, Korean yook hwe, or some other variety?).
Do you want Chinese? Which region? Should it be kosher? Would you like it delivered?
I don't know of any restaurants with food from Antarctica, but we have the other continents covered!
More reasons to love NYC
NYC has the best mass transit system in the USA. The subway runs 24 hours a day, 7 days a week, and, if you include commuters from the suburbs, there are 12 million rides taken on the average weekday.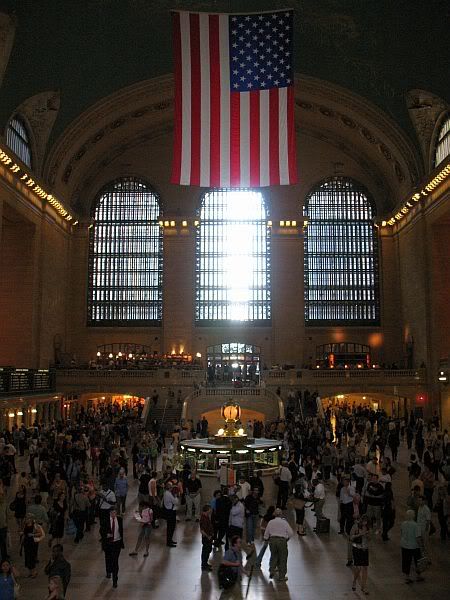 While you are riding the bus, train, or subway, you might want to read something. Per wikipedia we have over 40 newspapers, and I know the list is missing some (they don't list any Indian papers, for instance, and I know there are several).
If you'd prefer a book, you can go to one of about 500 bookstores; there is even a book about NYC bookstores!
NYC has museums of all sizes and types - from the huge and world famous (e.g. the Metropolitan Museum of Art, the American Museum of Natural History) to the less well known art museums like, for instance, the Frick Collection, and the Morgan Library, to specialized places like the Tenement Museum or the Museum of the City of New York.
Whether your ancestors came through Ellis Island or not, it's a great place to visit.
Libraries! The NY Public Library includes many branch libraries, along with the research libraries, most famously the one at 42nd st
Flowers! There's the world famous New York Botanical Gardenin the Bronx, the Brooklyn Botanical Garden and Queens has one too!
Animals! We have zoos in all 5 boroughs, including the world famous Bronx zoo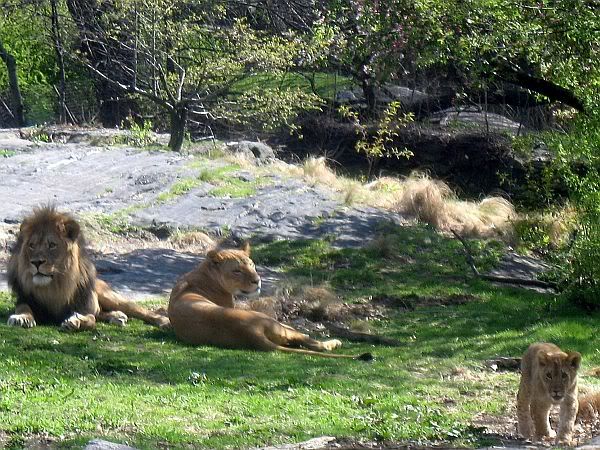 Crime! It's not so bad! Per this site NYC is the 5th safest large city in the USA.
That's a daily Kos meetup. I've got my back mostly to the camera, holding a glass of beer. kath25 is facing me, srkp is between us, and that's clammyc talking to her, and at the far end of the table is zeke.
New York is a town for good clean fun.
More on this meetup is here
But when the sun goes down on the Big Apple.
Forgetaboutit, they don't call it The City That Never Sleeps for nothing.
In short - you name it, we've got it (and we're not shy about telling you about it!) But, one thing we don't have a lot of is REBULICANS! OK, I know, we've elected Republicans as mayor, including the last two (Bloomberg and the truly odious Giuliani). But on more and less local levels, we're solid blue.
By county:

Obama McCain
Brooklyn 545,785 139,594
Bronx 300,327 38,560
Manhattan 490,634 79,448
Queens 436,398 144,362
Staten Island 73,192 80,853

On a congressional district level there were 4 CDs that gave Obama over 90% - all are in NYC,
Now that Vito Fosella is gone, every member of the House from NYC is a Democrat. The NY State Assembly: districts 22 to 86 (I think) are NYC, and they are all Democratic except one; the State Senate: districts 10 and 12-21 are in NYC and all but 2 are Democratic.
We're BLUE!
List of Past DKos Travel Board Diaries:

USA

Hawaii
Big Island - Purple Priestess
Missouri
St. Louis - GoldnI
Montana
Big Sky Country Part 1 - Ed in Montana
Oregon
Portland – Hardhat Democrat
SE Portland - Hardhat Democrat
Pennsylvania
Lancaster - spedwybabs
Washington
Olympia - YellerDog


Other countries

Cambodia - LaughingPlanet
Haiti - parryander
India
Sacred Cities - LaughingPlanet
Indonesia
Sumatra - LaughingPlanet
Laos - LaughingPlanet
Mexico
Cancun, playa del Carmen, Tulum - davidseth
Colonial Mexico - TKWow

Pakistan
Northern Areas- LaughingPlanet
Tibet - LaughingPlanet

Schedule:
California
Monterey Peninsula - eugene
New York
New York City - plf515
Missouri
Kansas City - annetteboardman