Certain myths upon which our society is founded perpetuate lesser myths which, whole being no less true, can be much more harmful. The biggest myth of all is our creation myth. It is told to us almost everyday in some fashion. Can you guess what that story is? What is the story of how we can to be here? How did the universe form? How did life appear? How did Mankind arrive on this planet?
Now I know what you are thinking. I went through the same thought process. You may be thinking, "I believe in a story about the creation of the universe, the galaxy, the solar system, the earth, life, evolution, and the appearance of Mankind but it is certainly no myth!"
Let's lay out the story and why it is indeed a myth. We will start with the discovered diary of male jellyfish written 500 million years ago. (See Ishmael by Daniel Quinn for a Socratic dialogue on the subject.)
The Diary:
From a singular point of energy and giant explosion occurred throwing out all the matter of the universe (I am no physicist but this is how it is understood by layjellies such as myself). This happened approx. 15 billion years ago* (give or take a few billion).

Galaxies formed through a process of assimilation, our solar system formed in a similar process, and the earth was formed about 5 billion years ago. At some point, amino acids and carbon elements in some biologic soup came together to form life.

There formed multi-cellular creatures, and after millions of years of evolution Jellyfish appeared!

We are the most complex life form on the planet Earth. Surely this has all been for our benefit. The birth of the universe, the creation of the stars and planets, and all other life forms have evolved for us. We have dominion over all we survey and can do whatever we like with this planet.

~Dominus Jellfavian 512,300,625 BC.
What if the Jellyfish had behaved as Mankind has? What if they began to devour the world, eliminate all species not productive to the life of jellyfish, multiply beyond sustainability...
It is true that jellyfish are not as intelligent (or stupid) enough to have raped the world in such a way. But Mankind has existed on the Earth for 3,000,000 years and did not consume or destroy the world.
It was not even the birth of Homo Sapien Sapien that marked the beginning of the end of humanity and many many species that will become extinct due to our existence. It was the birth of or culture, nearly 10,000 years ago, that marked the dusk of human life.
It was then that we began telling a story that put ourselves in charge of nature. It was 10,000 years ago that we decided to multiply without end. That was the age in which we went to war with nature, killing everything that hindered population growth and expansion.
The story was that we have dominion over the plants and animals of the Earth and we choose what lives and what dies. We ate the fruit of the Tree of knowledge and believed we knew the difference between good and evil. It has led to our seemingly imminent doom.
The Bible says that God said that the day Adam (meaning Man) ate the fruit of the tree of knowledge that he would die the same day. 10,000 years is but a day compared to the 3,000,000 in which we have lived on this planet.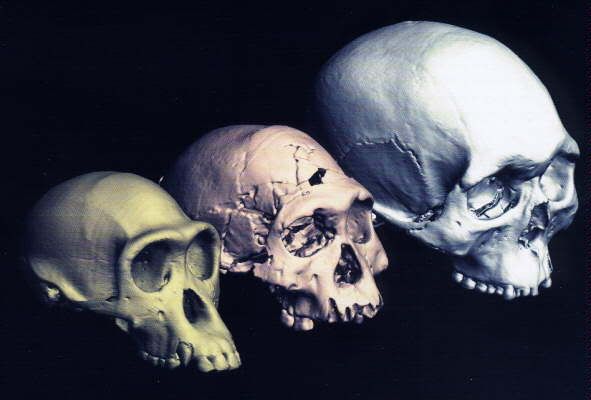 There are 6.5 billion humans on the planet. We wake up everyday and consume the world as though all life evolved to serve us. As though evolution has come to its end because guess what WE have arrived.
It is as fictitious and idiotic as the Jellyfish proclaiming they finally appeared. Evolution of life was not for their benefit neither is it for our benefit. We may have lived another 3 million years on the planet if it was not for one culture in Mesopotamia that decided to take from the rest of humanity and indeed all of life whatever it wanted.
The myth that the world is created for us and we have dominion over all life has led us on a path to destroy not only ourselves but potentially all complex life on the planet. It is also this singular belief that is the locus for many other logical errors. Much of human suffering flows from this fundamental cultural belief of ours.
Listen to the hum in the background. On television, in books, in advertisments, in sunday school...try to hear the myth being retold over and over and over again. Once you recognize it you'll be able to spot it all the time as one does a low hum in the background. It is a hum that has put us to sleep and made it possible to destroy the world.