I haven't really been paying too much attention to the swath of diaries about TocqueDeville, either those petitioning that Markos reinstate him, or keep him banned. I haven't really "picked a side" in this debate either -- should he have been banned, or no? I did read the TocqueDeville diary that sparked the controversy, and I don't really have much to say about it, except that I fundamentally disagree with anyone who advances conspiracy theories about 9/11.
I'm not going to debate about whether or not TocqueDeville should be reinstated because that's ultimately up to Markos. But I will share a little secret about my blogging experience here:
I was once banned from Daily Kos.
That's right. No joke. I broke the site rules several months ago, and the powers that be on DKos kicked me right out.
But, they reinstated me. Thank goodness they did.
I'll be happy to share why, if you'd care to join me after the fold. For me, this is a simple diary of redemption....and a small way of giving thanks to the DKos community for allowing me to post my thoughts here.
When I first joined DKos back in September 2008, I wanted an outlet to express my view of politics and political issues. I was an Obama supporter from before the Iowa primaries, and I just hoped to contribute to the discussion about the Presidential race in the same way that millions of bloggers around the world do. Progressive politics was important to me, and I thought I could maybe add a valuable voice to the community. Not an unusual reason to join DKos by any means -- probably the same reason most others on DKos signed up (save for bloodthirsty trolls).
Immediately after the second Presidential debate -- the infamous "That One" debate -- I had what I thought at the time was a brilliant idea. I would create a Facebook group dedicated to electing "That One"! Ooh yes, THIS was gonna be my winning ticket. I'd create the group, put some fancy little pictures on it, include some links to articles about That One, and get everybody involved. The group would go viral, I'd get a million Facebook users to sign up, and everybody would be thanking me for taking initiative for electing That One as President.
Naturally, I thought I'd start with mobilizing people on Daily Kos. They'd just LOVE it if I could inspire them to join a FACEBOOK group, right??? I then proceeded to spam people's diaries with a link to the group. I hit the open threads, the front page stories, the diaries on the Rec List, the diaries that were recently published.....and I did it all in about one hour's worth of time. Everyone was going to know that I was an active, politically-engaged citizen. It was a fail-proof plan!
Or so I thought.
What a shock it was to find a red-letter warning atop the front page a couple hours after I started the Facebook group. It was written to me. It said very plainly that I was being warned about spamming the website, and that failure to heed this warning would result in an immediate ban from DKos. It asked, "Do you acknowledge this warning?", or something to that effect. I clicked the Yes button.
I figured that would be the end of it. It wasn't. Shortly afterwards, I found that I could no longer write diaries. I couldn't recommend diaries, comment on diaries, or rec anyone else's comments. That was the end of it. I had been banned from Daily Kos.
I was horribly ashamed of myself. It was perhaps the stupidest thing I'd ever done as an amateur blogger. Spamming other people's diaries was completely selfish of me. Whoever pulled the trigger on banning me -- whether it was a site admin, a series of TUs from the community, or Markos himself -- was right to do so. I deserved exactly what I got.
And did the Facebook group itself go viral? Nope, not so much. Only a couple thousand people joined.
What I didn't realize, when I first started that Facebook group, were these four important things:
Daily Kos users don't need to join a Facebook group to show solidarity in their support for Barack Obama. They already supported his candidacy by the time he was the nominee.
Any Facebook user knows just how frustrating and maddening it can be to get request after request after request to join somebody's group, or support somebody's cause -- just ask yourselves how often someone has asked you to become a Facebook Zombie or Vampire or Pirate or some other shit like that. My efforts were merely adding to that frustration.
Spamming other diaries completely disrespected the hard work and effort that others put into their diaries. Some users were actively involved in the campaign, or discussing the policies endorsed by Obama and McCain, or writing about the latest BS from Fox News, or writing a personal diary about their experiences with homophobia. Spamming these diaries with my not-so-important Facebook group unfairly disrupted them and I paid the price for it.
Most importantly, there was a clearly written rule in the FAQ that prohibits spamming. Period. I didn't pay attention to it, and I got banned.
Anyway, I found out that I could apply for reinstatement. I wrote a simple letter of contrition and apology, detailing why I was wrong to do what I did, and that if they denied my request, then I would gladly stay out of the community and would wish DKos all the best.
Apparently, I must have done a good job, because I was forgiven for my transgressions. Markos is supposedly the only court of appeal when applying for reinstatement, so to Markos, I thank you.
In the time since I've been back, I've written a lot more diaries -- even got a couple on the Rec List and the Diary Rescue. I've been a much more active member of the community by reading lots of other diaries. I've appreciated any and all suggestions, tips, recs, and criticisms of my thoughts. I've been happy to give the same back to other users because that, in my mind, is what this community is all about: Ideas, Intellectual Discourse, and Progressive Politics.
Yes, I know that maybe I could have signed up with a different screen name, but I can promise you that I have NEVER used a different screen name than what I am using right now. I have no sock puppets. NONE. I am SuperBowlXX, and I very much plan on staying that way.
I can also appreciate the arbitrarity of it all. In the end, this diary, and every other diary before and after it, will be locked inside the treasure trove of DKos diaries. I like to imagine that the vast library of DKos diaries looks a little like this: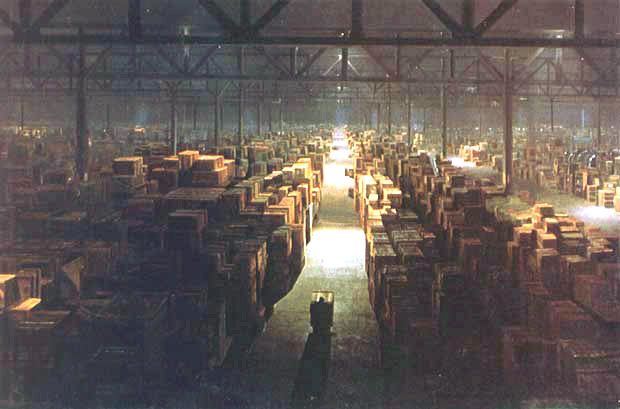 So to all in the reality-based community, I thank you for letting me tell you what I think. It's a pleasure and a privilege that I hope to continue for a long time. I hope you will each do the same.
Thanks for reading, and peace to all.
*****************************
UPDATE #1: A good number of commenters have asked why I was banned from Daily Kos if I hit the button acknowledging the warning. My guess is that it was an autoban, and not because of an individual site admin. I don't really know how it works, but I'm pretty sure there's a secret algorithm that will autoban users if all the right conditions are met. I spammed LOTS of people's diaries at the time. I racked up a LOT of TRs doing it. It would not surprise me if the autoban was triggered.
UPDATE #2: In the spirit of being fully transparent, I offer you the ugly evidence of my misdeeds. It's actually kinda funny, just looking at the rap sheet: a whopping 112 HRs (!) in a single DAY.
What can I say? As Sun dog says in the comments below, election season makes everyone a little nutty.