On Memorial Day, we celebrate and remember the young men and women who fought and died in America's wars to preserve our way of life. We honor them with music, parades, speeches and wreaths. Above all we pay tribute to their service by marking each of their graves with small American flags as tokens of appreciation from a grateful nation. But there are some soldiers today who will not be remembered. No moments of silence will be observed to their memories. No monuments are inscribed with their names. Only weeds mark their lonely, final place of rest. One hundred years ago, they fought and died - not to preserve our way of life, but to make for us a better one. They were activists, pioneers and fighters in a battle for social and economic justice, which once raged on these streets where I live and, which is now largely forgotten by the citizens of a country who benefit everyday from the legacy of their sacrifice. Well, today I hope to right some of this wrong and I need your help to do it. So, I hope you will take a moment to recommend this dairy and join me in remembering Bertha Kulla, Pauline Horowitz and Jacob Bernstein.
It was just about two years ago when I first discovered the deplorable conditions of the grave's of these American heroes. You see, Bertha Kulla and Pauline Horowitz were shirtwaist strikers. They were two of those girls who had battled and bled, on the streets of lower Manhattan, fighting for the rights of American workers in an age of nearly unregulated and completely brutal, laissez-faire American capitalism. They were two of the girls who, in October of 1909, left their sewing machines and went on strike against their employers; ultimately sparking one of the largest and most important labor uprisings in American history. They were two of those who were beaten and abused on the picket line by Tammany police and union busting thugs. Bertha and Pauline were arrested and fined numerous times in the service of their cause. Left in debt at the strikes conclusion, both were forced to return to a workplace largely unchanged and unrepentant. It was there, on March 25, 1911, that Bertha and Pauline, along with their co-worker Jacob Bernstein and 143 others, lost their lives in the worst industrial disaster in New York City history - the Triangle shirtwaist fire. The tragic and horrifying deaths of these workers, whose bravery, spirit and devotion had so captured the imagination and hearts of New Yorkers just a year earlier, brought about a sense of collective guilt and public anger which would finally force the political class to enact long needed workplace safety reforms. But even more important, the disaster gave rise to a new breed of political leader who would champion a philosophy of government which would, for the first time, argue that the people of New York were an important asset of the State worth protecting. This attitude would foster some of the first social welfare legislation in American history including workman's compensation insurance, minimum wage protection, old age pensions, medical insurance, etc. It was these programs, first pioneered in New York in the aftermath of the Triangle fire, which FDR would eventually establish for all of America as part of his New Deal.
As some of you may know, I have been engaged for the past few years in a large project whose goal is to create the first accurate and complete listing of those who perished in the Triangle fire. No one had done this before and with the 100th anniversary fast approaching, it seemed about time that someone did. In the process of finding their names, it was necessary for me to visit and survey their graves. All 146 of them. What I discovered in this journey was shocking. Many of their grave site's were in absolutely appalling condition. Some were so covered with overgrowth that it would take me repeated visits to find them. Others had been vandalized. Most however, had simply had been worn away by nearly a century's worth of pollution and weathering. So, last year I decided to expand this mitzvah of mine. For those of you unaware, a mitzvah is a very special act of human kindness which expects nothing in return, not even a thank you. To this end, I have dedicate myself to restoring all of their resting places by the 100th anniversary of the tragedy on March 25, 2011.
I began this process last year by personally cleaning four of their burial sites. Bessie Dashefsky was the first. Bessie is buried at Mt Zion Cemetery in Queens, NY. She was kind of special to me because Bessie was the first of the 10 victims I discovered who had never before been identified by any previous researcher or historian. I'm actually pretty proud of this. It had taken me three trips out to mount Zion the previous year, before I finally found her sad, little, ruin of a head stone which was badly overgrown by vines and thorn bushes. A year ago this week, I returned to her grave to clean what remained of it. Here's a before and after image of the site: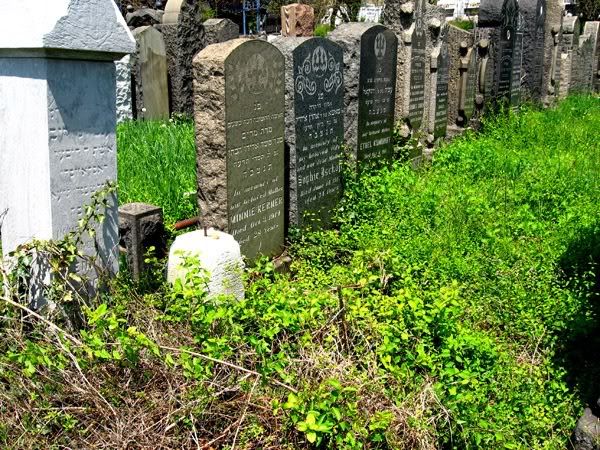 After...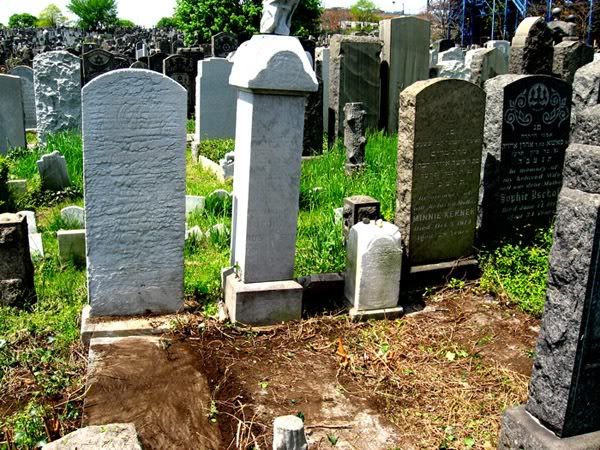 Little, 16 year old Anna Altman was among the fire's youngest victims, a union member and one of those poor souls who was forced to jump to her death in order to escape the raging inferno behind her. Anna's grave had been vandalized many years earlier, and was one of many memorials toppled over at United Hebrew Cemetery in Staten Island, NY. With the help of a cemetery worker in November, 2006, I was able to flip the stone over revealing her long hidden name. Last summer, aided by Anna's descendants, I had the stone cleaned and remounted. Have a look.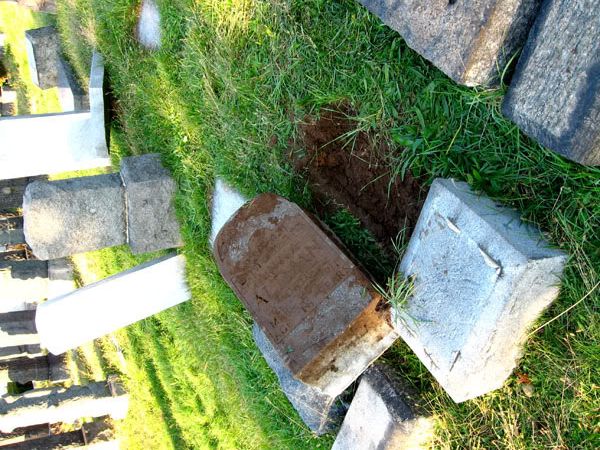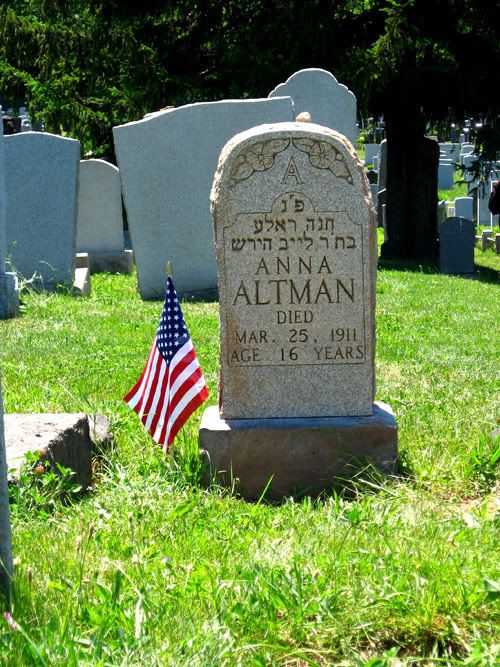 Doesn't that just make you want to smile?
Nine pair of sibling died in the Triangle fire including eight pair of sisters and one pair of brothers. Among these were Rosie and Sarah Brenman who once lived near my apartment in the East Village on 3rd Street. Seventeen year old Sarah, or Surka as her brother Jacob referred to her, had only been living in the United States a few weeks when she succumbed to smoke inhalation and burns on the ninth floor of the factory. The Brenman sister's grave located, at Baron Hirsch Cemetery in Staten Island, NY, was one of the two most difficult cleanups I took on last year. Their grave was completely covered in ancient vine growth, soil and mulch. Unlike the other two situation, it would require many, many days of work to completely restore and clean the site.
Before...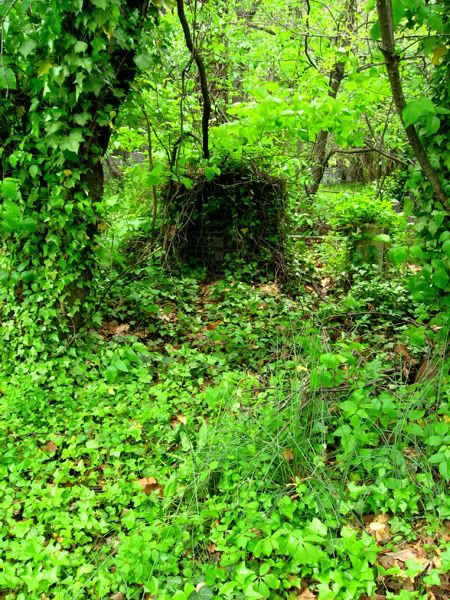 After...

The other rather evil cleanup was that of Beckie Neubauer. Some of you may recall that I diaried about this last labor day. Beckie's grave, and the entire rear of the burial society where she is interred at Baron Hirsch, was completely shrouded in at least 50 years of nearly impenetrable vine and bush growth. Much of this included a worst case, poison ivy infestation. The work took me an entire week and required the cleaning of the rear six rows of the burial society. About 48 graves. I finished in time to place an American flag on her resting place on Labor Day 2008. Here is the diary I posted last September and a before and after image of Beckie's grave.
after...
Well, that was last year, but now it's time to begin again and here is where I really need your help. Union heroes Bertha Kulla and Pauline Horowitz have rested in unmarked graves at Mt Richmond Cemetery in Staten Island, NY for 98 years. Jacob Bernstein is buried near them. His headstone had been damaged beyond repair years ago by a badly overgrown tree stump. The wonderful people at the Hebrew Free Burial Society, who own Mt Richmond Cemetery, have given me permission to restore all three of their graves and to provide long over due memorials for Bertha and Pauline.The stones would be purchased through the Society. The total cost for each tree foot tall, granite marker including foundation, inscription and installation is only $750.00. The complete cost is $2200.00 for all three. Unfortunately, Hebrew Free Burial places their yearly monument order only once a year at the end of May so my time is running out. Would any of you be willing to make a contribution to this cause? Even a small donation would be helpful if enough of you join me in this mitzvah of remembrance.
Donations should be made directly to the Hebrew Free Burial Society through the organization's website. Here is the link to the donation page. http://www.hebrewfreeburial.org/...
Please include this text in the box specifying donation purpose...
For Triangle grave restorations - Bernstein, Kulla, Horowitz.
Please also include my email in the notification box:
bouwerieboy@gmail.com
If we can place the order this week, then we should be able to have an unveiling sometime in November just in time to mark the 100th anniversary of the Uprising of 20,000. All of you of course, would be invited :-)
The restoration work was begun a few weeks ago with the removal of the badly rotten awful tree stump from Jacob's grave. Here is what it looked like before: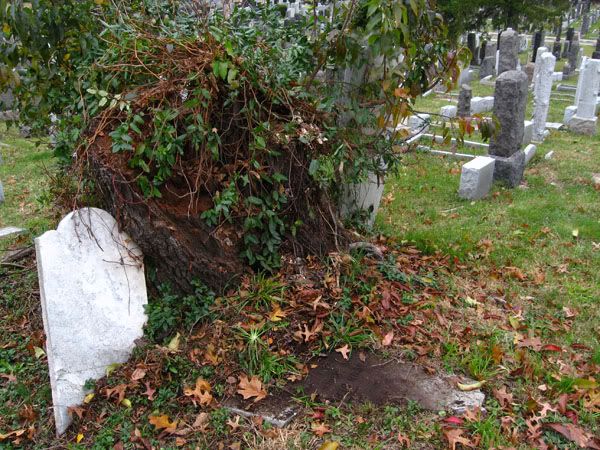 And a few views after...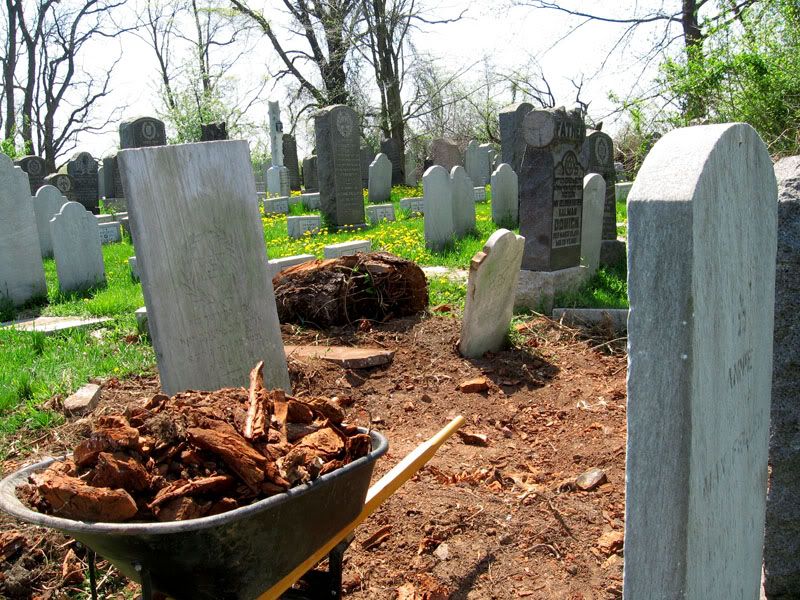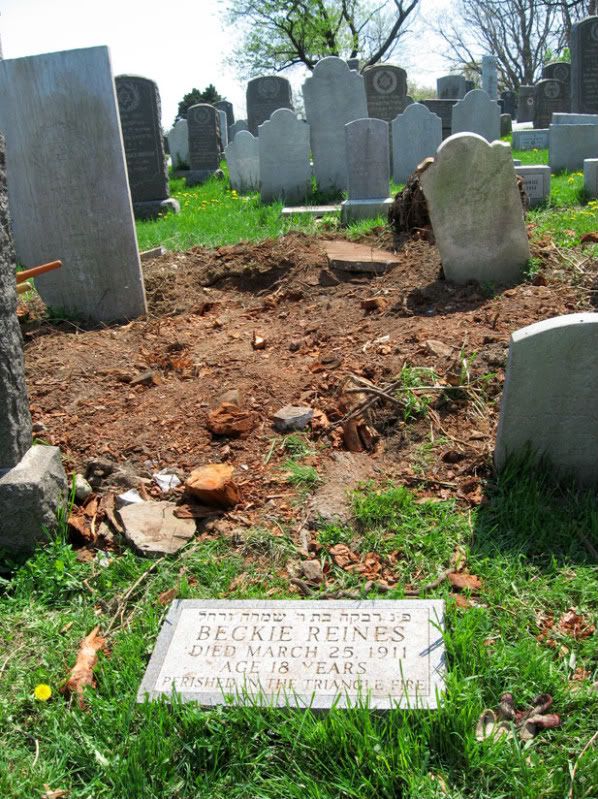 I know that this is a lot to ask, especially considering how tough times are, but remember, times have been made tough largely by design. The design of a small group of radical extremists who believe that government is bad and any regulation even worse. A group of people Hell bent on returning us to a time when the business of government was protecting business and not people. A time when children jumped to their deaths for lack of a sprinkler system. A time when mothers burned alive for lack of fire drills. A time when sisters were impaled to death for lack of fire escapes. It is the very same world that Bertha Kulla and Pauline Horowitz fought so hard to change. Seems to me, we need to remember their fight and sacrifice now more than ever.
Here are a few related sites you might find of interest.
The Cornell University Triangle fire website.
The Hebrew Free Burial Society
and this video about their wonderful mission
Thank you Kossacks :-)