Oh Hai!! Here at Top Comments we round up some of the site's best, funniest, most mojo'd and most informative commentary. We depend on your help with talent spotting. If you see a comment that deserves recognition, please send it to topcomments at teh gmail by 9:30pm Eastern. Please include a few words about why you sent it in as well as your user name, so we can credit you with the find! kthxbai!
Before my husband, McDoc, left for work this evening (12-hour overnight shift in the ER -- how else would you want to celebrate Memorial Day weekend?), I told him that I had looked at the calendar and noticed that he has only 6 more shifts in the ER this month -- which means 6 more shifts, ever, because next month he'll be in Critical Care, and after that, he starts his new program in Physical Medicine and Rehabilitation!
This is great news, because he came to the conclusion back in November, after 16 months of an Emergency Medicine residency, that Emergency Medicine is not the specialty for him. That begs the question: how does a medical student decide on a specialty?
I have a friend who, somehow, knew from the time he was in high school that he wanted to be an otolaryngologist. How that happens, I don't know. But he finishes residency next month, so I can't argue!
But my beloved is more of a Renaissance man, so he considered a few different specialties. He settled on EM because it seemed varied and interesting, and the fast page meant he'd never be bored. And even though the shifts are intense, when you're off, you're off -- no constant pager wear, like in one of the other specialties he briefly considered.
Well, it turns out that fast-paced isn't really his bag after all. Here's his favorite metaphor for what it's like to work in the ER:
Sigh... if only he'd had this chart handy while he was still in med school: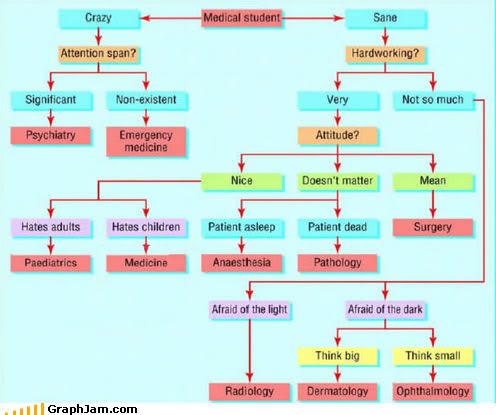 Well, there's the problem. He's not the short-attention-span type. He's not a cowboy, either, and I hope I never see the day when he has to do an emergency field trache on somebody.
Here's another handy guide by the same artist who introduced the "cowboy" above. PM&R isn't on there, so I'm glad McDoc heard about it some other way.
Actually, I'm not sure how he heard about it, except that he told me it's considered a "less prestigious" specialty than some others. (Like otolaryngology, for example.) You know what? After watching him swim in the giant bowl of suck that is medical residency for two years now, here's how I feel about that:

Now for the Top Comments!
I haven't seen this before -- we had 4 nominations in the TC mailbag, and when I went to look at them, I found that it was really 2 comments nominated twice! So you know they're really, really top!
From llbear and MeToo:
llbear says:
Sweeping reformation of this country - change that we could all not only see, but really benefit from - comes from Dallasdoc. I swear, if that man was a part of the Obama brain trust, this country would suddenly discover a new sense of peace and justice. He is awesome.
MeToo remarks:
DallasDoc often has great insights. This is what Progressive inclusive ideas are made of:
From Land of Enchantment and mieprowan:
LoE says:
My STFU this morning elicited a lot of family lore in the comments. One of the best was from fiddler crabby on the subject of shoes in the Depression years. Powerful stuff.
mieprowan describes it this way:
From Land of Enchantment's terrific diary on the Southern Tenants Farmers Union, this insightful comment on judging people, by fiddler crabby.
And one from me:
In teacherken's heartwarming diary, TrueBlueMajority has a good idea for a whole new sub-category of Top Comment.
Let's go to Top Mojo, courtesy of the indefatigable brillig!
Top 30 (plus ties) Comments excluding search-identifiable tip jars and first comments:
1) But I found the punchline by FishOutofWater — 193
2) YouTube wingnuts are Cheney's base. by elliott — 155
3) Thank you for the Rec List by rbutters — 135
4) Gregory always uses by Kitty — 132
5) Completely unbearable by shaotse — 121
6) Plenty of diary for me. by mijita — 111
7) I got lost by Thassa — 100
8) My reaction to the photo is simple - by teacherken — 100
9) some say....david gregory is an idiot. by mama jo — 97
10) First, thank you for your service to our country! by rontun — 94
11) As soon as I heard Gregory was taking over by ShadowSD — 92
12) Cheap shot, I know by Land of Enchantment — 89
13) Obama loves children by Kitty — 89
14) Cut the cord. by KingOneEye — 82
15) I don't think it's that by DelicateMonster — 81
16) I've been wondering lately if by mjd in florida — 80
17) This NON-diary sucks by qmastertoo — 78
18) The thing is by liberalis — 76
19) Why did he add the qualifiers by mosesfreeman — 70
20) he is still a child - by teacherken — 67
21) If you believe there is no equality between by grannyhelen — 65
22) A psychologist could get lost in there by LaFeminista — 64
23) Israel has a simple choice by Dallasdoc — 63
24) Walk me through this... by JeffLieber — 62
25) Exactly... by NLinStPaul — 60
26) ZOMG!!! by kingubu — 60
27) I've seen it several times here but by Lying eyes — 60
28) The Man has two daughters... by Blue Shark — 59
29) No disrespect to the dead, by Black Max — 58
30) Here's a nice pic from that time: by Asinus Asinum Fricat — 57
31) It's good to have a human being as President by Vox Libertas — 57
32) Close up it's even more revealing. by Eileen B — 57
Top 30 comments with no exclusions:
1) Tips for the tip FOB by rbutters — 559
2) Tip Jar (I hope) . . . s/t by Land of Enchantment — 491
3) So it's not much of a diary - by teacherken — 487
4) TJ Its just too silly for words. by LaFeminista — 450
5) Tips by Dartagnan — 257
6) Tips for Progress by xxdr zombiexx — 220
7) This is the kind of change I can believe in! nt by Shane Hensinger — 207
8) But I found the punchline by FishOutofWater — 193
9) I've seen about an hour total of him since he by bamabikeguy — 157
10) YouTube wingnuts are Cheney's base. by elliott — 155
11) Tips Thanks by RichardfromHB — 147
12) Thank you for the Rec List by rbutters — 135
13) Gregory always uses by Kitty — 132
14) Completely unbearable by shaotse — 121
15) Tips by Trix — 116
16) Plenty of diary for me. by mijita — 113
17) My reaction to the photo is simple - by teacherken — 101
18) I got lost by Thassa — 100
19) some say....david gregory is an idiot. by mama jo — 97
20) First, thank you for your service to our country! by rontun — 94
21) As soon as I heard Gregory was taking over by ShadowSD — 92
22) Bless her. Honor her sacrifice. by noweasels — 91
23) Tipped and rec'ed, but I have to disagree by Ran Talbott — 90
24) Cheap shot, I know by Land of Enchantment — 89
25) Obama loves children by Kitty — 89
26) Cut the cord. by KingOneEye — 82
27) I don't think it's that by DelicateMonster — 81
28) I've been wondering lately if by mjd in florida — 80
29) This NON-diary sucks by qmastertoo — 79
30) The thing is by liberalis — 77