Last Saturday night, my Hubby was perusing Craig's List for free stuff. It's amazing what people will give away. We have got a moped, three alpacas and various other goodies, free for the pick-up. This particular evening, my Hubby found an ad that read, "Free herbs. You come and dig them up!" On Monday morning he drove over and dug up some herbs. He came home with oregano, two different sage, rosemary, chives, mint, marjoram and thyme. Some of the plants were quite large. He potted them all and arranged them on the deck.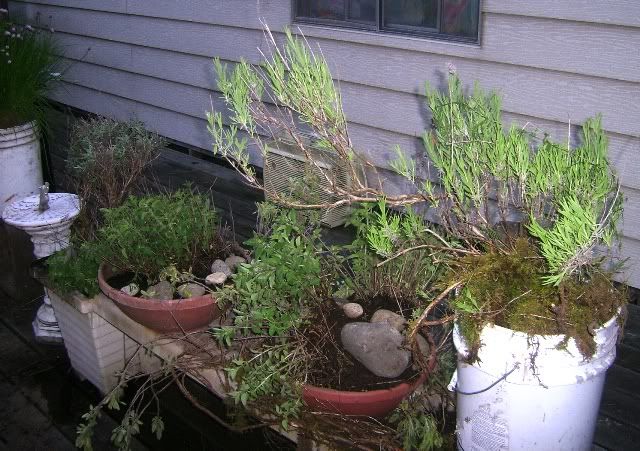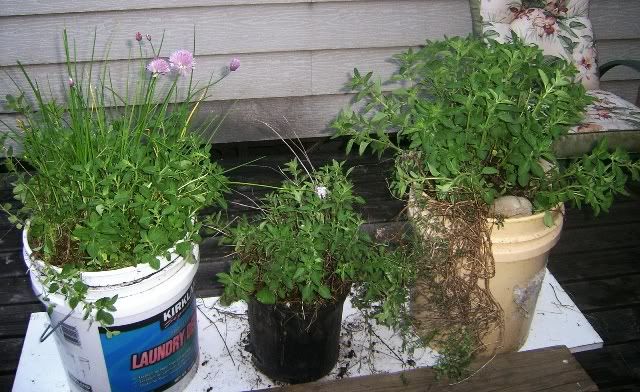 This is in addition to the plants we already had out there; tomatoes, basil, tarragon, catnip, jasmine, lavender, lemon thyme and parsley. So now we have plenty of herbs to cook with, which is one of our favorite things to do. We are both pretty good chefs, if we do say so ourselves. We enjoy experimenting and trying to recreate recipes we see on Iron Chef and other food shows. Having fresh herbs only widens our palette. We'd like to share a few of our dishes with you.
We begin with a nice salad...
Festive Sweet & Savory Potato Salad
1 1/2 pounds multi-colored potatoes (Yukon Gold, Peruvian Purple, Baby Red, etc.) unpeeled
1 hard-boiled egg, minced
3 small sweet gherkins, minced
1 large dill pickle, minced
10 black olives, minced
10 green olives, minced
1 stick of celery, minced
fresh chives & parsley to taste, minced
4 Tbsp. Mayonnaise
1 Tbsp Mustard
1/2 tsp. Flavored or White Wine vinegar
Cut the potatoes into 1/2" cubes. If using purple potatoes, cut last and boil separately. Cook potatoes until a toothpick can be inserted, they should still be firm (about 10 minutes). Remove from heat and place into cold water to stop cooking. Mince hard-boiled egg, pickles, celery and olives and add to a large bowl. Cut and add herbs; the best way to mince them is to use scissors and clip them very small. Add vinegar, mustard and mayonnaise. Mix. Add potatoes. Fold gently. Turn into serving bowl and garnish with parsley an chive flower.

One of my favorite cooking herbs is tarragon. Its anise-like flavor goes especially well with chicken or in salads. Fresh tarragon has much more intense flavor than dried, and should be used sparingly. Tarragon will freeze but only for a few months and even then it loses its flavor and is only a ghost of its former self. You can make a lovely vinegar by putting fresh tarragon sprigs into a sterilized bottle of distilled white wine vinegar. Taste after a few days. Continue steeping until it suits your taste. Once desired strength is achieved, remove the sprigs. The kitchen dictionary has this to say about it:
An herb with narrow, pointed, gray-green leaves with a distinctive anise or licorice flavor. Only the leaves are edible. Tarragon is excellent with seafood, fruits, poultry, eggs and most vegetables, as well as sauces, particularly bearnaise sauce. Tarragon can easily dominate other flavors, and care should be taken when using tarragon. Tarragon leaves should be used fresh, as the aroma of dried tarragon is usually very weak. French or german tarragon is sweet and aromatic, reminiscent of fennel, anise and licorice. Russian tarragon has coarser, paler leaves and is not fragrant and tastes slightly bitter. The french variety is most often used in cooking. Matches well with: artichokes, bearnaise sauce, carrots, chicken, eggs, fish, lobster, mushrooms, onions, potatoes, rabbit, salads, shellfish, sole, spinach, stuffings, tomatoes, veal
This recipe takes advantage of how well it goes with chicken....

Bacon-Wrapped Lemon Tarragon Chicken
1 lemon
4 (8-to-10 oz.) skinless chicken breast halves
4 slices bacon
4 sprigs (4-inch) fresh tarragon
2 Tbsp extra-virgin olive oil
1 Tsp kosher salt
Freshly ground pepper
Heat oven to 350 degrees F. Cut 4 very thin slices of lemon and remove seeds; juice the remaining lemon and reserve.
Season chicken all over with salt and pepper. Using the bacon, wrap a tarragon sprig and lemon slice around each chicken breast and pin with toothpick; arrange in a 13x9x2-inch baking pan. Drizzle with olive oil. Pour on lemon juice. Bake uncovered, 45 to 50 minutes, basting with pan juices and occasionally rotating baking dish, until chicken is just cooked through.

You might not think about lavender as a culinary herb but it most definitely is. Lavender has a sweet, floral flavor, with lemon and citrus notes. Since the potency of the lavender flowers increases with drying, use 1/3 the quantity of dried flowers to fresh. Go ahead and experiment; start out with a small amount of flowers, and add more as you go. BUT, adding too much lavender to your recipe can be like eating perfume and will make your dish bitter. A little goes a long way. Lavender can be substituted for rosemary in many bread recipes. It lends itself to savory dishes also, from hearty stews to wine-reduced sauces. The blooms add a soft scent to custards, flans or sorbets. Use the spikes or stems for making fruit or shrimp kabobs.
Having some lavender sugar on hand for tea or baking is always a nice idea. You can do this with a vanilla bean, too. Just place the lavender or vanilla bean into a jar with the sugar and let sit in a cool, dark, dry place for at least 24 hours before use. Remove the flavor agent after you are satisfied with the flavor of the sugar. Store in a cool, dry place.
Lavender sugar is the secret ingredient in this recipe...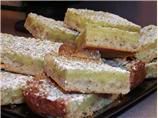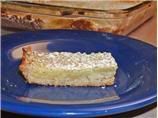 Lavender-Lemon Bars
Crust
1/2 cup granulated sugar
1 Tbsp lavender, chopped fine
1/2 pound unsalted butter, at room temperature
2 cups all-purpose flour
pinch of salt
Lemon Filling
4 large eggs
1 2/3 cups granulated sugar
zest of 3 large lemons
2/3 cup freshly squeezed lemon juice
2/3 cup all-purpose flour
Powdered sugar
At least 24 hours before, put the lavender and granulated sugar in an airtight container. Let sit in a cool dry place to allow the lavender to permeate the sugar. When ready to make the bars, grind the sugar and lavender together in a blender or food processor until fine.
Preheat the oven to 350F. Grease a 9x13 baking sheet.
Crust: cream the butter and lavender-sugar together with an electric mixer until light and fluffy. Fold in the flour and salt and mix on low until small balls of dough form. Remove to a floured surface and form into a ball. Flatten it out so as to fit your baking pan. Lift the dough press it into the baking pan, leaving a 1/2-inch edge on all sides. Refrigerate for 15 minutes, then bake for 15-20 minutes, until barely browned. Cool.
Filling: whisk together the eggs, sugar, lemon zest, juice and flour until well combined and a bright yellow color. Pour the filling onto the crust and shake gently to evenly distribute the filling. Bake for 30 minutes, or until filling is set. Cool, cut into squares and dust with powdered sugar.

For a beverage, try some fresh mint tea. Very refreshing!
Fresh Mint Tea
2 cups fresh mint leaves
1 cup lemon balm leaves (also known as bee balm)
2 cups sugar (or honey to taste)
1 quart water
Combine in large pot. Bring to a gentle simmer. Simmer for 30 minutes. Strain into a jar. I use about 2 oz of syrup to 12 oz of cold water. YMMV. Garnish with a lemon slice and/or mint sprig. You can add other herbs if you like; hibiscus or rose petals are nice. Or add citrus juice or regular tea. The taste of fresh mint goes well with almost anything in a beverage.

Here is a list of fresh culinary herbs you should have on hand. All work well in containers so you can grow them on a patio or balcony or even indoors:
Basil - There are several varieties of basil. Sweet Basil is the "everyday" stuff. Purple Basil is used in Thai cooking. Ruffled basil has large leaves which are great for wrapping things in. There are also flavored basils like lemon and cinnamon. Use in vinegars, pestos, sauces with lamb, fish, poultry, pasta, rice, cheeses, eggs, salads, breads, muffins. Wrap a basil leaf around a slice of mozzarella cheese and tomato for a snack.
Chives - Have a delicate onion flavor. They are very useful and grow quickly. Try garlic chives, too. Use in salads, with veggies, poultry and fish, in soups, stews and sauces, with eggs, in soft cheese, in butters and vinegars. Use the flowers in salads or to make a beautiful, mild vinegar.
Lemon Balm - This is very lemony with a slight hint of mint. It goes well as a tea, in wine, with fish, in soft cheese dips, with fruit salad and with mushrooms.
Marjoram - A kind or oregano, actually, sweeter and milder. Use the leaves in salads, beef, fish, pork, cabbage-family veggies, butters and vinegars.
Mint - Always grow in a container unless you want it to go crazy. Try different kinds; pineapple, orange, lemon, chocolate (yes, it's yummy!), apple, ginger... Goes well with veggies, in tea, jellies and vinegars, and in desserts.
Oregano - The quintessential Italian herb. Be sure to label it & the marjoram since they look a lot alike! There are several kinds of oregano, including Greek (be sure you get O. heracleoticum or O. vulgare hirtum, NOT O. onites which is often labeled as Greek oregano but is inferior in taste), Sicilian and Syrian. Besides in Italian cooking, it goes in salads, in marinades, with cheese, in eggs, in sauces and stews, with beef, pork, shellfish, poultry or game, in pasta, butters and vinegars.
Parsley - Not just a garnish! Use in eggs, on sandwiches, with veggies, in soups & stews, with meats, in vinegars and butters and sauces.
Rosemary - You can get several kinds with different growing habits. The best for containers is "Blue Boy." Use with all meats, in Italian cooking, in marinades, butters and vinegars. Use the stems as skewers for shish-kebab. Use the flowers with fruits and salads or crystallize for desserts.
Sage - There are more than 900 species of sage. The best for cooking are "regular" (salvia officinalis), Spanish or Greek. Use with veggies, in breads, with pork, poultry and in sausage, in stuffings, in butters, cheeses, jellies and vinegars. The flowers are good in salads and with fruit and tea.
Tarragon - Be sure you get French tarragon! As noted, it goes well with chicken but also with fish, beef, pork and seafood. Use with veggies, in honey, butter, soft cheese. It is wonderful in sauces (Bearnaise sauce requires it) and salad dressings, pickles and vinegars. The flowers are lovely in salads.
Thyme - Common thyme is very versatile. It goes with beef, pork, poultry, seafood, sausage, veggies, soups and stews. In butter, soft cheeses, egg dishes, with rice and grains and beans and in breads. Use the flowers in salads or as a garnish. Try lemon thyme - it's lovely!
Don't be afraid to experiment with fresh herbs. If you can't grow them, most stores carry them. If you can't get fresh, use dried but remember that you use less of dry herbs than fresh - about 1/3 of the fresh amount. Now, go forth and eat of boldly the herbs!