Welcome to another edition of Wine Regions, an ongoing exploration of the interesting world of wine.
This week we will focus on California's Sonoma County, north of San Francisco Bay and West of the more famous Napa Valley.
Read on for more on this diverse wine region.
Indeed, diversity is the name of the game in Sonoma County, with world class wine made of many of the most important grape varietals.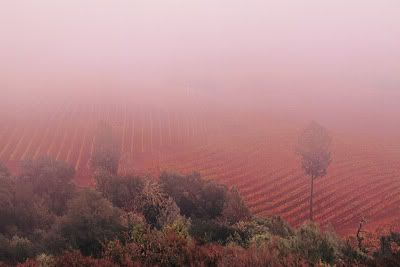 Rockpile and Knights Valley AVAs from Sonoma Valley Winegrape Commission
Sonoma County is a large (1786 square miles) growing area made up of 13 AVA's. Having languished in the shadow of its more famous neighbor for years, these days Sonoma can make a valid argument that it is Napa's equal. From The Sotheby's Wine Encyclopedia:
Six fertile valleys combine to make Sonoma County California's most prolific wine-producing area, with an output comprising equal quantities of red and white wine, and a reputation for quality...
The best way to study Sonoma is to profile its famous wine growing regions. The thirteen AVA's in Sonoma county are: Sonoma Valley, Knights Valley, Alexander Valley, Dry Creek Valley, Russian River Valley, Chalk Hill, Los Carneros, Northern Sonoma, Russian River Valley, Sonoma Coast, Green Valley, Sonoma Mountain, and Bennett Valley. I will profile a few of these regions focussing on the diversity of Sonoma County.
Sonoma Valley. This area has a long and storied history. In 1823, Franciscan Monks planted the first vineyards in Sonoma Valley. From Wikipedia:
In 1857, Agoston Haraszthy established one of California's first successful commercial wineries here when he founded Buena Vista Winery.
Before prohibition, there were over two hundred wineries in the Sonoma Valley, but the Eighteenth amendment virtually destroyed the wine business in this area, which didn't recover until the sixties. Now there are over 250 wineries in Sonoma Valley.
Within the Sonoma Valley is the appellation of Los Carneros. This area actually includes parts of Sonoma and Napa and is the coolest and windiest region in Sonoma County. Unlike most of Sonoma Valley which is known for its Cabernet and Zinfandel, Carneros is known for Pinot Noir and Chardonnay, which do better in cool growing conditions. In the 1980s, Champagne houses like Moet y Chandon and Taittinger opened wineries in Carneros, which sparked the planting of Chardonnay and Pinot Noir. From wikipedia:
Carneros Chardonnay is marked by its high acidity that can bring balance to the fatter, rounder Chardonnays produced in the warmer climate areas of Sonoma and Napa. It is usually put through malolactic fermentation and giving significant oak treatment to soften some of the acidity. Pinot Noir from Carneros is known for its crisp acidity and tight structure and frequently exhibits spicy berry fruit.
Speaking of Pinot Noir, The Russian River Valley produces some of the best Pinot in California. Cool in the western part of the appellation but warmer in the east, this area is marked by morning fog rolling in from the Pacific Ocean which helps moderate summertime temperatures and leads to a long growing season. This is a recipe for complex wine, and indeed, Russian River Pinot can have a depth of flavor rivaled only by Burgundy and Oregon. From wikipedia:
Older clones planted in the mid to late 20th century...produced a "classic" style of Russian River Pinots that were characterized by vibrant (but pale) color, lively acidity, cherry and berry fruit flavors and delicate aroma that would often include earthy mushroom notes.
Lately a more full-bodied style has come into fashion, with a deeper color and more black fruit flavors.
If Cabernet Sauvignon and Merlot are more to your taste, try the wines from the Alexander Valley. Located in northeatern Sonoma County, Alexander Valley is bordered by the Russian River on the east and the Mayacamas Mayacamas Mountains on the west. Sheltered from the Pacific, Alexander Valley is one of the warmer areas of Sonoma, leading to fully ripened grapes. The wines from this area tend to be full bodied and fleshy, with ripe, lush fruit flavors. Alexander Valley Cabernets, though not as dry and complex as their counterparts in Napa and Bordeaux, are nevertheless very appealling and drinkable, with notes of dried red cherry, plum, and black currant. The alluvial soils of the region tend to impart a chocolate flavor to the wine. This adds a complexity to the Merlots, which are very appealing.
Dry Creek Valley makes good Cabernet and Merlot, but it is famous for Zinfandel and Sauvignon Blanc. Just west of Alexander Valley, Dry Creek tends to be a little wetter and cooler. Oz Clarke's Encyclopedia of Grapes describes the Zinfandel from Dry Creek:
Typical Zin flavors from Dry Creek are juicy blackberry and pepper; bright flavors with good acidity.
The best Sauvignon Blanc from Dry Creek Valley are crisp and grassy, with grapefruit and gooseberry flavors. Some wineries make a wine called Fume' Blanc, which barrell ages the wine, which adds creaminess to the fresh, vibrant acidity of Sauvignon Blanc. IMO, this is a mistake, if you want an oaky white, there are plenty of California Chardonnays to choose from.