Today, I'll note 3 "this day in history" items. The first one is fun for us baseball fans (Hi Keith!), but the other 2 may appear to be a bit more "down," but after the violence that we've seen in our nation over the last couple weeks - including in a place to honor tolerance, peace, & education, we owe it to everyone who has died & to everyone who put their lives on the line for tolerance, peace, & education to remember.
Let's talk fun first! The National Baseball Hall of Fame and Museum was dedicated in Cooperstown, NY on this date in 1939. I'm sure Keith's been there 80 dozen million times; one of these days, I'll get there. Take me out to the ballgame, indeed! :D
On this date in 1963, civil rights activist Medgar Evers was fatally shot in front of his home in Jackson, MS. I don't know very much about him; this information from Wikipedia will hopefully spur more study from me & anyone else who wants to learn.
The final event I'll discuss here carries a powerfully poignant irony (for lack of a better word) in light of the horrible shooting at the Holocaust Museum the day before yesterday. Anne Frank was born on this date in 1929; she & her diary were one of the first to put a human face - a teenage girl's face even - on one of the most horrible evils ever seen in the history of our planet.
http://www.dw-world.de/...
http://www.annefrank.org/...
I'm going out on a limb here, but I imagine that whoever notified the Nazis about the people living in that attic probably thought they were doing their duty & obeying the law. Did they or do they or do their descendants appreciate the significance of what was done in both a horrible but also a positive way? Like I said above, we owe it to the dead & to the survivors to NEVER FORGET.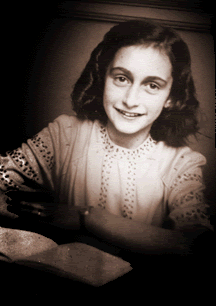 Let's Countdown.
#5 "Palin VS. Letterman" AKA "Palindrone" - Keith, if you wrote that litany of adjectives to begin the show, BRAVO! Now, "that woman" is saying David Letterman wants to go after all women young & old. Dave, for the love of all that's holy, DON'T GO HUNTING WITH "THAT WOMAN"! She's probably a better shot than DICK. Grandma Gov. TurkeyLover used her time on the Today Show that she was supposed to be using talking about natural gas in her fair state to exploiting her kids – AGAIN – for her own personal & political gain. Ya' know, I haven't brought out this award in awhile, so we're way over due! Once again, she is the once & future Mother of the Year on behalf of the estate of Joan Crawford!
Wow, she actually used the words "statutory rape." Oh, can Dave sue her for libel, slander, or something?! GET THEM CBS LAWYERS ON THE CASE, DAVE! Honey, girls have such low self – esteem in American because WOMEN LIKE YOU are being propped up as the example of supreme womanhood. OK, I don't use this word very often, and I feel $hitty saying it, but she brings out the worst in me. I HATE SARAH PALIN; I HATE SARAH PALIN; I HATE SARAH PALIN. She should be proud; I don't use that word with or about many people – at all. OK, I really can't watch this segment any more while she's on because I WILL THROW SOMETHING AT MY TELEVISION MACHINE; THERE'S A BIG 'OL CIRCULAR SAW ABOUT 4' AWAY. Oh, I have been richly rewarded. "That woman" went away; I GOT RICHARD WOLFFE! There...is...a...Gawd! :D
#4 "They Ran in Iran" AKA "Persians of Interest" - Both major presidential candidates in Iran are claiming victory, fraud, etc. And, how 'bout that little dig to Uncle Pat?! HA! John Bolton wants the incumbent crazy freak to win – what a damn shock. They haz the reptile brain. So, why is all this fuss being made about a president of Iran that appears to be more of a figure head as far as REAL decisions being made, at least according to what Steve Clemons said? Did I miss something or misunderstand something? I've still got mentally cussing out "that woman" on the brain – using the 7 words in oh – so creative ways.
** I saw the Bush daddy's jump today at lunch! I agree with nil of his politics, but I don't necessarily think he's evil, and sure as $hit hope I'm still kicking around like that when I'm 85. There's a food show in Tokyo & robots going ape $hit with mandolins! Ukrainian ladies are protesting hot water being cut off by stripping to their underoos, doing their laundry in a fountain, and splashing around in said fountain. Yea, I bet the line's just HUGE to sic the cops to end THAT protest. A guy in South Carolina jumped from a bridge, people thought he was committing suicide, people called 911, but it turns out the dude had just run out of gas & was jumping to a buddy's boat. What the f*ck's in that water south of the Mason – Dixon line?! There's going to be a taxpayer march on Washington DC on September 12; the sign's awfully commie lookin', don't cha' think? The GOP candidate for Virginia Governor wants people to "just say yes." That slogan is used by a group promoting sex education – OOPS! And, slightly OT, but did anyone else chuckle as heartily as I did the other day when Terry McAwful got his sorry hind quarters handed to him in the Dem primary? **
#3 "Sonia Sotomayor" AKA "Republican Conundrum" AKA "Caught in the Middle" - A poll suggests that GOPers who try to delay the confirmation process of Judge Sotomayor will lose even more "popularity" than they already have, and, in case y'all have been under a rock, they ain't exactly winning Miss Congeniality to begin with! Randall Terry has felt the need to throw in his way – less – than 2 cents' worth on the issue; I guess saying a murdered doctor deserved to die was just too warm & fuzzy for him.
Mr. McCain, Senator Brownback, a vote for Sotomayor is a vote for Roe. If you confirm Judge Sotomayor, the blood of the babies that will die because of her rulings is on your hands.
So, if some crackpot tries to assassinate them, and uh, Mr. Terry, that should be Senator McCentu...er...uh...McCain to you, let us know when you'll be home so we can send the cops or Secret Service or some other law enforcement your way to arrest your hateful intolerant a$$ for your part in it. Some GOP Senators are threatening to not show up if the confirmation of Judge Sotomayor isn't delayed – all righty! Change the locks while they're gone!
WPITW – Andrew Brietbart is having a cow that the Holocaust Museum shooter is being portrayed as a right – wing extremist. Boss Limbaugh is blaming the healthcare crisis on healthy people who take care of themselves and who exercise regularly. It's all my fault? Dammit, my bad...sorry! Michelle Malkin thinks using 9/11 imagery for the "reading Miranda rights" ilk being spewed by some people is just so gosh – darned funny. Did y'all notice what we DIDN'T SEE during the Boss Limbaugh bit? THANK YOU, KEITH!
#1 "Remembering Tim Russert" - Tim Russert's been gone for a year. Monica Novotny & David Shuster were on the air working that afternoon, knew he had died & had to hold back their heart break? Wow...I could not have done that.