I've been following the discussions on DailyKos and through the American media about health care and insurance and figured the Australian model is probably something Americans would like to know about.
To begin with, it is necessary to add an important disclaimer - I am not a health professional, insurance industry worker or lobbyist, care giver nor in any way involved with the policy or implementation of Australia's public safety net health system. I am simply someone who, like everyone Australian, automatically qualifies for access to our system of health care and wanted to share my interpretation of how our system works and how it has affected my family directly. Any errors I make in my interpretation of how our Medicare system works, I hope a few Aussies and other people will help me correct.
The Australian health system model, a hybrid system of public and private interests, includes a government owned private insurance fund so may provide some ideas for what has been working (with evolutionary changes) since 1975. Over the fold I will try to explain what we have based on Wikipedia's entry and mine and my families interaction with this health care system.
The source for the following summary is Wikipedia with occassional additional supporting resource links used. Because this is a long diary, I have also moved my own summary from the bottom of the piece to the top so you can see what it is about at a glance.

- Australia has had universal health coverage since 1975. Good people had to fight very hard to achieve it.
- The Democratic party equivalent, the Australian Labour Party, introduced the legislation
- The GOP party equivalent, the Australian Liberal party, fought as hard as possible to keep it out.
- The Liberal party (Australia's right) kept the coverage when they came to power in 1976 and introduced a government private health insurance company
- The system was rebranded and had a makeover in 1984 to what is now known as Medicare
- In 1999 a new private health insurance incentive scheme was introduced
- In 2008 the government run private insurance company made another decent profit as did its competitors
- Australia's health costs per capita are around 8.7% of GDP vs US of over 15%. Australia offers universal coverage for all residents.
- The system is a hybrid mix of profit and not for profit health providers and insurance companies and offers plenty of choice and flexibility
- I have never heard of anyone going through a medical bankruptcy in Australia
- Australian industry is very competitive, so much so that we have not suffered the economic recession quite as severely as many other countries. So public health coverage can improve the competitive edge and lower cost.
Australia dodges recession bullet
- Australia could not possibly be considered a communist/socialist country, in fact because of the government administering the funding for health services and it being universal, capitalism works very well.
- Australian industry do not have to concern themselves with getting involved in offering employees another complex product in the provision of health insurance, as the government takes care of it. Businesses are free to get on with what their core function is without worrying about this.
- Private and Public patients often will have access to the same hospital and specialists as my Uncle and I did.
- Instead of lobbyists trying to get people and services excluded out of the system, as I have described above it is in the medical professions interests to get additional services listed on the Medical Benefits Scheme.

In Australia we have a government funded universal medical coverage system called Medicare. All permanent residents are covered by this program which for a population of 21 Million people, in 2007-2008 cost AUD$29 Billion (US$23 Billion ) or about AUD$1,329 (US$1,064) per head of population increasing by about 4% per year. Although the Wikipedia link says US $18.4 Billion the link they provide does not correlate, so I have used the linked figures direct from the end of year reporting from the Medicare Office itself as that is what this diary is about. The OECD figures included would be ALL health services expenses per capita, not just Medicare. The figure Wikipedia quotes is that Medicares budget is 43% of Healths budget which seems to come close to the figures listed above.

Medicare Australia provides affordable, subsidized treatment by enrolled doctors and other medical service professionals in public hospitals and participating medical centres to all resident citizens and permanent residents. Some reciprocal country agreements also exist covering overseas visitors from those countries.
Although open to all citizens and medical services professionals to participate in the Medicare system, it is not mandatory. A family is issued with a Medicare card which will have up to five of their children on the same card. At the age of 15 an individual is issued a card and if a family has more than 5 children an additional card/s is provided. The Medicare green card itself is much like a credit card with the numbering system used to allow transactions be enacted.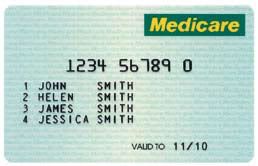 The Australian Medical Association, Government, private insurance industry and medical providers who participate in the Medicare system, depend on the Medical Benefits Scheme to determine those services and procedures covered under the Medicare program. The MBS determines the set fee for each procedure, treatment or other medical services. Medicare funds treatment or in many cases a patient is reimbursed for services provided by a medical practitioner. Eye and optometrist services are covered but dental services are not. Some alternative therapies such as physiotherapy and speech therapy are covered, acupuncture in some cases also, but the less mainstream therapies are not covered.
There are two levels of benefits covered under this universal system -
In hospital where 75% of medical expenses at the prescribed MBS fee level are covered. The remainder must be covered by private health insurance if the patient has this. If the treatment is elective (non-essential) and the patient doesn't have private health insurance, there will be a waiting list and less choice in terms of hospital and practitioner (unless they want to pay the 25% out of pocket). Some doctors may charge above the scheduled fee and dependent on private health insurance policy will determine what amount you will be covered up to.
Out of hospital expenses will be covered at 100% of the MBS fee for general practitioner or 85% of a specialists charges.
The medicare funding system which relies on the pre-determined fee level for each service, can be re-imbursed in a number of ways. Some health care providers, particularly the larger ones, will bill the government for the 75%, 85% or 100% MBS fee at the time you are treated either passing on remaining costs (gap) direct to your private insurance company or by billing you.
For the most frequent treatments where you would visit your local GP, generally they will charge you the full amount of the treatment and it is then up to you to take your receipt to a Medicare branch to receive a cash money reimbursement. Alternatively you can post your receipt in and receive a cheque. More recently Medicare has introduced another service which allows you to first pay from your own pocket these expenses, at the same time their system through a direct deposit authorisation linked to your Medicare card, will transfer the MBS amount to your bank account. In other words all electronic and immediate without further time consumed pursuing a refund/reimbursement.
Some providers have also nominated to bulk bill, which means they will only charge the 75%, 85% amount of the prescribed service, absorbing the additional 25% or 15% which was the allocated MBS fee. This is particularly common in rural communities where the community clinic or hospital is not running as a profit centre, but providing a service, so will only charge Medicare the % of the MBS Scheduled fee and often ask just for an administration donation (optional) say of $5 when booking in for your treatment.
There is one significant difference Wikipedia mentions for out of hospital treatment and that is that once the full MBS schedule fee has been charged, private health insurance companies are not permitted to cover the gap. There are a couple of reasons I can think for this would be independent operators could effectively charge whatever they wanted thus driving up both the cost of everyones insurance and relative competition. Maybe to try to slowdown any out of control cost escalations. The other is that maybe there needs to be a situation where some cost is carried by health care consumers in order to discourage attending health services for conditions which do not warrant treatment and would uneccesarily flood the system.
In my opinion, below is the best part of Australias system of health and later on in the diary I'll give you some examples.
"Regardless of means, every Australian is entitled to attend a public hospital and receive medical treatment free of charge. "
In 2004 the Australian government passed the Medicare safety net which means that if an individual does not have private health insurance and in any one year ends up out of pocket over AUD $1,039 (US $817), the Medicare system will pay 80% of the additional charges. If the patient is the holder of a family benefits card, pension or unemployed, the coverage starts at AUD $519.50 (US $408) out of pocket expenses.
There is also another Medicare backed system called the Pharmaceutical Benefit Scheme where health care card holders and pensioners are able to buy their medications at great discount.
Wikipedia also provide detail of this scheme, but it is very beneficial for keeping medication costs low for the elderly in particular.
Also because the Medical Benefit Scheme has a public schedule, you can actually get a quotation now on elective treatment, compare it against this benchmark, and decide who your provider will be. It keeps different doctors from charging significantly different amounts for the same procedure. With bulk billing being offered, community clinics or even individual doctors can in fact offer a service of free health care if they claim only the % of the MBS fee per the schedule. You can also shop around for a family GP if you like that works under this bulk billing arrangement.
To provide an example : I've an old Medicare reimbursement receipt with the following details.

| | | | | | | |
| --- | --- | --- | --- | --- | --- | --- |
| Provider 1 | Dr Who | | | | | |
| Provider 2 | Dr What | | | | | |
| Provider 3 | Dr How | | | | | |
| Patient : | Me | | | | | |
| Item | Prov | Date | Charge | Sch Fee | Benefit | Comment |
| 66672 | 1 | 091106 | 26.50 | 31.15 | 26.50 | No out of pocket |
| 73291 | 1 | 091106 | 8.80 | 10.30 | 8.80 | No out of pocket |
| 23 | 2 | 160207 | 48.00 | 32.10 | 32.10 | Cost me $16.10 |
| 104 | 3 | 210207 | 110.00 | 75.60 | 64.30 | Cost me $45.70 |
| 23 | 2 | 010307 | 48.00 | 32.10 | 32.10 | Cost me $16.10 |
| | Totals | | $241.30 | | $163.80 | |
So on the first two items, the medical provider had elected to charge only the % of the MBS covered under the scheduled fee, costing me nothing. On the other 3 the amount the provider charged was above the MBS scheduled fee, which doctors are still free to do, which meant my out of pocket was a little more than the 25% or 15% gap I would have normally had to make up. However that is where people are free to locate a provider who competes with these figures. And I am sure they do exist in my local area.
Note if you want to look these codes up, or anything else which is covered by the MBS, the documents are available below.
The July 2009 Medicare Benefits Schedule

The public/private argument needs to be considered here. Services not covered by the public system are dentistry, ambulance cover or alternate treatment which has not made the Medical Benefits Schedule. Further for elective treatment without private health insurance, that is non-life threatening, there will generally be considerable waiting lists. Meaning you will eventually receive treatment, but on the providers determination and time frame. The doctor and hospital, depending on the treatment, will not necessarily be your choice.
Oh and there is this : Qualifying for Private Health insurance in Australia depends only on waiting periods before certain pre-existing conditions or extras can be claimed against. But as I noted earlier because treatment costs are covered essentially by Medicare, the risk factor for the health insurance companies are not that severe for new clients.
How long is the waiting period?
See Table from Medibank site

2 months
All services, except those specified below:
6 months
Optical items
PackageBonus
12 months

Pre-existing ailments. However, the 12 month pre-existing ailment waiting period does not apply to hospital or hospital-substitute treatment for approved psychiatric treatment, approved rehabilitation or palliative care.
Obstetrics-related services. However, benefits are payable during this waiting period for premature births and complications arising from the pregnancy where a medical practitioner confirms that the baby was not expected to be born until after the waiting period.
Major dental services
Endodontic services (eg root canal)
Dental surgical procedures and surgical extractions (eg wisdom teeth)
Nebulisers
Peak flow meters
Spacing devices
24 months
Blood glucose monitors
36 months
Hearing aids
Finally the government owned private health insurance provider, Medibank Private, which was established way back in 1976 is Australia's largest private health insurer
List of main insurers
Medibank Private 3.4 Million members
Bupa Health insurance around 3 Million members
Medibank private made the following recent profit –

| Year | Profit AUD $ M | US $ M | Turnover AUD $ B | US $ B |
| --- | --- | --- | --- | --- |
| 2004 | $44.8 Million | $35.0 | $2.215 Billion | $1.735 |
| 2005 | $130.7 Million | $102.4 | $2.323 Billion | $1.82 |
| 2006 | $200.1 Million | $156.8 | $2.452 Billion | $1.921 |
| 2007 | $295.2 Million | $231.3 | $2.649 Billion | $2.076 |
| 2008 | $187.5 Million | $147 | $2.878 Billion | $2.255 |
They have prepared statistics at a glance which is worth looking at on pages 6 and 7 of this report below (2.6MB).
Medibank Private 2008 Annual report
MBF private fund recent profit :

| Year | Profit AUD $ M | US $ M | Turnover AUD $ B | US $ B |
| --- | --- | --- | --- | --- |
| 2006 | $263 Million | $206 | $2.010 Million | $1.575 |
| 2007 | $253 Million | $198 | $2.110 Million | $1.653 |
I have probably worked for maybe 30 or so projects and companies throughout my life and health coverage is something a new employer does not offer so never has any bearing on whether the job is the one for me. I have maintained my private health coverage at the premium level since I was about 20, even now it costs but AUD $25 (US $19.62)per week. And 30% of that I get back at the end of the year in a tax refund.
Medibank Premium coverage
As with car insurance in Australia, your health insurance policy can be reduced by agreeing to a higher excess amount (You pay an agreed amount of the claim before the insurance company does).

Partial funding of the Medicare system comes from a 1.5% levy on individual income. To encourage higher income earners to take up private health insurance an additional 1% surcharge is charged for people earning over AUD $75K per year taking their contribution to 2.5% of income.
However if they do purchase private insurance, they are then entitled to a rebate of 30% of the cost as a tax deduction. If an individual does not purchase insurance, the insurance premium itself also starts to increase by 2% additional base charge for people over 30 years of age. This penalty can get up to 70% of the base premium ceasing to increase at retirement age of 65. A final incentive is that the tax deduction increases to 35% for people over 60 and 40% for people over 70 who maintain private coverage.
So if people can afford private health insurance and are on higher income, there is incentive to purchase private insurance and another incentive to maintain it throughout their life.
The 1.5% indexation of income is not imposed on low income earners or of course unemployed or on aged pension benefits. This threshhold is a phased in exemption where people under AUD $17,309 (US $13,542) pay no Medicare Surcharge up to AUD $20,363 (US $15,924) where the full 1.5% begins to be paid on income above this figure. For aged retirees with independent income, the figure where Medicare surcharge cuts in is higher than these figures.
According to the Wikipedia site if Medicare was wholly funded through this surcharge, the actual figure would need to be closer to 8% of wages. The difference is currently made up through other government revenue streams.

After a double dissolution election in 1974, in 1975 the Australian Labour government, equivalent to the democratic party in the United States, passed universal (country wide) health coverage for all Australians. At the time the opposition party, the Liberal party who are equivalent in policy and approach to the Republicans in the US, fought any and all measures to introduce this coverage. In 1976 when the Liberal Party came into power, they did not dismantle the program, rather established a method to levy all Australians as a way to fund this new system of health coverage. Further in 1976, the Austalian Liberal Party to accompany the original public only universal system called Medibank, introduced legislation establishing a government owned, health insurance company called Medibank private. In 1984 the Labour party superseded and renamed the system Medicare.
In other words, both of these two developments appear to mirror the current debate ongoing in the United States in relation to universal health coverage supported by government funding and the establishment of a publicly owned, privately competing health insurance company.

My Nan
My Grandmother is about 80 years old. About 10 years ago my pop died from what was initially lung cancer but had spread and got consistently worse. Aged about 70 when he passed, he had worked in a brown coal mine all his life as a fitter and turner. I guess that he had given up cigarette smoking at the age of 30, which is what he thought had caused the disease, may have had some influence on getting him a few more years. He retired at around 60 so had a few golden years, albeit the last 5 or so dealing with the impacts of cancer which slowly took pieces of him bit by bit. I was the last one to sit with him at the hospital and chat to him and I can tell you that this is a horrible way to go when your lungs are wasting away and you are gasping for every breath. On the point of how his hospital bills were covered, I know he had worked for a government owned power company which, back when we all cared about our neighbours and employees, had provided him a 2% fixed 40 year home loan, full private health coverage for life and a reasonable retirement benefit scheme. So in his case the medications and other treatments were covered.
Off topic a bit here, but I can remember talking to my Pop a couple years before he passed, he had been retired a few years, and his pride at making the last repayment on his home he had lived in for 40 years. This was about 1998. I asked him how much the final weekly repayment was, and he told me it was for two dollars.
But since he passed my Nan has been on her own. She is an independent spirit and has moved a fair bit in the last 10 years, from the warmer weather at a coastal town up North, down close to her daughter, my aunt and her family back in the rural area she was from, to a village on the Murray River at a granny flat my father owns, and now back to a retirement village. Many of the people she lived in the same neighbourhood as with my Pop for 50 years, are enjoying their retirement here. Nan and Pop lived in the same town for their entire married lives so I guess she needed to shift around for a while.
But the story is about health insurance so I'll tell you that early last year, Nan had finally worn out her knee. She'd been to a doctor about the problems and pain she was experiencing about 18 months before and over the course of a couple of months the determination was made that a new knee was needed. Her coverage had dropped back on to the full Medicare public option, however because she is retired, a pensioner, her medications are subsidized by the Pharmaceutical Benefit Scheme and she could get the knee replaced on the public option, but would simply have to wait.
It took about 12 months before Nan finally got the appointment and time in public hospital to have the knee replaced. The operation was in a large city hospital 3 hours drive away and required a night in hospital. I am fairly sure that my Aunt took her to hospital and back home. After that I'd speak to her every few months and at Christmas and can remember her relaying the slow rehabilitation process. It must be a fairly traumatic operation as after about 3 months or she was concerned that the knee wasn't healing as there was a fair amount of pain and discomfort. I can remember my Dad, Uncle and Aunt at this point going with her at one stage or another to her physical therapist, to help my Nan understand nothing was wrong, just that the healing would take time.
My point to all this. This operation, medical appointments leading up to it and rehabilitation after, would have been quite expensive had my Nan had to pay for it out of her very small pension and she would not have been able to afford US style health insurance. The operation was necessary as her quality of life was suffering and independence being restricted, so I am sure had it been required we would have all chipped in. However this is the first point where our health systems differ.
When you have relatives in discomfort you want them to be out of pain. Nan was not so bad that 12 months difference would have made a difference and she would be too proud to think she was a burden on anyone financially. But in Australia, she didn't have to be. Our health system looked after her with the minimum of fuss. Her families only real involvement was being there to drive my Nan from treatment to treatment and provide moral support, comfort and a little advice when required. These are the things any family would do.
My Uncle
My uncle, approaching 60, a relatively high income earner, had to have his gall bladder and post operation stomach surgery last year. Even though he was on good money, he did not and has never had private health insurance. He had been experiencing a fair bit of pain, as occurs with gall stones and like I often do, pretty much left the problem until he could no longer ignore the symptoms. After being referred from doctor to specialist, the diagnosis was offered that he needed full surgery to remove his gall bladder.
Although he was covered only by the public system, meaning that he would have to wait for a period for his operation as part of the waiting list, in the interim he was already seeing specialists to review his case. His condition was causing him constant pain and there were additional issues making him sick, so the specialist was able to bump him up the public waiting list.
I had a discussion with my uncle about his treatment and he told me that he was subjected to the same conditions private patients were. Although he had some gap hospital charges to pay, he was not concerned about this as he understood that by not having private coverage at some stage he'd be out of pocket for some hospital treatment. But because the doctor was able to bump him through the public waiting list because his condition warranted immediate attention, these costs were no more than what my Nan was subjected to. So from diagnosis to full gall bladder surgery was only a few months, with most costs covered under the public health system.
My Story
I mentioned that until recently, I worked on construction/commissioning projects. This can be a fairly transient lifestyle as general timeframe for a project can be anything from 3-6 months to 2-3 years. So I've moved a lot, never really settled anywhere, and not really established a day to day routine. One of the disadvantages of not having a base is other areas of your life can slip if you aren't careful. So before I knew it I was 120kG (265lbs) and not being able to see a way out of this trap I'd set for myself.
So I'd heard about lap band surgery and decided to investigate this relatively new procedure. Information I could find led me to understand that this was elective surgery, only performed by specialists and not part of the Medical Benefits Scheme. This meant of the people I talked to who'd had it, out of pocket expenses without private health insurance were about AUD $10,000 (US $7,865).
However after speaking with one of the private providers of this service, they explained that these costs could be bought right down as private health insurance were covering the prosthetic (lap band) and many of the other costs they had managed to move across to the MBS. So total costs were estimated at about $3,000 (US $2,359)and this included post operation support.
At the time I was working in a rural Australian town so to get a referral from a standard GP I had to visit the local community run clinic. As the clinic was not for profit they had established bulk billing. So having never been to the clinic before, I made an appointment over the phone to see a GP two days from then. On the day all I had to do was hand them my Medicare card, fill out a few forms with a few details on name, home address, phone number, age etc, pay the optional $5 to cover their administration expenses and then see the doctor. No fuss.
The GP asked me lots of questions even though I explained that I had researched the hospital and procedure and didn't need anything but a referral. For overweight people who take the first step in recognizing they have a problem, even this discussion with a strange doctor I found quite confronting. Answering questions about your eating and exercise habits when it is something you haven't considered for 15 years, can be difficult. But in retrospect this was nothing compared to what came after.
So that got me an appointment with a specialist, who booked a date at the earliest which was about 3 months from then, and I had the operation. Not much to say about the lap band surgery apart from I was in hospital only one night with the keyhole surgery only involving 5 small incisions. Initial recovery required taking it easy for a couple of weeks not doing anything too strenuous (something I was good at), and a liquid diet moving gradually into a solid diet. Again being a construction worker for a long time, I had at some stage been on a liquid diet, but usually one which involved drinking a lot of beer. This one was very different.
Then the rehabilitiation started.
Ever watched the biggest loser? You know the commando guy? Along with a 10 session dietician visit which came as part of my AUD $3,000 (US $2,346) package, also paid for were about 30 personal training sessions (with a group of 4) over 8 weeks. Although my trainer wasn't as harsh as the commando in retrospect, I can tell you she did seem like it initially. I think personal trainers perform an amazing service and one in particular being able to get you to reflect on your life habits honestly and WANT to change them. This training was part of everyones rehabilitation package who opted in, with the goal being to either have the patient recover so that they could participate in a 4km (2.5 mile) walk, or 10km (6.2 mile) run.
The decision of what I would participate in was taken out of my hands. So they enrolled me in the run. In 8 weeks I had to go from someone who'd really let themselves go, to running 10km (6.2 miles). But I threw myself at it. By the time the day came around, my weight had dropped to about 80kg (176lbs) and I was probably fitter than I could remember being in at least 15 years.
The day of the run came around and I made a stupid statement, which because there were many people at the fun run who had also had the operation, a lot of people heard. Without thinking it through I said I would complete the run in under one hour. To a fit person, this would be no challenge, however for someone coming from a sedentary lifestyle to this in 8 weeks, it was a bold claim.
In fun runs they get you to tie something similar to what they use as security devices to your shoe laces. The device registers you as you go past the starting line and then again when you come in at the finish.
The group I'd been training with had agreed to run together but after the first couple of kms as the crowd thinned out, the other runners from my group were falling behind. My trainer who was running with us was running from me back to them and keeping me informed on times etc. Because there were so many people in the run, I think it had taken about 4 minutes to even cross the start line, so the time my trainer was telling me, and my own estimate were different by a couple of minutes. So we all completed the course at different times, but it wasn't that which mattered. This was a group of people who had made the decision to change their entire lives who had individually achieved something remarkable. Only made possible by the care and post operation involvement of the team at the hospital who'd bought us all together.
One of the great things about this group was members from years before had maintained contact with the team who ran all this in the doctors surgery. There were quite a few dinners and get togethers during this time where past patients would come and tell their own inspirational story of how their lives too had changed.
Currently the team where I had my surgery are lobbying the Federal health politicians and Medicare to try to get this lap-band surgery included as a procedure on the MBS. This I think is worth noting, as instead of doctors being pressured by insurance companies to get services excluded, they are actually lobbying to get new procedures included. Actively working on improving the health system for a greater number of people by including life changing procedures into the public system.
One last important point, the gastro-intestinal surgeon and private hospital where my uncle was operated on under the public system and my own private elective surgery were one and the same.
I know these stories are not really the kind that make you want to jump out of your chair and howl at the moon over the injustice of it all, but that is really not how I, nor anyone I know, look at the health system in Australia. We know that private health insurance will often (but not always) mean an improved hospital stay, provide more choice of doctor or hospital, mean a shorting waiting period, but that the public system is looking after us all as a back stop.

Is the system perfect you may ask? Well I don't think anything is perfect, with new developments, new technology things can always improve. Plus it is human nature to find fault with anything so criticism of our system does exist from many angles. However, it is also human nature to want to live a life free from the fear that if you do get ill you will need to make the choice between treatment and losing your job, treatment and losing your home, going bankrupt or into paralysing debt, or be forced to call on other members of your family or friends for financial assistance. Because in 1974 good people fought hard for the public health option, Australians have been liberated from that fear.
So if you are wondering if this is something you need to fight for and fight hard, in my honest opinion, it is worth the fight.
It did not come for free or easily.
In fact a double dissolution election is one where differences between parties are so great on something so important to the government at the time, that legislation is introduced once, if it fails, introduced again and if it fails second time around the public are called to an early election to vote on the party they support on this one issue.
To the people who fought for this public health option in 1974, thankyou. Because of it I know my Nan is well taken care of in the public system, my uncle or anyone important to me as well. No-one in Australia, whether they can afford it or not, has to live in pain and suffering long term or in danger of falling into poverty, losing their jobs, psychological or relationship breakdowns from the stress, simply because they were unfortunate enough to get sick and can't afford insurance or treatment.
Oh, my results for the 10km (6.2 mile) run were published the following day in the local newspaper.
My time – 59:57. Thanks in large part to the Australian public system of health coverage, I made my crazy target by 3 seconds.
==========================================================================
Links
Medicare Australia
Medicare Financial Statement 2007-2008
Medicare Statistics 2007-2008
Pharmaceutical Benefits Scheme
Medical Benefits Scheme rates
Medicare Health Gap cover
Apologies for the gaps at the top of the tables. I dont know how to eliminate this as I can't find fault with my code.