Hello and welcome to the usually apolitical community diary that is about sharing the experiences, strengths and hopes that keeps us going. This diary is still an Open Thread where you can share anything but tonight is also about This Green Earth.
Tonight's story that had a shorter version at La Vita Locavore this weekend is both political and a happy story. To join the week long celebration called DK GreenRoots tonight's diary is an environmental happy story.
It is a story of an advancement for the food movement, a story about heightened awareness going out to the public about how much gasoline and diesel we put into the atmosphere trucking food all over the nation, all over the world.
Often times progressive movements seem isolated but when The New York Botanical Garden seems to be getting it about the advantages of eating local food, when the leading horticultural education institute in the western hemisphere seems to get it, it just seems like many more Americans are about to get it.
Saturday was day one of a new program at The New York Botanical Garden. The program that is called The Edible Garden will last all summer and be repeated every summer for years to come. With stories like New York Botanical Garden embraces fresh food movement in The Bronx and The New York Times guide to this weekend's Edidible Garden Festival it seemed like nothing more than a gardening tips publicity stunt but there was more.
While home gardening was stressed, telling New Yorkers why we should be eating locally grown food seemed like a departure from the usual for this very established institution. If this weekend was any indication than my favorite living museum just dipped its toe into food politics and the NYBG reaches much further than the people who are politically involved. For anyone involved in the local food movement, this may represent another opportunity to reach the public. If previous exhibitions like the Orchid, Chrysanthemum and Holiday Train shows are any indication then Edible Gardens will become larger and more popular each year, increasing awareness far and wide.
There are a few seemingly small changes. Like the NYBG farmers market tripling in size, going from one to two days a week and getting a new title, Sustaining Farms, Sustaining Nature, Sustaining You. The educational tours added Bronx farms to the list this weekend. The Garden will stress the use and understanding of heirloom seeds all summer in both The Shop in the Garden and the lecture hall. There were also new demonstration areas about how the city dweller can get the most out of very little space. If you want, you can even win a tiny urban garden. This weekend there were organic gardeners giving advise in the demonstration gardens and the largest demonstration gardens is now devoted to heirloom seeds.
Some of the changes seemed much larger. Just being handed a flier titled "10 reasons to Buy Local Food" was impressive enough but what I saw on Saturday in the new cooking demonstration tent, it just seemed like a huge victory. I saw Dan Barber warm up an audience waiting to see Martha Stewart. This was not my first time seeing Dan Barber speak. Because I am lucky enough to call Jill Richardson a good friend I had the good fortune of hearing Mr. Barber at Slow Food Nation. I had an idea what to expect. As I sat under a huge tent right next to the most beautiful glass house on earth I could see about a thousand other people in the audience that didn't know what to expect.
This was an audience waiting to see Martha Stewart rattle some pots and pans and they heard a speech from Dan Barber, the chef from Stone Barns Center for Food and Agriculture, that opened with "The American food industry is based on $30 a barrel oil and cannot sustain itself." Mr Barber came pretty close to calling the American food industry insane and his message had impact. He talked about the nutritional value of local grown vegetables as compared with vegetables that were shipped across the nation and the energy wasted in shipment. He talked about the advantages of grass fed animals and how the Hudson Valley has what might be the best grass on earth but somehow New Zealand cornered the market on grass fed livestock. He talked about change.
I was shocked when he gave an audience of Martha Stewart fans a glowing review of the movie "Food Inc" and suggested that everyone should see it. When he suggested that the next food documentary should be about the medium sized farms that are being put out of business and creating a totally corporate food culture in America the audience having recently learned that even corporate cookie dough isn't safe, the audience actually gasped in horror.
Jill gave me some more information on that issue;
Farms over 2000 acres may make up only 3.6% of all farms, but their sales represent 27% of sales by all farms of any size and their land makes up over half of all farm acres in the U.S. And these farms are totally on the government take. Nearly 1/3 of all government money that goes to farms goes to farms over 2000 acres.
The best part was this audience, those people that were definitely not foodies, they listened to the president of the NYBG Gregory Long introduce Martha Stewart.
And once Martha got past the proper way to pronounce herb and talking about her food empire, even though the menu items included Purple Basil Mojitos and Marthatinis, the audience looks just a board as I was. They wanted to hear more from Dan Barber. Sorry Martha.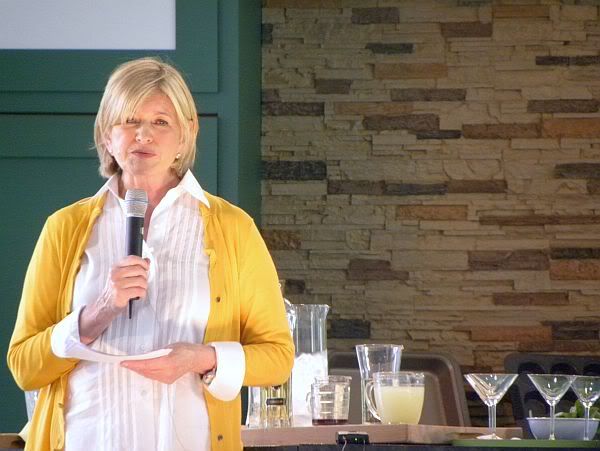 Dan Barber's presentation became even more impressive today when I spoke the communications director, Karl Lauby. When I wrote Catch a Wave at the New York Botanical Garden over at La Vita Locavore I could only speculate about this being a new wave at the NYBG. The suspicion that because of the influence of federal support and corporate sponsorship, perhaps the management didn't know what they were getting into by inviting Dan Barber to speak was laid to rest as Mr. Lauby offered assurance that management was aware of what would be presented by Mr. Barber. He even thought that the president of the garden knew what to expect and said to expect "more of the same in the coming months." He confirmed that there will be a stronger commitment towards urban farmers in the Bronx. Mr.Lauby also offered that "the NYBG is in sync with public demand and the local food movement." This really is a new wave.
The NYBG has been a place for demonstration gardens and information about growing your own food for over one hundred years. There are other educational programs in this urban oasis. On the grounds there is both a working Children's Garden for local children and the Everett Children's Adventure Garden for all. The Garden has also long been the host of many community gardens throughout the Bronx. So this new step makes perfect sense and how much it grows is in the hands of the public. While there are politics everywhere the NYBG is not a political body, it is the leading authority on botany and horticulture, science not politics. This doesn't mean there will be a great deal of serious support for food issues but with the growth of the local food movement and as the new urban farmers get more involved in activities the information should improve. As the public relations grows closer to the message of the NYBG science division the junk science created by the junk food industry will be making less and less of an impression with the public. Talk about your Victory Garden.
I have been involved with the NYBG all of my life. I practically grew up there, served as a volunteer docent for a decade and I seem to have exclusive rights to the New York Botanical Garden tag here at DailyKos. I've even been involved in the politics of this 250 acre institution and seen a great deal of change over the past fifty years but that was a special day. What I witnessed this weekend at the NYBG was a very Happy Story.
It seemed to make beautiful young Anne Dabrowski happy too.
This is surly not the first "leading by example" victory of the local food movement. With Michelle Obama's White House Organic Garden it is probably not the most impressive example of the establishment getting it. The public statements of the First Lady combined with the selection of a White House chef who favors local and organic foods has had a huge impact on food awareness. But seeing families that may have been planning a quick meal at McDonald's that evening walking away from the event and discussing seeing the movie "Food Inc" was another step in the right direction.
So how about you? Do you have a comment that will put a smile on another Kossacks face and help to make the coming week a little easier?
But first a word for our sponsor.


If you are interested in environmental issues, please join DK GreenRoots, a new environmental advocacy group created by Meteor Blades. DK GreenRoots is comprised of bloggers at Daily Kos and eco-advocates from other sites. We focus on a broad range of issues. We alert each other to important eco-stories in the mainstream media and on the Internet, promote bloggers at one site to readers at other sites and discuss crucial eco-issues.  We are in exciting times now because for the first time in years, significant environmental legislation will be passed by Congress.  DK GreenRoots can also be used to apprise members of discussions and strategy sessions happening in Meteor Blade's Green Diary Rescue thread, which is also our workroom.
A schedule of all DK GreenRoots articles and diaries can be found in the tip jar.