The word "wolf" conjures up a host of images, most of them frightening. From the 2004 Bush/Cheney campaign ad to the children's tale "Little Red Riding Hood" to films like The Day After Tomorrow and the upcoming The Wolfman, our culture uses wolves to frighten us. But history suggests wolves have more to fear from us than we do from them. They are an essential part of our natural world, and may help cool our planet.
More below the fold....
DK GreenRoots - Wolves and Predators
Note: Thanks to organizing efforts by Patriot Daily News Clearinghouse and Land of Enchantment, and with support by Meteor Blades, this is DK GreenRoots week, with diarists and series asked to look at environmental issues. Here at Morning Feature, we're both privileged and pleased to join in that effort. Today we'll look at the plight and promise of the grey wolf, and tomorrow and Saturday we'll explore the carbon footprint of mass transportation. A list of recent and upcoming GreenRoots diaries, and an invitation to join the DK GreenRoots campaign, are at the end of today's diary.
This past May, wolves were taken off the endangered species list.
"We have recovered a wolf population," said Ed Bangs, wolf recovery coordinator for the U.S. Fish and Wildlife service, based in Montana.

"The populations are viable, they are in great shape, they have extreme genetic diversity and so the endangered species act did its job to bring wolves back."
Once nearly extinct in the lower 48 states, grey wolf populations now top 4,000 in the Great Lakes region and more than 1,300 in the Rocky Mountain region. Estimates for Alaska range from 8,000-11,000. It is among the signal successes of the 1973 Endangered Species Act, and the presence of wolves may be helping revive forests in Yellowstone National Park. As forests are our planet's lungs, scrubbing carbon from the air, that would seem to be a win-win outcome.
Predators and prey.
"They can have as many wolves as they want in Alaska, Canada, Yellowstone Park, but don't bring them to the Svenson ranch, they're not needed here," said Sven Svenson.

He's a man who's running out of ideas and running out of ways to stop more of his animals from being killed by wolves on 10,000 acres of grazing land. "I've lost with the ones we just looked at this makes 27 head," said Svenson. "I'm sure there's stuff I haven't found yet. I won't know until I get a count in February."
While the state of Montana reimburses Svenson for livestock lost to wolf predation - the story's claim that the reimbursement fund is depleted was refuted - some say that's not enough. Perhaps it's the common impulse to "solve a problem once and for all," or our culture's demonization of the species, but some ranchers want the wolves gone, dead, period.
Some ranchers, but not all.
"In the grass business."
Jael Kampfe is a fourth-generation rancher in Montana.
"My grandfather taught me to think of myself as being in the grass business instead of the cattle business," Kampfe says[.] "The better you treat the land, the better it will treat you."
That attitude led Kampfe to focus on sustainability rather than convenience, with practices ranging from pasture rotation to prevent overgrazing, to taking advantage of the Bailey Wildlife Foundation Proactive Carnivore Conservation Fund's offer of "range riders" to stay with the herds through the summer and deter predators.
It's hardly a new idea. "Range riders" is simply a new name for the longtime roles of cowboys and shepherds. It's the ancient practice of animal husbandry, set against the modern practice of animal factories. Whether to save labor costs or simply because our outlooks on even the oldest human endeavors became warped by dreams of efficiency, too many ranchers don't want to have to look after their herds and flocks.
And as Kampfe notes, too many large ranches - which act as highways for indigenous species - have been subdivided into "ranchettes" where fences keep livestock in too small an area and cut off natural migration routes. The result is often pastures grazed to wasteland and the inevitable conflicts with wolves, coyotes, and other predators. Nature, it seems, favors openness, diversity, and resilience over boundaries, simplicity, and efficiency.
The trees return.
That's what scientists are finding in Yellowstone National Park. Renewed wolf populations keep the elk population in check. With fewer elk eating spring shoots, more trees survive and thrive. The wolves also help other species who feast on the wolves' efforts. Grizzly bears rarely take down adult elk, preferring to pick off the young, but wolves routinely kill adult elk. Grizzlies and other carnivores either eat what the wolves leave behind, or may even drive them off a kill. Regardless, the ready availability of adult elk carcasses taken down by wolves means more young elk reach maturity. Scientists say the wolves are to Yellowstone as the Everglades are to south Florida, not only an essential link but the essential link in the complex chain that is an ecosystem.
We humans too often want One Size Fits All, Once And For All Time solutions that minimize labor and maintenance. If we're to build sustainable societies, we'll need to get back in touch with nature's lessons of openness, diversity, and resilience. We've taken steps toward that - the Endangered Species Act is an example - but we still have a long way to go.
Happy Thursday!
+++++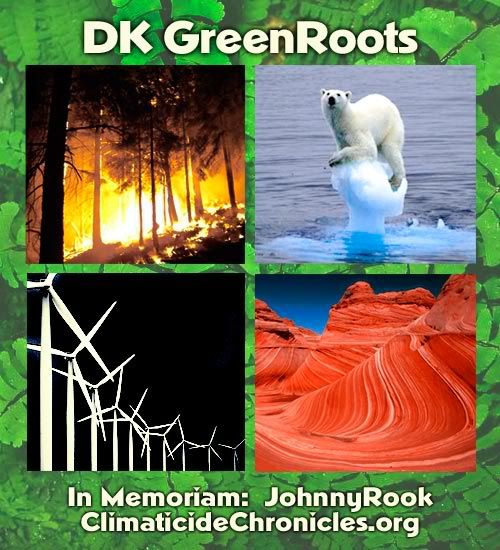 If you are interested in environmental issues, please join DK GreenRoots, a new environmental advocacy group created by Meteor Blades. DK GreenRoots is comprised of bloggers at Daily Kos and eco-advocates from other sites. We focus on a broad range of issues. We alert each other to important eco-stories in the mainstream media and on the Internet, promote bloggers at one site to readers at other sites and discuss crucial eco-issues. We are in exciting times now because for the first time in years, significant environmental legislation will be passed by Congress. DK GreenRoots can also be used to apprise members of discussions and strategy sessions happening in Meteor Blade's Green Diary Rescue thread, which is also our workroom.
Schedule for DK GreenRoots - yesterday, today and tomorrow
All listed times are PDT.


Wednesday July 1:
5am: Beware the Silver Bullet ... by A Siegel
9am: Good Green Jobs: Moving from Rhetoric to Reality by ChangeToWin
noon: The Video that Could Save Your Life by FishOutofWater
1 pm: Go Ahead, NPS, Seize These Cal State Parks, Please! by RLMiller
3 pm: The Insanity of Bottled Water by Asinus Asinum Fricat on bottled water
5 pm: Keep an eye out for bear - Shenandoah NP photodiary by it really is that important
7 pm: Marine Life Series: Responsible Shrimp Buying by Mark H
9 pm: Soil organic carbon pools in the northern circumpolar permafrost region by shpilk
10pm: Green Transit and Hybrids: Planes, Trains, and Automobiles by Vikingkingg
Wednesday Series:
Bookflurries: Bookchat: The Setting as Character by cfk
Siglines! Caring for the environment by Wee Mama
Green Diary Rescue by Meteor Blades


Thursday July 2:
9am: jeremybloom on climate
11 am: Muskegon Critic
3 pm: Bruce Nilles
5 pm: boatsie on social networking
7 pm: rb137 on blood minerals
9 pm: Jill Richardson on food
Thursday Series:
Morning Feature by NCrissieB
Labor Diary Rescue by djtyg
Considered Forthwith by Casual Wednesday
Thursday Night Health Care by TheFatLadySings
Top Comments by Elise
Write On! by SensibleShoes
Overnight News Digest by Patriot Daily News Clearinghouse
Green Diary Rescue by Meteor Blades


Friday July 3:
11 am: Meteor Blades
3 pm: TXsharon
7 pm: Land of Enchantment on energy
Friday Series:
Morning Feature by NCrissieB
Mojo Friday by rbutters
Frugal Fridays by sarahnity
Friday Night at the Movies by Land of Enchantment
Overnight News Digest by Oke
Green Diary Rescue by Meteor Blades


Plus there'll be music on environmental themes in jotter's High Impact Diaries every morning, along with schedule updates. Additional diaries will be filled in from amongst the following: faithfull, The Cunctator, and Turkana. And we'll make more slots as needed - anyone who has an environmentally-related story they want to post this week, we'll create a place on the schedule for you.