Top Story Continued
This is an outstanding message of WH support for bottom-up politics, but it is not surprising. Last January, I set out the basic community organizer principles that can be used to implement Obama' s bottom-up politics in Bloggers' Role In Obama's Bottom-Up Presidency. These principles apply to all issues, but this week, I discussed these principles in the context of environmental issues as part of DK GreenRoots week: DK GreenRoots: Obama Wants Green Bottom-Up Politics.
As noted in the GreenRoots version of bottom-up politics, we can use these community organizer principles, which Obama applied to his successful campaign, to build the movement he keeps asking us to build. Daily Kos provides us with the tools we need.
We also now have DK GreenRoots to help build that movement.
Word is already spreading about our new DK GreenRoots, an environmental advocacy group which has 262 members from DK and across the net.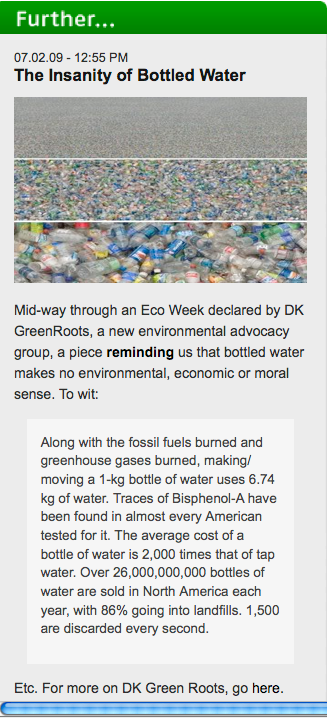 How can you join DK GreenRoots advocacy group?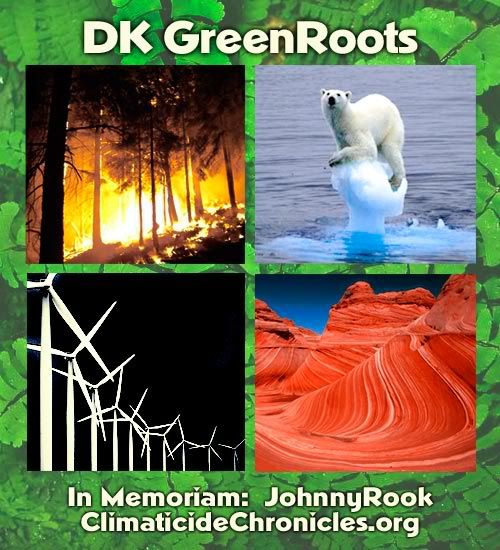 If you are interested in environmental issues, please join DK GreenRoots, a new environmental advocacy group created by Meteor Blades and Patriot Daily. DK GreenRoots comprises bloggers at Daily Kos and eco-advocates from other sites. We focus on a broad range of issues and are always open to new ones.

Over the coming weeks and months, DK Greenroots will initiate a variety of environmental projects, some political and some having nothing directly to do with politics at all.

Some projects may involve the creation of eco working groups that can be used for a variety of actions, including implementing political action or drafting proposed legislation. We are in exciting times now because for the first time in decades, significant environmental legislation will be passed by Congress. It is far easier to achieve real change if our proposal is on the table rather than fighting rearguard actions.

We alert each other to important eco-stories in the mainstream media and on the Internet, promote bloggers at one site to readers at other sites, connect bloggers of similar interests to each other and discuss crucial eco-issues.

Come help us put these projects together. Bring ideas of your own. There is no limit on what we can accomplish together.
This is actually last night's OND, but coding errors prevented publication until Magnifico fixed! It's a totally green OND, starting first with some examples of eco activism by Obama and then looking at some eco issues that need to be addressed. Next week, my OND will provide its usual coverage of all news topics.

ENVIRONMENTAL ACTIVISM
This is what the "Seal Whisperer" wants to stop – Warning Disturbing Video Of Seal Slaughter by Clubbing
ENVIRONMENTAL NEWS
Energy
Water & Natural Resources

Climate Change

Wildlife & Endangered Species

Economic & Food Links To Climate Change

Health Impacts