(Cross-posted at My Left Wing.)
This is just sad.
The Jerusalem Post is reporting that:
Israeli sources confirmed on Thursday Yemeni media reports that the overwhelming majority of the final remnant of Yemen's ancient Jewish community, numbering some 250 people, are looking to leave the country due to persecution and violence.
Wherever any one of us may fall along the exceedingly contentious I-P spectrum, I think that we can all agree that seeing the last remnants of this ancient Jewish community in flight from persecution is... well?... sad.
It's just sad.
The history of the Jewish people is replete with such episodes and one would hope that we have come to a point in history where this kind of thing is over, but clearly that is not the case.
The article quoted Rabbi Yahya Yaish, chief rabbi of the Ridah and Amran districts, who said that "all Jews in the area are preparing to leave for Israel within the next [few] days."

Yaish is the brother of Moshe Yaish al-Nahari, a community leader who was murdered in December by a local man who demanded that he convert to Islam. Nahari's three daughters moved to Israel shortly after his murder, while his three sons made aliya in recent days with the help of the Jewish Agency, according to reports in the Yemeni media. His killer was sentenced to death in June.
Despite the rabbi's suggestion that all the Yemeni Jews intend to make aliyah, the Jerusalem Post article claims that of this last final fragment of a Jewish presence in Yemen, about 150 would like to make aliyah, that is, of course, move to Israel, whereas the other 100 would prefer to move to the United States which contains a small Yemeni Jewish community.
I first became aware of the plight of Yemen's remaining Jews when, some months ago, I noticed this article, entitled "Yemen's Jews Flee Home of 2,500 Years Amid Threats."
This article notes:
About 7,000 Jews live in Arab countries, down from more than 750,000 before Israel was created in 1948. Yemen, with the third-largest community after Morocco and Tunisia, has become a more hostile place for Jews since Israel's January invasion of the Gaza Strip.
7,000, down from 750,000 prior to the '48 war.
According to Wikipedia, the total world Jewish population is slightly over 13 million people. A little over 5 million, just about 40%, reside in Israel and most of the rest, about 6 million, reside in North America. This means, of course, that the vast majority of Jews have emptied out of everywhere except for Israel and the United States.
Europe still contains about 1.5 million Jews, about 1 million of whom reside in the European Union countries and less than half that number in Russia.
As anyone who follows this kind of thing knows, however difficult (if not impossible) it might be for Jews to reside in most Middle Eastern countries, things have gotten decidedly ugly in Europe, as well.
A study published last February by the Anti-Defamation League (pdf) concludes, among other things, the following:
The data indicate that Europeans continue to question the
loyalty of their Jewish citizens.

Overall, nearly half of those surveyed in the seven countries, 49
percent, believe that Jews are more loyal to Israel than to their
own country.

A majority of respondents in Germany, Poland and Spain
believe that this statement is "probably true."
Furthermore:
High levels of those surveyed across Europe continue to
believe in the traditional anti-Jewish canard that "Jews have too
much power in the business world."

Overall, 40 percent of all respondents believe this stereotype to
be true.

More than half of Hungarian, Spanish and Polish respondents
believe that "Jews have too much power in the business
world."
These attitudes are reflected in the fact that anti-Jewish violence is also rising in Europe. While there is plenty of material confirming this for anyone interested, this Wall Street Journal article notes:
Jews around Europe are increasingly under attack since Israel decided two weeks ago to defend itself after years of rocket fire at its civilian population. There have been arson attempts on synagogues in Britain, Belgium and Germany. Police last week arrested Muslim protesters who wanted to enter the Jewish quarter in Antwerp. Several Danish schools with large Muslim student bodies say they won't enroll Jewish kids because they can't guarantee the children's safety. In France, a group of teenagers attacked a 14-year-old girl last week, calling her "dirty Jew" while kicking her.
Whatever latent anti-Semitism that may have existed in Europe prior to "Cast Lead" it was set free when Israel invaded Gaza.
In the mean time, those 250 Yemeni Jews are packing their bags and readying to head out.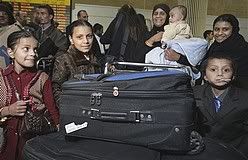 And who can blame them?