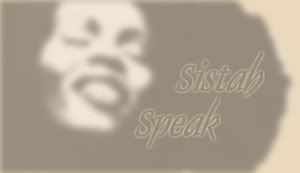 Commentary
Robinswing, Black Kos Editor


When I was a little girl I got caught in the middle of a race riot at the school I attended. I was in kindergarten. My mother had to explain to me I was a negro. For some people she said that was enough to want to hurt me. What I heard as a five year old was that I had the 'negro'. I had a hard time sleeping, The next morning as we sat at the table having breakfast, I asked if the'negro' was a disease I would die from. I was told being a negro was something I should be grateful for. I am too.


My only sister died a few months before so I was still kinda hung up about just up and going away. Forever. Once you find out about death, the world changes. You are not the same as you were before. You cannot be the same again. Ever.
Forever is a mind-boggling concept. It took a lot of weed to wrap my mind around the idea back in the day . Still working on it. Without the benefit.


Through the years I have seen a lot of death. I mourned Emmitt Till. Identified with those four sweet little girls. I knew in my heart what the children of Viola Liuzzo felt.


Growing up there was so much loss. You know the names. Each of us has other names that we hold in our hearts.


I've learned that each time there is a passing the person leaves us with a gift. We have to learn to unwrap it. Each gift is precious. Sometimes wrapped up in ugly. The ugly packages still have to be unwrapped. When we do the unwrapping you find what I call a blessing.. The gift.


This week with the death of Teddy Kennedy I had to get real still. During times like the one we are in, there is an energy looking for direction. Becoming still for me, is how I can tell what direction things are moving in. And whether I can help with the flow.


I asked myself about the gift of Teddy's passing. His gift to me is seeing that passion is not a bad thing. Living your life from the edge of where ever you have perched takes energy. And courage. It takes a lot of positive energy to face difficulty, tragedy and the pain of saying goodbye to those you love. My grandfather told me that the hardest part of getting really old is all the folks you have to bury. I know what he means.


This is what I've unwrapped of the gift brother Teddy left.


It takes the passion I call heart, to move you into the next day when the hurt is deep and long and strong. Teddy had heart. Had to. Had to believe in a better day.


I think this was his character defining factor. He believed in a better day. I believe his passion for a better day in America led him to support Barack Obama. It has been said he did not like the Centrist in Bill Clinton. Or Jimmy Carter. He was acutely aware of what his support would mean. In the hood, folks said he pimp-slapped Clinton. Kennedys always trumped the Clintons for most blacks, really all the blacks I know. Black folk have always loved them Kennedys. There are probably still houses in black neighborhoods where John and Martin hang on the wall. Side by side. Yes indeed as a people we have loved us some Kennedy men. None more than Teddy. His endorsement mattered everywhere he mattered. You did good brother Kennedy. You proved time and again you were more than just talk.


I watched you. You knew how to fight. You always played to win. You were all in. Your passion showed. Even those, whose hearts (if they ever had one) were frozen chosen, could yield to yours in friendship and respect. You did that brother Teddy. You left us with some of your passion. It is in the direction we are moving. It is a big movement, this finding heart.


It is time for those of us in the Democratic Party to tear a page from your playbook. It is time to stand up to the bullies. To scream to the heavens a refusal to allow ourselves to be divided and conquered by folks who like Sarah Palin.


Brother Teddy showed us we're dealing with bullies. All bullies are cowards. Time to call their bluff. Teddy did.


The conversation over the last few days brother Teddy, has been about your friendships with Republicans. Politically, some of them are slimy enough to try to claim your passing as the reason there is no agreement on health care. They are liars. Folks are hearing that you wanted the public option. This will matter to the folks who feel you mattered. There are millions of such people.


Your timing brother Teddy was impeccable. Didn't want you to go but your leaving matters. What you believed in mattered. Your living mattered brother Teddy. No one can ask for more. We have been blessed.


Goodbye my brother. May your soul sing. Even now.


Now run and tell that.




Thank you Senator Ted Kennedy for the help your office personally gave my family, for this we will always grateful. RIP (dopper0189) TheGrio.com:Teddy was a lion for civil rights.

Many of us once joked that Bill Clinton was the "first black president" (which he wasn't). We had it wrong. If such a title were to be given to any white man, that should have to be the late Senator Ted Kennedy. He was never president of the United States, but he was certainly one of the kings of his generation.
As a member of the Senate since 1962, Senator Kennedy had a long career fighting for those forced to live in the underbelly of a capitalist society. Over the last 47 years, he has done it better than nearly any politician in American history. African-Americans were among the many beneficiaries of his passionate life's work, and for that, we will always be appreciative.
In a multitude of areas including housing, income, civil liberties, and equality, Ted Kennedy has been on the front lines. His brother John introduced the Civil Rights Act of 1964, considered to be one of the most impactful pieces of legislation ever produced by our government. After John's death, Ted and his brother Robert were instrumental in seeing that the bill was passed.
Senator Ted Kennedy then went on to help pass one law after another to support the rights of the elderly, the sick, the poor and the incarcerated. He introduced the Americans with Disabilities Act, The Civil Rights Act of 1991, The Civil Rights for Institutionalized Persons Act, among others. He also helped to amend the Fair Housing Act, and has fought relentlessly for those who've never known the comfort of attending an Ivy League University.
Senator Kennedy's political compassion, as well as his complicated coping mechanisms, may be linked to the tragedy he experienced during his life. As a young child, he watched his sister Rosemary endure a failed lobotomy, saw his brother Joseph die in World War II and then witnessed his older sister Kathleen's death in a plane crash. This tragedy was compounded by the assassinations of his two brothers, Robert and John during the 1960s. This kind of pain doesn't heal easily, and few families endure such an amazing amount of personal tragedy. It is quite possible that the weight of his psychological pain gave Senator Kennedy the ability to empathize with the struggles of others, as well as the strength to fight through hurdles presented by his adversaries.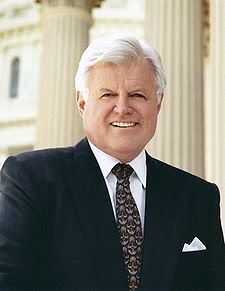 .........................................................................


People still mystified by why many Southern states who are disproportionately populated by the uninsured would elect politicians whose primary goal is to keep people that way, need to read this blog. Remember it's often not about the facts, it's what people believe or want to believe that matters most. BTW Genma's blog is a 2009 Black Blogger's Award Nominee! Genmaspeaks.com: A Sharescropper's Healthcare Plan

I knocked on the door of a sharecropper's home. I was prepared with my best repertoire with a smile. An elderly woman answered the door looking at me like I was an alien from another world as I extended my hand to shake hers. I stood straight and tall in my campaign t-shirt with ribbons tied on my ponytails. I had a lunch box which I used to keep my campaign fliers, voter lists and property information. I shared about jobs and employment as if I was saying my Easter speech at church.
Her response to my banter was unexpected. She spoke with hostility as she informed me her land would not be taken from her. 'They' were not going to remove her from her home. "This is my land," she repeated sternly as she pointed to no place in particular and no one was going to take it. I glanced out at the acres of crops planted up to the steps and looked back at her, announcing innocently, "This is not your land you, you pick cotton for Mr. Jones. Daddy wants to help you get a job so you can buy your own house." (Mr. Jones, the owner of the land, lived in the big yellow house at the end of the dirt road that we could see from the front porch.)
At that moment, the Mississippi River dried up that day. A nine year old was telling an elder that she didn't know what she was talking about and shattering her belief that she owned the land that she toiled for decades. Watching her expression change, I knew I was in trouble with her and my granddaddy.

Our beliefs, accurate or inaccurate, can help us survive challenging circumstances. The woman's world view was consistent with what most sharecroppers believed. Although they lived and worked on land that many would never own, many believed that the landowner would one day give it to them because they were told this by the owner, who in turn, benefited from them believing the lie.
(emphasis mine)



Only 4 days left to vote for the 2009 Black Blogger Awards. Check it out here: Black Web Blog Awards.
..................................................................


While most of the progressive action is rightly focused on Glen Beck, I'm starting to pay more attention to the FOX NATION website. They seem to do little more than stroke racial tensions. NewsHounds.com: Fox Nation Thread About McDonald's Black Website Generates More Racism And Ignorance.

Fox Nation knows exactly what they're doing and that is stoking the fires of racist division in this country. The notion of "one nation indivisible," part of the pledge that Teabaggers and Town Hallers love, is not Fox Nation which is clearly a place that is white and Christian. But the irony is that they complain about how African Americans and Hispanics don't want to be a part of the greater white society – a sentiment found in the Fox Nation comments about a black website that McDonald's has started, "McDonald's 365black." In the bizarro world of Fox Nation, it's whites who are being oppressed and segregated by the forces of ungrateful and lazy blacks who now have access to their own McDonald's website. It's time for a new march on Washington for the poor, disenfranchised whites of Fox Nation who are demanding integration, civil rights, and an end to special internet privileges for blacks only. They have a dream!!!!

....................................................................


Interesting...Gender-bending Internet personality B. Scott, with his lengthy eyelashes, high cheekbones and long hair (usually his own, sometimes not), is amassing fans in unlikely places: straight black men. TheRoot.com: To Love B. Scott.

On his "Foxxhole" radio show, (Jamie) Foxx declared, "I love B. Scott. He's very attractive. He looks like a cross between Prince, Rosario Dawson and Lenny Kravitz."
On cue, the show's co-host jeered that all of the heterosexual men were running away. In response, Foxx said, "Listen, you can't be paranoid. You know what I like. I like vagina .... I'm not worried about that. I can be in a room full of gay men and not feel any type of way about it."
Foxx isn't the only straight man publicly professing his love for the YouTube diva.
According to B. Scott, straight men often come up to him to say, "My girlfriend put me on to your videos. At first I was a little hesitant, but once I got into you and realized that you had something to say then I became a fan."
B. Scott describes himself as "androgynous" and a "gender non-conformist." Although he's constantly praised for his unique beauty, some of his viewers are still confused on how to classify him.
In his YouTube video entitled, "B. Scott Needs To Get Something Off His Chest," his message of tolerance and acceptance was lost on those too distracted by his appearance.
One viewer wrote, "I don't get it. How come you deny that you're a tranny? You're wearing makeup and women's clothes for God's sake!"
Though he makes clear that he's respectful of the transgender community, he notes a clear difference.
"Transgenders feel that their soul is a woman, like they were born in the wrong body in terms of their gender. I don't feel that way. I know that I'm a man; I'm happy to be in my body," B. Scott said.
Then there are those who accuse him of reinforcing stereotypes of the over-the-top gay man. For many gay black men, the greatest fear of declaring their sexuality outside of rejection is being lumped into the category of the effeminate gay male.


Garage sales are for treasures. Museums are for the ages. Mayme Clayton spent a lifetime scouring one so her son could build the other. Google News.com: Mom's legacy is World Renowned Black collection.

When it's finished, curators say the Mayme A. Clayton Library & Museum of African American History & Culture will rival New York's Schomburg Center for Research in Black Culture in size and significance.
Avery Clayton, 56, is still cataloging the hundreds of thousands of things his mom collected, but is working with the Huntington Library, Art Collections, and Botanical Gardens in San Marino on a joint project and the Clayton's first major exhibition is scheduled Oct. 24 to Jan. 4.
"Her role was to collect and acquire and his role was to create a house for it," said Sara "Sue" Hodson, curator of literary manuscripts for the Huntington. She is one of Clayton's biggest boosters and has spent many Saturdays cataloging with him and his group of volunteers.
Clayton started the project long before his mom died in 2006 of pancreatic cancer at 83.
She spent most of her career as a librarian at the University of Southern California and the University of California, Los Angeles. In 1969, she helped establish the African-American Studies Center Library at UCLA.



This is a good question that hasn't been discussed very much. InsideHigherED.com: Obama's Agenda for Black Colleges.

President Obama recently chose John Silvanus Wilson Jr. to be the new director of the White House Initiative on Historically Black Colleges and Universities, replacing George W. Bush's appointee, Leonard Haynes. Although Wilson is a Morehouse College graduate, he has an Ivy League pedigree much like the president. His professional background is at majority institutions, including George Washington and MIT. Wilson also has a proven record as a fundraiser and he believes wholeheartedly in demonstrating outcomes and adding value through the educational process. With his choice of Wilson, the country's first black president made his perspective on HBCUs clear.
Wilson's leadership comes at a difficult time for many black colleges. Much like other under-resourced colleges and universities, HBCUs have suffered disproportionately during the present economic crisis. The situation is due in large part to black colleges' commitment to serving disadvantaged students – while they are themselves disadvantaged by a history of underfunding and discrimination. Due to tightening budgets and lower enrollments, some HBCU leaders have had to take drastic steps in order to keep their institutions alive, including laying off tenured faculty. In recent months, for example, Paul Quinn College, Barber-Scotia College and Clark Atlanta University have faced accreditation challenges and financial crises that have left them in a delicate balance. Other HBCUs have consolidated programs and are putting contingency plans in place for next year's continual economic crunch in order to remain healthy.
For those watching and listening to President Obama, it is apparent that, although he acknowledges societal and systemic racism, he also promotes individual responsibility – hewing a middle path between left and right. When Obama's ideas are applied to the HBCU context, you get a leader like Wilson, who recently noted that the age-old HBCU mantra of "doing more with less" or "surviving against great odds" is no longer viable in an Obama-era. In Wilson's words, "we need to shift from how to survive to how to thrive."

..............................................................


The pros and cons of attending an HBCU versus an Ivy League college or university. EbonyJet.com: Howard or Harvard?

In this "Age of Obama," when the world is seemingly wide open to the next generation and the troubling dynamics of race are easing (if not changing), a number of people who attended Historically Black Colleges and Universities (HBCUs) in more difficult times are asking themselves an interesting question: "If I had to go to college today, would I have made the same choice?"
And after seeing Ivy League graduates dominate the worlds of finance and politics for the last two decades, some are concluding that while the HBCU experience was rich and powerful, they themselves might have been more rich and powerful had they attended those same Ivy League universities.
The question is more than rhetorical. Since adults in the Obama generation are now sending their children to college, the answer to that question may greatly influence how newer generations perceive the relative value of either choice.



Can a middle-class, professional, suburban black couple lead a Black Power movement? BlackEnterprise.com: Our Choice: To Empower.

My family made a choice, publicly, to spend as much money as possible with black business owners and professionals. We made this decision and make this sacrifice because we believe black people have too much talent and spend too much money for their community to look the way it does and for its families to suffer the way they do. We urge our community to practice self-help economics. We want our people to unite, in this positive and peaceful way, to counter social ills that disproportionately impact our people (recidivism, unemployment, gang activity and drug abuse, lack of education), by infusing wealth into underserved neighborhoods, creating more jobs, and providing role models for the youth.
Sounds good...right?
Many people have violently criticized our pledge, our project (called The Empowerment Experiment or EE) and our overall mission. Through hate-email, blogs, Facebook, letters to our home, we have been called racists and Nazis, and demeaning, malicious attacks have been lodged against us and our people.
There are those dismayed by EE's call for blacks to leverage and engender collective consumerism as a solution to our problems... threatened by EE's blatant refusal to continue to wait and rely on the largesse of others or well-meaning government programs to trickle down... confused by our public and proud choice to support our own genius and products. Those people have been feeling that way about any call to 'buy black' for a long time.
But they're more fired up now because what really burns them about EE is us.


................................................................


We should always be ready to solute some success stories, especially the ones we seldom hear about. CNN.com: Two brothers, no fears and $1 billion empire.

Michael and Steven Roberts didn't have two quarters to rub together a couple of decades ago. Now, the two African-American business leaders estimate their holdings -- from hotels to TV stations -- are worth $1 billion. One St. Louis hotel they own once barred black people.
Steven Roberts, left, and his brother, Michael, own a St. Louis theater that once segregated African-Americans.
"Black folks need legacy. We have to have examples of successes in order for us to be able to let the generations to come know that many of the successes that occurred by African-Americans in this country can be seen and pointed out and can be emulated," says Michael Roberts, the chairman and CEO of The Roberts Companies.
Michael and his brother Steven, who is three years younger, stroll through their office, complete with wood-paneled doors, large leather chairs and a pool table fit for a king. Their office sits along a busy street in St. Louis called Kingshighway.
"They used to call us the Kings of Kingshighway, because we own so much on this street," Michael Roberts says.
Their office is the culmination of hard work and a can-do American business attitude to strive for greatness. They launched their business from a historically black neighborhood in north St. Louis. Video

................................................................


New Orleans is still in many ways, America's greatest modern shame. Four years after Hurricane Katrina, affordable public housing still isn't available for many New Orleans residents. TheRoot.com: How white residents in St. Bernard Parish are keeping blacks out.

St. Bernard Parish, southeast of New Orleans, has the distinction in Louisiana of taking the most direct hit from Hurricane Katrina four years ago this week.
In the slow, painful rebuilding that followed, the parish has gone out of its way to keep low-income, working black families from living there. A federal court ruled twice this year—once in March and again last week—that St. Bernard's attempts at deciding who could move in and who had to stay out were violations of the Fair Housing Act. According to the ruling, the parish's ordinances were shown to have both a disparate racial impact and discriminatory intent. They wanted to keep black people from living there. A federal judge described the parish's efforts as "camouflaged racial expressions."
The St. Bernard debate has resurrected housing segregation concerns and highlighted the ongoing difficulty of trying to implement and prove the benefits of integration in terms of race and class. One commenter on the New Orleans Times-Picayune Web site recently wrote of the St. Bernard court ruling: "Everybody knows that St. Bernard is a white community. I just don't understand why African Americans would want to move there."




The gender issue surrounding Caster Semenya seems to directly question race and beauty. For those who haven't followed the story, 18 year old South African Caster Semenya has blown away all competitors by huge margins. Immediately all sort of Western nations forced her to undergo gender testing. TheRoot.com: Who gets to set the standards?

In the case of 800m World Champion Caster Semenya, the International Association of Athletics Federations thinks it knows, sorta—having compelled the 18-year-old to undergo "gender testing" in order to prove that she is, in fact, female. Apparently sixth-place finisher Elisa Cusma Piccione is an expert as well. Piccione told Italian journalists, "For me, she's not a woman. She's a man." And fellow loser Mariya Savinova of Russia, who came in fifth, instructed journalists in Berlin to, "just look at her."
OK, but what are we looking at, or for, exactly? The thick thighs, the muscular arms, the broad shoulders, the wide jaw line, bushy eyebrows and faint mustache? Are these the physical attributes that define Semenya as inherently male, just plain unattractive or a record breaker?
The issue seems to directly question race, beauty and who gets to set the standards. White and western is more female and more beautiful, black and African is less so.
"As a beauty editor, I looked at her face and thought it's a beautiful and very interesting face," said Tai Beauchamp, 31, a beauty and lifestyle expert. "[It's] not a face that is so different from some of the African models that we love." But even that small pinch (definitely not even a handful) of women—Alek Wek, Liya Kebede—are still the exception rather than the norm to our ideas of female beauty, despite two Vogue Italia issues dedicated to black models the most recent being the "Black Barbie" issue.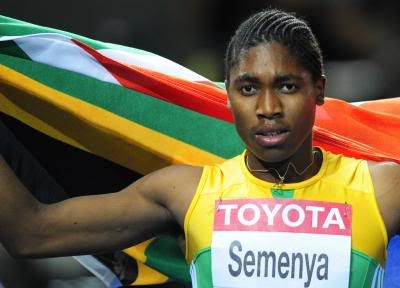 Glenn Beck attacks Green For All/ColorofChange founder Van Jones by Deoliver47

Racists Still Trying to Keep 'Blacks' Down by James Andre