I've thought about this a bit and I am getting the sickening feeling that
We could well end up with no bill at all or
We could well end up with a bill that we don't find palatable.
If so, what then? Even better: what now?
Then I saw the facebook group I'm Sticking With Obama. I thought about it...and then joined. I'll tell you why.
First of all, I thought about how attempts to reform health care have failed. President Truman and President Clinton were excellent presidents (IMHO) and both failed. President Nixon: well, he was savvy and he failed too.
Remember that these Presidents tried at times when attempts to undo President Franklin Roosevelt's New Deal approach were not as far as advanced as they are now (I recommend Paul Krugman's book The Conscience of a Liberal).
And so President Obama is trying. Sure his approach won't be perfect and he'll make (or has made) miscalculations and/or mistakes.
And yes, we might not win. But if we don't, I won't say that the reason was this mistake or that mistake on his part; he might fail for the same reason good basketball teams didn't beat the LA Lakers this year: what President Obama is taking on is bloody hard, and success is not guaranteed no matter how good the strategy!!! Sometimes the optimum strategy turns out to be a losing one.
But one thing I have to give him credit for: he has both heart and guts:
That doesn't mean that I have given up; I've gone to a town hall (put on by the local medical society) visited my Representative's office, sent letters to the editor and have given money to OFA and to MoveOn for ads.
But if this fails, I am not going to quit on this presidency either.
Does anyone remember the first term of Bill Clinton?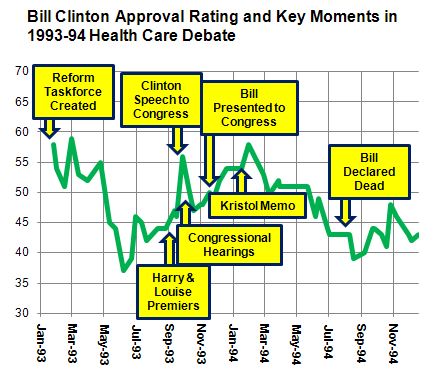 That's right; not only was Bill Clinton at lower approval at this stage but he went on to be a successful president even with this setback.
I don't want anyone to think that I am a blind follower; I am not. I also think that we should keep on the pressure for the public option.
But none of this has made me regret my working to get him elected; I knew that I wouldn't like every one of his positions and that some battles would be difficult and that we might not win all of them.
Just a couple of reminders to myself as to the attitudes that we are up against (though our most galling political enemies are some of the so-called Democrats, the general principle still applies):
And remember this old gem from Rep. Stark; he did cross the line but his larger point of our priorities verses their priorities is right on.