Monday night I posted a diary about the quilts the Kossack community has commissioned for two valued members and one lady who has been in the news. Three quilt projects were proposed – the second of which I am writing about tonight. It's for Kitsap River who is looking for a kidney donor.
I can't imagine what that is like to wait for a kidney -- but my ex's father was on long time dialysis and I know that there are many, many miseries that come with that -- not to mention the expense. I also don't know Kitsap River as well as many of you but I have a strong impression of a compassionate soul who cares for all her community so deeply and so tenderly. And she has been waiting for the thing that will make her well with great patience.
I want to make something beautiful for her incorporating many loving messages from you all. I want to make it rich in color and full of heart.
To do this, first, we need messages! If you would like to have a message inscribed to Kitsap River (to fit within a 4.5" square patch), please write it in a comment below. I will write your message in archival ink on muslin and heat set it for permanence. She'll be able to snuggle in this quilt it or hang it on her wall -- and keep all the warm wishes of her internet community close all the time.
Enough has been kindly contributed for materials for Kitsap River's quilt and a bit of my time to make it. I am thinking of a slightly more complicated design for this quilt and will need seventy-two (or sixty-eight) messages for it. Can we get that many? Loving messages are the key element here!
Below are some photos of prior quilt projects.
Othniel's quilt (forty-four messages)
Exmearden's quilt (one hundred eighty messages):
MsSpentyouth's quilt (forty-eight messages):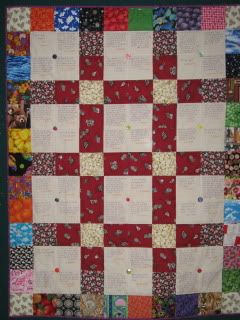 Moe99's quilt (forty-seven messages):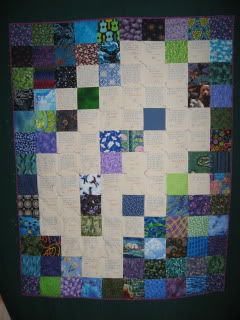 Lastly, it is not too late to leave a message for Michelle Caudle, the woman suffering from ovarian cancer whose husband had to join the Army to keep her in treatment. That quilt is fully funded up to forty-four messages but we still need messages for her. Please leave messages for Michelle Caudle here. And if you would like to donate to the Michelle Caudle Benefit Trust go here.
Tomorrow, I will post a diary calling for messages for BFSkinner, our Kossack who is suffering from severe lupus. And please start thinking of your message for him. We'll start collecting those messages at 6pm pacific tomorrow.