My father passed away. I think he was someone you would like to know. For Kossacks the story begins with the night before I published the first of the Leo diaries. During the preceding three weeks to that diary I had discussed Leo's problems with my Dad. Leo at the age of 25 had a wife and son. His wife was legally blind. As a disabled Veteran, Leo was traveling 6 hours a day by city bus going to and from class. A college degree was Leo's best chance to provide for his family. Dad related to Leo because at the same age, he was also a disabled veteran who struggled to support a family. Dad wanted to go to college but couldn't afford it.
Follow me after the jump and I'll tell you what he accomplished and who, I think, he was.
The exact time I was about to hit the Publish Button for the first Leo diary Dad called me upstairs. He needed help. Leo was at his computer waiting for the diary to appear. Dad needed to go to the emergency room. The diary would have to wait. I let Leo know. The following night the diary was published while Dad waited for the test results. Dad insisted that the professionals could take of him while I took care of Leo.
The next morning Dad was transported to a major hospital in Rockford, IL. More tests ensued and I was sent home to take care of Leo. The following day at the age of 86, he had 5-way heart by-pass surgery. They let me see him in the ICU after he had awakened. He had a tube down his throat and his arms and legs were immobilized. He saw me, and tried to speak, but that was impossible. He could wiggle his feet. I ran through critical topics for which he might have questions. When I mentioned Leo – Bingo! He wanted to know if we had taken care of Leo. When I said yes, the ICU nurse said, "Boy, look at his blood pressure! That was a load off his mind."

Born in Ashton, IL, Dad moved to Dixon at the beginning of his sophomore year in High School. He graduated with the Class of 1943. In high school he was painfully shy. His classmates were surprised when he helped plan their 60th High School Reunion. He learned how to throw a party that everyone loved. The class met annually after that reunion because of Dad's ability to hold a party tailored to their needs. After 66 years he still had friends from way back then.
Following high school Dad entered the service, first as a Marine, and then following a medical discharge for asthma, he immediately joined the Army Air Corps. He was stationed at Navy Pier, Chicago, when he met Mom over a piece of pie at a USO event. They were married in November, 1943. On his 50th wedding anniversary he told my brother and me that he had long since forgotten if he fell in love first with mother or her pie. Either way it worked out.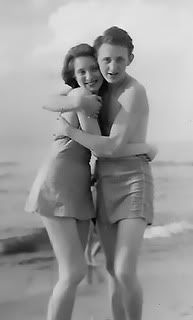 Mom and Dad had 3 sons. I was born in 1945, Fred was born in 1947, and Gerald born in 1949. Gerry died in 1951 from a rare form of cancer. His death instilled in Mom and Dad an appreciation for life. Together they became generous with their time and began their work for others.
Dad joined the Dixon Fire Department in 1945 and retired as Chief in 1980. In the early years firemen volunteered their down-time while on duty working in Santa's Repair Shop. That was an area on the second floor of the fire station which previously served as the hay loft for the fire horses. The horse stalls were down below. The firemen fixed broken toys, repainted those that were only scratched, and transported them to Mrs. Leydig's home – the original Leydig Center. The firemen became the Goodfellows. Dad "employed" his sons as toy-testers to make sure they all worked. We were not allowed to take home any of the toys because they were for kids who really, really needed them.
As a young fireman, Dad studied fire fighting, was immersed the technical aspects of safe fire fighting, and learned the complexities of ordering fire trucks. He was among the first in northern Illinois to identify emergency medical assistance as an important part of fire departments. Not long before he became Chief he helped form the Dixon Firefighters Union. In 1963 he began a decades-long crusade for a new fire station and was extremely proud of that Chief's ability to complete the project in 2006. That Chief as a little boy played in our backyard.
Dad became the janitor [NOT the Sexton – he would correct you] of our church when it was opposite the old fire station in the mid 1940's. When the church moved into its' new building, the janitor's staff grew by two. His sons attended South Central Grade School across the street. After school, they each had Sunday school classrooms and bathrooms to clean.
During the winter months, on Sunday mornings when it was snowing, Dad, my brother and I were there cleaning the walks before the early service with real snow shovels. After the service started, if it was snowing heavily, we were right back at it so those walks would be clean when that service was over. Then, if the snow continued, the process was repeated for the late service. One of those mornings my brother just had enough of it. As people were coming out of church, Gene yelled over to his father, "Dad, why don't you ever let me go to church?" Dad replied that he did. "Getting inside the church was up to God."
In the early-1950's Mom and Dad began to build our home. It was his second do-it-yourself project. Over time all of the firemen participated in that project. After the house was buttoned-up the family moved into the basement while Dad finished off the upstairs. At Christmastime Mom's parents came out from Chicago to see the nearly complete house. Mom and Dad put up a Christmas tree the night before. Because Dad was on duty, Mom turned on the tree and took us to the train station to get our grandparents. When we came home, Mom opened the front door. Smoke billowed out. She ran to the phone, dialed 911, and Dad answered. Mom yelled "Fire! 1009 University!" Dad never swore. That time was the exception that proved the rule. The Fire Department's response time was remarkable. Only a curtain had caught fire ignited by a loose hot wire, but Dad lived with story forever.
The all volunteer organization Meals-on-Wheels was started by Mom and another lady in the mid 1970's. For many years Dad served as its' treasurer. After retiring as Fire Chief in 1980, Dad helped Mom plot the delivery routes. They did it together while driving the routes. Those trips always became debates – endless debates over the order in which recipients got their meals. Finally, Mom would go to her desk, start typing, and Dad would attempt to tell her what to type. That never worked well. She always took off her hearing aids first. He never gave up.
Following a fire which destroyed the original lodge, the Dixon Elks were at near financial meltdown when Dad became its' treasurer. He made sure that the Lodge returned to solvency, and, when he stepped down, the Lodge had money in the bank. He was responsible for making sure that volunteers showed up when the new lodge was constructed and he recruited many skilled craftsmen for complex construction jobs on a voluntary basis. Volunteering was something he believed in.
At least once a week after Mom died, Dad visited some of the nicest ladies in town. He was up until the wee hours of the morning enjoying the entertainment they provided. Dad was a prolific reader and those nice ladies at the Dixon Public Library introduced him to many authors they thought he would like. He paid them his ultimate compliment. He gave them his home grown tomatoes.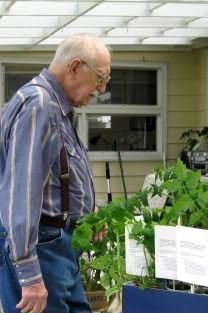 Tomatoes were Dad's plant passion. He had a love/hate relationship with green beans but they usually disappointed him. However, even in bad years like this one, the tomatoes he grew never let him down. He grew them from seed gathered from the preceding year's crop. His favorites were Belgiums. Nothing was more highly anticipated than the first Belgium tomato of the season. No lunch surpassed the following sandwich: 2 slices of hand-cut sourdough bread toasted slathered with real mayonnaise. Top the first slice of toast with Romaine lettuce. Top the lettuce with a ¾ inch thick slice of peeled Belgium tomato. Add 3 to 4 slices of crisp thick-cut bacon. Complete by adding the last slice of toast. That was Dad's idea of food heaven.
Following his surgery at times Dad seemed to be making progress towards recovery. The reality was that he never did. Initially he was discharged to a combination nursing home / rehabilitation center. It was a nursing home. There was some attempt at rehabilitation but not what he needed. Finally he was admitted to a small rehabilitation hospital – a very good one – in a significantly a weakened condition. In a matter of two weeks he went from recuperating to rapidly failing. On the day he died he stopped talking. He knew and I knew the struggle was over. We said goodbye to each other, and for the last time he sent me home. Ten minutes after I walked in the door, the phone rang. He was gone.
Twenty-nine years after he retired, his funeral was conducted by Firemen. Only 1 had served under him. As the cortège passed the Fire Station, every single member of the Department - including those off duty - stood at attention in their dress blues. They gave him their final salute at the station. I've never been so moved.
For Edmond W. Pierce 1923-2009