The appalling change of perspective on the part of the GOP where Health Care Reform is concerned is amplified when one considers the bedrock issue for crying foul during the Bush presidency and GOP rule in Congress:
Judicial Nominees
Remember when the GOP screamed and threw tantrums over a few piddly nominees being shot down, even as 95% of Bush's federal judiciary nominees were approved during his presidency?
Up or down vote...Up or down vote...Obstructing democracy...Obstructing democracy...
These talking points were parroted endlessly by the Hannitys, Limbaughs and GOP leaders in the Senate. Now, they seem perfectly content to ax salient Health Care Reform with the help of a few Benedict Arnold DINO senators. But what if we took this anti-democratic sentiment to the next extreme? Follow me below the fold for a peek...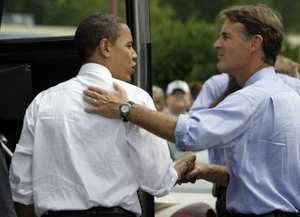 "Here, Mr. President...let me put..I mean take...that knife out of your back..."
State Constitutional Referendums
Perhaps the most democratic method by which the American people can make their voices heard. A TRUE up or down vote - by the people and for the people.
But what if we imposed Senate rules on this process?
Now, measures to allow equality reforms would be allowed to be held hostage by minority levels of bigots. Forever gone in most states would be the ability to (finally!!!) legalize Marijuana, (finally!!!) legalize gay marriage, and allow affirmative action initiatives to stand. Can you say 1950s repeat?
Elections
There are ZERO federal elections featuring House members, Senate members or the President where 60% of the vote is required to assume office. Where is the logic in requiring a more substantial level of support for single pieces of legislation than to send the representatives to Washington in the first place? Come to think of it, exactly how many races (House and Senate) and states (President) would have been won this past election cycle if the bar was 60% of the vote?
To Senators Lieberman, Landrieu, and Bayh (one of which was reelected by a 60+% tally of the vote - and in Lieberman's case, not even reelected via a majority vote), I say this:
Do not stick your fingers in the eye of democracy and expect to be welcomed back to Congress.
If you oppose the HCR bill with a public option, so be it. Vote your conscience and reap the whirlwind in your own state. But don't preach your commitment to democracy, and then in the next breath impede democracy in action. This country deserves Health Care Reform with competing private and public options - and the reform deserves an up or down vote.