Some of our ever ready to compromise friends have accused single payer advocates of being spoilers who would put the best in place of the politically feasible. Needless to say this was never true, and as always the real problem are conservative Democrats. Earlier it was corporate hacks masquerading as fiscal conservatives (aka: Blue Dogs) and now moving to the publicize foreffront are those conservative Democrats opposed to even indirect support of abortion rights and the possiblity of choice.
Of course if they were REALLY Pro-Life, then they would be in the forefront of supporting real universal health care access.
May I remind them that lack of health insurance KILLS.
Despite what the ignorant or partisan or paid for like claim Emergency Rooms and charity care is not a substitue for having real coverage. Whether it was the Institute of Medicine Study that found 18,000 death per year, the Urban Institute Study that found 22,000 deaths per year, or the Harvard study that found 45,000 death per year associated with lack of insurance coverage, the fact is that if you are REALLY PRO-LIFE you would support universal health care coverage and access
Abortion remains legal in the United States. Putting aside what the pathetic Senate did in confirming right wing extremists to the supreme court in recent years, nothing Congress does this year or next will make a difference in that.
Meanwhile the already mediocre to awful legislation they are opposing already has obnoxoiious anti-abortion language in it. Imagine if they actually cared about this, then they would support increased access to health education including sexual education and contraception.
The older studies found that there are about 22,000 deaths per year due to lack of health insurance. There are 11 million Americans with chronic physical illnesses like heart disease, diabetes and asthma are not getting the medical care they need because they don't have health insurance. The uninsured have higher rates of stroke and cardiovascular disease deaths. The American Cancer Society found that uninsured cancer patients are nearly twice as likely to die within five years as those with private coverage.
But those numbers always seemd to low.
In international comparisons, the United States has the highest rate of so-called "amenable" mortality among 19 OECD countries; that's 101,000 fewer deaths per year if we were as good as the average of the top three.
Which is why when the most recent study, by some Harvard researchers (full disclosure: who are also PNHP leaders and single payer supporters) using national standard CDC NHANES data, found that the number is more like 45,000 it was NOT surprising and was published in a leading academic peer reviewed journal (full text .pdf of the article is here). To those of us paying attention this is not news, I reported it here back in September.
And here are the number of excess deaths by State: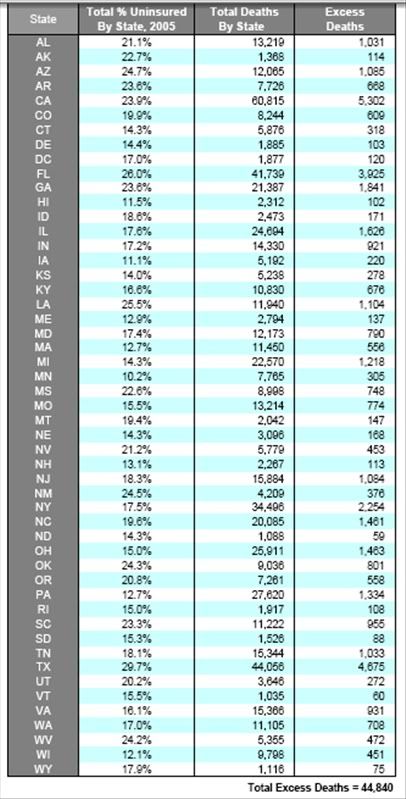 As was explained at the time
The study, which analyzed data from national surveys carried out by the Centers for Disease Control and Prevention (CDC), assessed death rates after taking education, income and many other factors including smoking, drinking and obesity into account. It estimated that lack of health insurance causes 44,789 excess deaths annually.

Previous estimates from the IOM and others had put that figure near 18,000. The methods used in the current study were similar to those employed by the IOM in 2002, which in turn were based on a pioneering 1993 study of health insurance and mortality.

Deaths associated with lack of health insurance now exceed those caused by many common killers such as kidney disease.

An increase in the number of uninsured and an eroding medical safety net for the disadvantaged likely explain the substantial increase in the number of deaths associated with lack of insurance. The uninsured are more likely to go without needed care.

Another factor contributing to the widening gap in the risk of death between those who have insurance and those who don't is the improved quality of care for those who can get it.

The research, carried out at the Cambridge Health Alliance and Harvard Medical School, analyzed U.S. adults under age 65 who participated in the annual National Health and Nutrition Examination Surveys (NHANES) between 1986 and 1994. Respondents first answered detailed questions about their socioeconomic status and health and were then examined by physicians. The CDC tracked study participants to see who died by 2000.

The study found a 40 percent increased risk of death among the uninsured. As expected, death rates were also higher for males (37 percent increase), current or former smokers (102 percent and 42 percent increases), people who said that their health was fair or poor (126 percent increase), and those that examining physicians said were in fair or poor health (222 percent increase).

Dr. Steffie Woolhandler, study co-author, professor of medicine at Harvard and a primary care physician in Cambridge, Mass., noted: "Historically, every other developed nation has achieved universal health care through some form of nonprofit national health insurance. Our failure to do so means that all Americans pay higher health care costs, and 45,000 pay with their lives."

She added: "Even the most liberal version of the House bill would have left 17 million uninsured, according to the Congressional Budget Office. The whittled down Senate bill will be worse - leaving tens of millions uninsured, and tens of thousands dying because of lack of care. Without the administrative savings only attainable through a Medicare-for-all, single-payer reform - real universal coverage will remain unaffordable. Politicians are protecting insurance industry profits by sacrificing American lives."

Dr. David Himmelstein, study co-author and an associate professor of medicine at Harvard, remarked, "The Institute of Medicine, using older studies, estimated that one American dies every 30 minutes from lack of health insurance. Even this grim figure is an underestimate - now one dies every 12 minutes."
So if you are really pro-life, then get on board and support real universal health coverage.