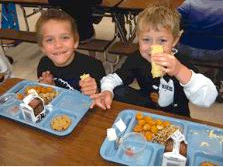 The U.S. Department of Agriculture reported that 1 in 4 children suffered hunger in the U.S. last year. The hunger body count is staggering: 17 million children in 2008 or an increase of 4.3 million more children than in 2007. While some link current hunger rates to our recessionary widespread unemployment, child hunger was a "problem before the recession." If sustainable solutions are not implemented, then children will continue to suffer hunger after the economy recovers. Indeed, research shows that most families suffering from hunger have "at least one adult with a full-time job," suggesting root causes include wages, not just unemployment.
The Farm to School program is one way to provide nutritious food now to children in a manner that is sustainable in the future.
When will America wake up?
While the U.S. sadly joins with lawless Somalia as the only two countries to not ratify an international treaty that recognizes nutritious food as a human right for all children, the importance of nutrition for children has long been known in our country. Federal child nutrition programs (pdf file) in general started after WWII with the goal of improving the "nutritional status of future soldiers." Later, in the 1960s and 1970s, programs were expanded as "part of civil rights struggles to reduce hunger and poverty." Farm to school programs started with a few in the 1990s, growing to 400 in 2004, 1,000 in 2007 and now there are over 2,000 in 2009 in 40 states.
What is Farm to School Program?
There are 2,051 Farm to School programs in 42 states where farm-fresh food is provided for lunch or breakfast by 8,943 schools in over 2,000 school districts. Given that more than 30 million children eat a school lunch 5 days a week, 180 days a year, then children and the community benefit from an extensive program that can provide a sustainable structure of access to healthy food and reduce childhood hunger:
The National Farm to School Network sprouted from this desire to support community-based food systems, strengthen family farms, and improve student health by reducing childhood obesity. Eight regional lead agencies and national staff provide free training and technical assistance, information services, networking, and support for policy, media and marketing activities. Farm to School is a comprehensive program that extends beyond farm fresh salad bars and local foods in the cafeteria to include waste management programs like composting, and experiential education opportunities such as planting school gardens, cooking demonstrations and farm tours. The Farm to School approach helps children understand where their food comes from and how their food choices impact their bodies, the environment and their communities at large.
Benefits
The program is flexible so that the schools, students, community and farmers can organize providing food for students as well as businesses, hospitals and community members suffering hunger. In some schools, state laws had to be changed in order to allow schools to buy local produce. The nature of the program varies among the schools: Some schools receive fresh produce to serve the students while other schools now have mini farms on the school grounds.
In addition to the immediate benefits of reducing hunger, studies show that providing a choice of healthy foods at the school cafeteria results in students eating more fruits and vegetables (pdf file) after a state law was enacted to allow schools to select local produce:
Picking fresh fruits and vegetables from local farms enables quick delivery to school cafeterias while the produce is at peak nutritional value, and the program has been expanded to include businesses and hospitals:
In some schools, the students have worked with family, teachers, farmers and the community to establish a sustainable food supply for the school, complete with farm products, a school garden, composting system, and salad bar with food scraps sent to a local food waste recycling plant.
The grant funds helped us purchase a refrigerator to store the bulk foods as well as begin construction on a storage shed – a kind of root cellar – for cold storage of root veggies and other produce. Without this infrastructure for storing large quantities of farm-purchased food the project would never have gotten off the ground.
The programs also educate the children on food and farming and establish bonds in the community. One school has its own ½ acre farm and greenhouse farmed by the students with an annual $2,000 budget, and once a week the students bring food to a local soup kitchen:
At a high school, students grow vegetables in water tanks where the fish waste is used as nutrients for the plants. They also have a farm on the premises, complete with chickens for eggs, and then students even cook some of the meals:
The program also provides a more interesting menu for the students:
In the first six weeks of this school year, St. Paul schools bought 110,000 pounds of local produce — more than half its supply of fresh produce. Local farms supplied apples, broccoli, cabbage, carrots, corn, cucumbers, grape tomatoes, onions, peppers, potatoes, watermelon and zucchini for school meals. In the works are locally sourced buffalo, wild rice, cranberries, flaxseed, wheat flour, hummus, hot dogs and chicken.
Healthy food will always be needed. These programs are one way to help sustain local farming (pdf file) and the local economy:
The farmer's share of every food dollar has dropped to 19 cents [in 2002] from 41 cents in 1950. As a result, many farmers have a hard time just breaking even. Three hundred thirty farm operators leave the farm every week, and the average age of farmers nationally is 57 years. The U.S., with only 2.2 million farmers, now has more prisoners than farmers.
Obama Administration likes Food to School Programs
The Obama administration wants nutritious food (pdf file) in our schools: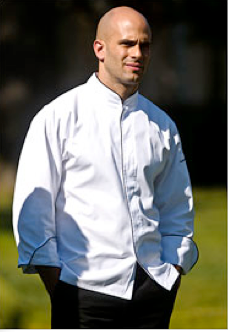 After USDA Deputy Secretary Merrigan visited a school with a program, she stated that she would like to extend the programs "across the county." One ally to assist expansion of food nutrition programs is White House chef Sam Kass, who is also a food initiative coordinator who attends policy meetings to develop strategies to improve children's health and nutrition.
Kass is a good man to have the president's ear on why government agricultural subsidies need to be improved:
We find ourselves in a fight to salvage a food system that has been ravaged by an approach of quantity over quality. The industry our society has built around food is harmful and unsustainable.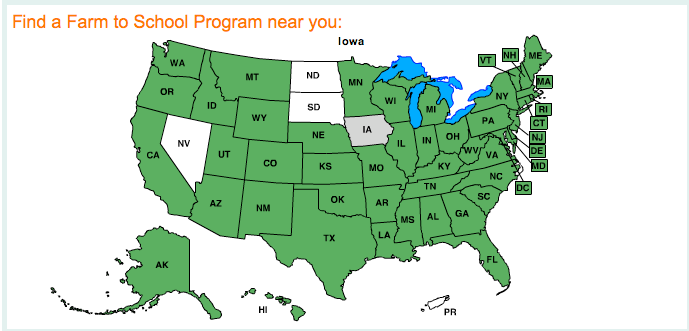 Communities are working to reform the food industry by replacing the tasteless, harmful processed meals provided by schools with locally grown fruits and vegetables. If you want to find a farm to school program near you, this nationwide map only requires a click.
If you donate here, Proctor and Gamble will match you.

Saturday, Nov 21 (all times EST):
11:00a -- blue jersey mom
2:00p -- Patriot Daily News Clearinghouse
5:00p -- buhdydharma
8:00p -- JayinPortland
11:00p -- rb137
Sunday, Nov 22 (all times EST):
11:00a -- noweasels
2:00p -- TheFatLadySings
5:00p -- Timroff
8:00p -- teacherken
11:00p -- boatsie
UPDATED WITH PLEDGES: CDH IN BROOKLYN WILL DONATE .10/rec & .05/comment AND SO IS PAINTYKAT (PLEASE SEE COMMENTS IN THREAD). THANKS GUYS!