Of course, you think that I am kidding right?
Well, I follow Notre Dame football (my favorite teams are Navy (undergraduate), Texas (home town and I got my graduate degree there) and Notre Dame (life long).
Yes, I was a cradle Catholic who "evolved" into a Unitarian and finally into a Richard Dawkins type atheist.
But I digress; I still follow Notre Dame.
More below the fold
Today, a Notre Dame team that was desperate for a win played a Univeristy of Connecticut team that had suffered heartbreak. They had a player get murdered a few weeks ago, and on the field they suffered oh-so-close losses to ranked teams (West Virgina, Cincinnati and Pittsburgh).
This time, the Huskies hung in there, overcame a couple of penalties that took away touchdowns (one appeared to be a bad call to me), and a missed field goal at the end of regulation, to win in overtime.
The game was hard hitting and featured a ton of action.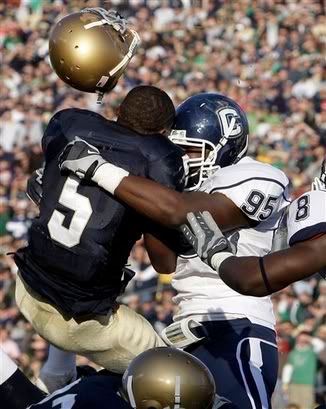 Connecticut won the game and Notre Dame dropped to 6-5; this in a season where they expected 9-10 wins.
Ok, who was to blame?
For some it was...you guessed it....President Obama!
You see, some were upset about the President being invited to graduation:
http://www.huffingtonpost.com/...
And now, according to some....their deity is punishing Notre Dame by...making them play poorly on the field!
(post 150)After the ARROGANCE of Fr.Jenkins in awarding an Honorary Degree to the "Messiah"...despite loud, angry protests from the Alumni....let them sink...lower and lower and lower!
Jack from PA [...]

(post 126) Typically a huge Notre Dame fan because they are such a unique and awesome institution. Since abortion loving Obama came to campus I could not care if they lose every game here on out. Stick to your roots Notre Dame!!!!!!!!!!!

(post 118)
Well as least ND gave Obama an honorary degree.
You really want to know what ND football problem is; lack of character, lack of identity. Even the University of Miami has an indentity; partying and getting laid. When one of the worlds most well known Catholic Universities honors a champion of abortion "rights", they have betrayed the basic precepts on which they were founded. ND is an empty shell encrusted with rotting, empty tradition. Knute Rockne comming back from the grave couldn't help this team win. Sad.

(post 11)
and that boys and girls is what happens when you let Obama speak at a Cathoilc university!

Gotta love it,,,,
Anyway, the next time you wonder how anyone can like the likes of Glenn Beck or Sarah Palin, wonder no more.
Update
Evidently, this same deity approves of the President being backed by the University of Texas football coach:
He also likes Navy and it's quarterback too:
Now Dobbs is a 21-year-old junior quarterback for Navy who leads the Football Bowl Subdivision in touchdowns with 17. He returned to start Saturday at No. 19 Notre Dame after missing one game and most of another with a knee injury, and helped power a 23-21 upset, throwing a 52-yard scoring pass and carrying 31 times for 102 yards and a touchdown. [...]

The team was honored at the White House in April for winning a sixth straight Commander-in-Chief's Trophy. A helmet was presented to Obama, and Dobbs revealed on his blog on Navy's athletic Web site that he had autographed it five times so Obama would remember him.

"He inspired me a lot, gave me another chance as far as feeling reassured that it's definitely a possibility now," Dobbs said. "I don't think it's going to be as tough as I thought it was going to be. My goal was to be the first black president. But I'll definitely be the second now. He's a great man to follow."