"Hey there Boy...how will I get people to care about this Asian carp problem."
"I don't know. Can I have some cereal?"
"Yes." I got my little boy a bowl of Toasted O's and he started crunching away, pondering.
"Hmm....daddy? Maybe you should tell them everything."
"Everything, eh?"
"Yeah! Hey dad? Do Asian carp eat bears? Or!" He gasped and his eyes got wide "our cats?"
"Oh no honey. When I said they eat 'everything' I meant they eat all the tiny little food that other animals eat. Our cats are safe."
That boy of mine is wise. I should tell you everything if I want you to care about the Asian carp problem.
Let me start with a happy story...

The death of the Great Lakes ecosystem is not a foregone conclusion. Not yet anyway.
The lake sturgeon is making a comeback after almost being pushed to the brink of extinction by a barrage of other invasive species starting with one that incidentally HAS been known to eat bears. Us. This massive prehistoric fish, native to the Great Lakes, can grow to be over six feet long and 188 pounds. It was once so common, it was harvested for its caviar and its oil was used to fuel steamboats.
Yeah.
Steamboats.
We really did that fish wrong.
And after decades of trying to keep the sturgeon from slipping off the ledge of extinction...After nearly a century of falling or stagnant numbers, this year the percentage of the slow breeding lake sturgeon increased! By a little. After decades of protections and monitoring and not fueling our steamboats with them, they have finally, it seems, turned a corner.
The death of the Great Lakes ecosystem is not a foregone conclusion. After this, and after a 475 million dollar Federal Great Lakes restoration grant, we're finally, finally, starting to give this fragile ecosystem some attention. We're finally starting to get serious about forcing ocean faring ships to cleanse their ballast water to stop introducing new species.
Unfortunately, a new threat is coming from the OTHER side of the Great Lakes. An extremely damaging one. The Asian carp have moved up the Mississippi and into the Chicago Sanitary and Ship Canal, and they're now at our door. Their DNA has been found past the electrified barriers designed to keep the fish out of Lake Michigan.
And, incidentally, they breed in the same environment as the ancient, native lake sturgeon.
There are two particularly concerning types of Asian carp knocking on the door of Lake Michigan.
Big Head Carp:
These guys grow to be 100 pounds, and five feet long. And they eat plankton. Bottom of the food chain stuff. It's much worse that eating bears or cats. They eat what everything else eats. And they eat 40% of their body weight of it per day. 40 pounds of plankton sucked out of the system every day, for every 100 pound fish. And they multiply like crazy.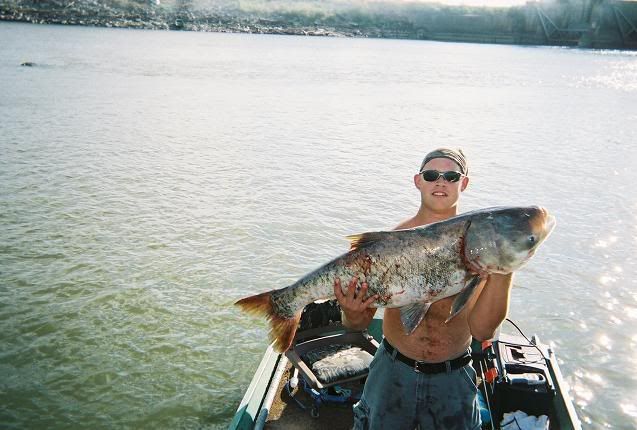 Silver Carp:
These guys...it's not enough that these guys jump from the water and break bones and cause injuries to boaters. Oh no...no, they also have these bizarre things that come out of their heads that filter phytoplankton out of the water, and since they're resistant to toxins in algae, they sometimes eat so much toxic algae they are also often toxic to eat. Who's going to try to eat them? Birds. And those birds are likely to die from it.
These fish are destructive and prolific and need to be taken seriously.
They're not just one more invasive species. These are an invasive species that we know, without a doubt, are a destructive force for fresh water ecosystems. They move in, and take over. And they may very well be the death knell for the lake sturgeon and many other native aquatic species.
Some scientists are clinging to a distant hope that maybe, maybe, the Great Lakes won't be suitable for their breeding habits. But such predictions are often last ditch navel gazing that never pans out, and they're made in lieu of actually taking action.
If you're not swayed by the massive environmental carnage to care about this issue, maybe you'll be swayed by the fact that they will also destroy a 7 billion dollar a year fishing industry in an already economically depressed region. Until recently, due to pressures of other invasive species, lake whitefish has been sustainably fished from the Great Lakes for well over a century.
And if you have a picture in your mind of fat white guys on boats with cigars laughing over their raping of the bounty of the Lakes, considerthat "Approximately 50 percent of the Great Lakes commercial catch in Michigan waters is currently harvested by tribe-licensed fishing operations..." tribes who have been fishing the Great Lakes for centuries. It's been a way of life for generations. Centuries.
More threats to Lake Sturgeon.
Toxic fish eaten by birds.
The bottom of the food chain sucked out of the system.
Loss of fishing revenue in a depressed region.
Ways of life wiped out.
What on earth do I have to say to make people aware of or give a crap about this issue with the invasion of the Asian carp?
Let me talk a bit about the Chicago Sanitary and Ship Canal...that's how the Asian Carp are getting in.
Early in the history of Chicago, the city created a waste water system in Lake Michigan. The clean water intake was set up far into the lake, and the sewage was basically just flushed into Lake Michigan. Eventually, the population was so large that the raw sewage didn't dissipate enough before reaching the water intakes far out into the lake.
Sewage in the drinking water made lots of people sick.
And so, responding to this emergency, the city devised what seemed like a great idea at the time...a water system that reversed the flow of water and waste OUT of the Great Lakes, and basically, into the Mississippi via the Des Plaines river. Long story. More complex than that...but...
For the first time in the history of time, the Mississippi and the Great Lakes shared a water shed. For the first time, Lake Michigan had a massive, one way water diversion flowing night and day out to the Gulf of Mexico. And for the first time two systems, closed for ten thousand years, were joined by a hydrological link.
Want to know how zebra mussels got to your lakes and streams in the South? Blame the Sanitary and Ship Canal. The Mississippi is basically part of Lake Michigan and Lake Huron.
Lake Michigan and the Mississippi should not be sharing a water shed.
This isn't some crazed theory by a guy desperate to save the Great Lakes he loves.
The Alliance for the Great Lakes agrees with me. And the Minnesota Association of Watershed Districts. And the Great Lakes Fishery Commission. And Chicago's mayor Daley. They all agree that the connection between the water sheds poses a threat.

"We have been asking for years to complete these electrical barriers,"
Daley said. "It's time for our federal, state, and local partners to follow through on keeping these two
great natural resources safe."

-- Article
And they all agreed to do a
feasibility study
on hydrological separation of the Mississippi and Great Lakes water sheds.
" Waterways engineered more than a century ago to connect the Great Lakes and Mississippi River watersheds should be altered to stop the exchange of invasive species that can cause irreversible damage, an environmental advocacy group says.

A 106-page feasibility study to be released by the Alliance for the Great Lakes says separating the watersheds is the only way to stop the transfer of some invasive species

[snip]

Brammeier said the study was sparked by a 2003 meeting convened by Chicago Mayor Richard Daley and the U.S. Fish & Wildlife Service, where dozens of engineers and experts recommended "hydrologic separation" of the watersheds by 2013.

--Article
"Hydrologic separation."
This union hasn't been good for anybody and has ravaged ecosystems up and down the continental United States. Even though there are ways to end it once and for all with 100% effectiveness. What's stopping the separation of the water sheds?
Money. It's not for lack of a plan. It's not for lack of the knowledge.
It's for lack of funding.
Care about the environment?
Then care about this.
Care about economics?
Then care about this.
It takes almost no effort at all. It just takes a little attention. Our representatives need to know that this is a project that needs funding.
"Hydrologic separation" by altering Chicago's Sanitary and Ship Canal.
And since I'm telling you everything, let me tell you a story about Lake Mead.
Scientists and policy makers involved in protecting Lake Mead had an ambitious plan for protecting Southwest water systems from the destructive force of the zebra and quagga mussels. Lake Mead was a very popular vacation boating destination, and it was widely assumed that if zebra mussels were to get into the Southwest, they'd get in from there on the bottom of a boat carrying the critters from another lake. Lake Mead was the first line of defense, and from there the whole Southwest water systems could be infested.
The ambitious plan? On first sighting of a zebra mussel, drain the lake to half, and poison the hell out of the remaining water. There was no other way to keep this damaging creature from the rest of Nevada, Colorado, and California aquatic ecosystems.
It was a good plan. Drastic, yes. But could possibly save aquatic diversity and ecosystems in the Southwest.
And then in 2007, a zebra mussel was found in Lake Mead.
And in 2007 did Lake Mead follow its action plan?
No.
What do you think happened next? Imagine billions of larvae flowing from Lake Mead into the aquafers, rivers, and waterways of the Southwest and taking root.
Maybe we're too resigned. Or too faint hearted. Or too cheap.
Whatever the reason, we are not taking the threat of invasive species seriously enough. And we are not being nearly aggressive enough. While we sit here, feeling resigned about it, native species are quietly dying by the millions in a silent war all around us every day. The native life will have to adapt or die, and we'll just hope for the best...that it doesn't get around to affecting us. Or at least not so's we'll notice...because with each year we tolerate more and more the costs of fighting the effects of the latest invader...as quagga mussels obstruct pipes used to cool nuclear reactors, causing them to be shut down for days as mussels are scraped from the pipes.
And maybe we'll throw a couple million dollars at the problem here and there. But the real steps...the things that would have an actual impact in stopping new invasions...now fixing those is just crazy talk.
There is now a strand of quagga mussel shells along the coast of Lake Michigan where just 15 years ago there was nothing but hundreds of miles of sugar sand beach. Now dead loons and waterfowl wash up on shore from birds that ate toxic quagga mussels close to shore.
Asian carp DNA has been found past the electric barriers created to keep them out.
But it's not too late to stop this thing.
We know what needs to be done. Poison the canal with a fish specific poison back far enough to create a hydrological separation between the two bodies of water, set up an electrical barrier there and start construction on the separation.
We know what needs to be done.
Why don't we do it?
Why aren't we doing it right now?
Why didn't we do it five years ago?
What on earth kind of apathy does it take to just watch this stuff happen when we know what needs to be done?
Call your reps, for gods sake! (202)224-3121...Call them now and tell them to fund a hydrological sepparation between the Mississippi and Great Lakes watershed. If they don't care about it as an environmental imperative, tell them it's jobs stimulus. Anything.
Update [2009-11-30 14:47:13 by Muskegon Critic]:

Answers to Comment Questions

How'd the fish get here?

The most commonly held belief is these fish got into the waterways en masse because of a flood. Because the fish are so awesome at filtering out small particles they have been used in commercial fish farms and aquaculture to keep the waters clean since the 1970s. That was fine until a flood hit and the fish got out of their boxes and into the general waterways in enough numbers to breed.

How come they're called Asian carp?
The term "Asian carp" refers to a set of fish. I think it's a set of four fish indigenous to some part of Asia. Two of them are the nasty nasty ones which, individually, are referred to by their own common names: bighead carp and silver carp. Though I suppose it would be more diplomatic to refer to them as The Four Fishmen of the Apocalypse.

Are Great Lakes fish safe to eat?
Yes. If you eat fish with any regularity, you've probably eaten some Great Lakes fish in the past year or two without knowing it. Though, like any fish nowadays you don't want to do it every day due to modern contaminants.

Are Asian carp good to eat? Is there some other commercial use they could be used for?
Bighead carp is supposedly pretty good fish. Nice dense meaty fish, but with a lot of bones. As is silver carp...though again, they can be toxic if they've eaten too much toxic algae. The point, though isn't that there is no use for them. It's that they could send the ecosystem over the edge.