Recently, a diary entitled "Pope declares 10pm is now midnight" appeared on the list of recommended diaries. Now, of course, this is not the first time I've seen attacks on the Catholic Church make it to the recommended list, but I was especially taken by this one because of its sheer lack of intelligent content and utterly vitriolic commentary concerning the Church and Pope Benedict.
What really struck me the most about this diary is the excuse taken for writing it: a rumour that Pope Benedict's health is possibly declining. Apparently, that was enough for the author to launch a rant containing all the usual cliché opinions that Pope Benedict arranged the concealment of child abuse and that he maintains the anti-scientific opinion that condoms do not prevent the spread of AIDS and other STDs.
Of course, there is absolutely no evidence of which to speak in support of the former opinion and the latter opinion is a gross misunderstanding of the Pope's words, which were that condoms "aggrevate the problem." Of course, according to the popular and errant meme adopted by the author, this comment meant that the Pope disbelieved the prophylactic properties of condoms, which is complete nonsense. Rather, the Pope meant that these condoms induce a false sense of security among the Africans, who, thinking themselves completely immune to disease with the aid of condoms, actually spread the disease even more through promiscuity. A leading AIDS researcher at Harvard University properly understood the Pope's meaning and had the courage to openly state his agreement at that bastion of anti-Catholic sentiment.
A search for "Catholic Church" among diaries returns 476 results for the last six months. I challenge anybody to find one of them in which the Church is not openly and viciously denounced for some reason or another. ( Apparently there are a handful of diaries out there which focus on the teachings of the Church with which the diarist happens to agree. The fact remains that more than 90% of these diaries have more than enough vitriol and hatred to go around.)
What do those who are posting these diaries hope to accomplish by their bigotry against Catholics and the Church? Do you not realize that the Church gave you the Kennedy family? And how many other prominent liberal politicians are Catholic? Do you honestly think that you will get a fairer shake from the teabagging Protestants and their ilk? Do you seriously entertain the notion that any Democratic candidate stands a chance without the Catholic vote? You've deluded yourselves with your hatred.
Case in point; this: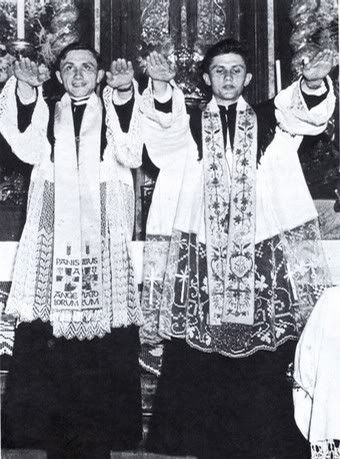 gets cropped to this:
Creative cropping brought to you by those at DailyKOS.