NOTE: This is a photo heavy diary.
On October 25, I posted Part I of In the Name of Love; a diary about a very ugly 24 cat/kitten animal hoarder rescue. I encourage you to brief through it to give context to this diary.
As we continue on--now almost 11 weeks after the first eight kittens arrived--much has changed (mostly for the positive) and a number of folks have contacted me asking how it is going.
Well, here's the update!
I am no longer dead tired, just tired, and happily, my memory is returning. Having spent the last six weeks focused on fund raising to cover the enormous costs of this rescue (in addition to the incredible amount of time needed for cleaning, medicating, socializing and laundry... ooooo the laundry!), I have learned a great deal about fundraising, grant writing, and general appeals.
I want to thank those several of you that have donated to help these kittens. It is deeply appreciated.
We are now about $2.2K away from our remaining needs. The previous amounts were covered by myself, grants and individuals giving from $5.00 to $1K. It is very difficult to raise money in this economic environment as you might expect.
The focus of tonight's update is on a number of the kittens (many are from the first eight that came in--the cheese and nuts kittens as we call them), their changes and futures. The remainder are select from the eight space kittens many of which we are still raising money for as they all need specialist work, and the two wee incredible kittens born here the night after their mom arrived.
WARNING: Some of these photos are very difficult but I really encourage you to work through them. They have a very happy ending!
Note: Any dates different from discussion were due to camera operator error. I was overwhelmed and extremely tired!
Mercury
This was Mercury on 10-14-09 with a prolapsed iris, L eye [cause: neglect. Untreated eye infections and untreated feline herpes virus 1 (FHV-1)]

Mercury 10-22-09

Mercury after eye removal 11-11-09

Mercury 11-28-09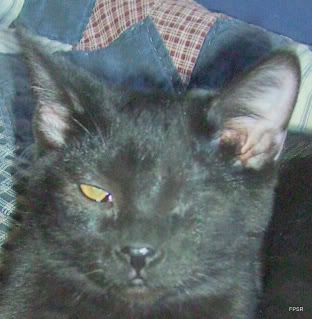 You should see this boy play! Mercury is absolutely a normal kitten-- if monocular--and just a purr monster with a humorous penchant for defying gravity. He is at the stage where chasing feet under the bed covers is a delight! All his vetting is complete now (all vaccines, neuter, wormings, ear mites gone and cleared for takeoff) and he is looking for a home or rescue. If we place him, he will be microchipped prior to leaving. He will make a GREAT addition to a family.
Jupiter
Jupiter came in (at 15-16wo) with advanced glaucoma, right eye. Cause: Neglect. Infected eyes and untreated FHV-1 leading to glaucoma. She also has a very loud IV/VI heart murmur requiring an ultrasound prior to eye removal.
NOTE: This is the hardest of the photos to view... so don't throw in the towel!
Intake photo taken 9/30/09

Jupiter 10-22-09 with a less infected eye which looked much better prior to surgery after 10 weeks of fairly intense and constant treatment. However, glaucoma in this case is not reversible and the eye will have to be removed.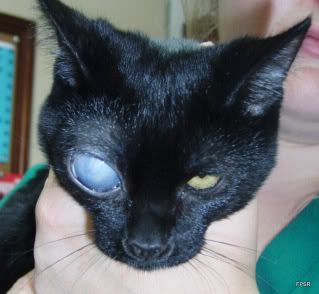 Jupiter finally got her pre-surgery ultrasound and it was such GREAT news! Her IV/VI heart murmur is an "innocent" murmur and she will not require vetting through a cardiologist (whew!). So... last week, Jupiter finally got her painful glaucomic eye removed!
Jupiter post surgery with her pal Venus.

After she heals (just a few more days... come on Friday!), she can be part of the gang and begin a whole new part of her life! All other vetting is now complete.
Captains Whitebeard and Grayblaze
Caution: Major cuteness.
Born here the day after their mom, Little Star, arrived (9/30/09), these two babies are now vetted to age and in the capable hands of kitten rescue for placement after neuter. We took every precaution with these kittens to get/keep them healthy and boy does it show in their health and personalities!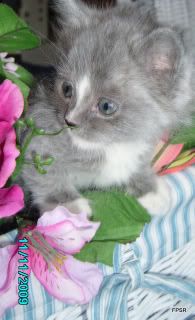 Mixed Nuts
Mixie looks normal, but does have FHV-1. He was treated with several antibiotics over many, many weeks, fully vetted and left last week for kitten rescue to find his very own home. Mixie is one of those mellow males that will be a velcro cat in the future. Just a quiet, mellow, sweet guy. This was his intake photo from 9/23/09.

Brie
This little girl, sis of Mixed Nuts and Moo, is a riot. Fast on her feet and fearless, Brie is like soda from a shaken bottle! We just adore her and not only is she beautiful, she is extremely affectionate. She is looking for a home or rescue and is now fully vetted.

Jack
Jack, brother of Mixed Nuts, Moo and Brie, is 25wo now and just a fun, playful lover! Watch out fur mice! Now fully vetted, Jack is looking for a rescue or home. Jack has corneal plaque, left eye, which will get neither better nor worse but has left him partially sighted in this eye. Cause: Neglect. Eye infections and untreated FHV-1. He was treated for FHV-1 and eye infections though his entry photos don't show the problem.

Mozzarella
Mozzarella's entry photos are painful to see given where she has been and is now. Yeah, this first photo really angers me. She was 8wo maybe 9wo in this photo. Grrrr.
Entry photo 9/23/09 at rescue, vet photos didn't turn out

Mozzarella post eye removal (prolapsed iris, right eye. Cause: Neglect. Eye infection untreated and lack of treatment for FHV-1)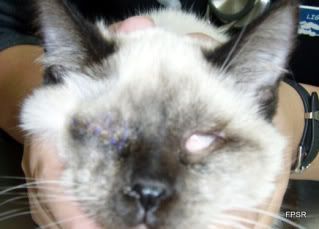 Mazzie (as we have come to call her) on 12-4-09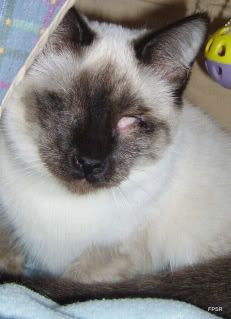 Mazzie had a couple things going on here. The left eye is microthalmic (tiny eye). (You can see some photos here, attention to Leroy Brown, the second photo set down.) This disorder is not terribly common, yet we have it here in at least 1/4 of the kittens to one degree or another, mostly VERY tiny eyed cats and one was classified as micro microthalmic.
In 35 years of rescue, I have never had this happen in this number of cats taken from the same home (or hoarder in this case). In fact, thinking about it, I don't think I have EVER had a case of this. The cause is various but appears to be from (the mother's) exposure to toxics and/or congenital abnormalities.
Mazzie's right eye, which had to be removed, was iris prolapsed and symblepharon, see second set of photos here (in this case, the third eyelid was adhered to the cornea). FHV-1, which Mazzie has and carries for life, is associated with symblepharon (here, para 3.)
What a bad break for the wee Mazzie.
But I CAN tell you this: Despite everything, Mazzie still appears to see something or if not, her other senses are VERY keen.
I have sat and watched her play with the ball-in-the-ring toy. She has either learned to anticipate the ball in the ring through hearing, touch and possibly very subtle cues picked up through her whiskers, or some combination of these. You would be absolutely amazed to watch her.
New environments (especially depths) are harder for her, but as she gets older, she seems to know what to do.
Mazzie is fully vetted now and has a home with another rescuer who also has herpes cats. She will be perfectly fine in this wonderful home, blind or not. This is a great home for her and she is very, very, very lucky.
I will cover the other kittens in update 4, in the future. A couple are still jury out, some are just waiting for funding for surgery and some have come miles and are great successes!
*****
There are many, many people on dKos that love animals, both domestic and not. I personally have a big fat foot in both camps given my science background and my rescue work. I have so appreciated your support through this. It means a lot to me.
If you, dear reader, are inclined to help us with the cost of surgery/care of these hoarder rescues, you can contribute here at my blog.
Thanks so much for reading.
Now go hug your loved, well taken care of cats, dogs and kids!