For most of the past year, Daily Kos has been blessed with a really wonderful series of diaries by Wide Eyed Lib, on Free Foods and how to forage for them.
With the onset of winter, the foraging season here in the Northeast is drawing to a close and W.E.L. has decided to take a well-earned break. A few of us have offered to fill in the gap by authoring diaries in the spirit of the series that will focus on some other aspects of the general topic. Today I'm presenting the second part of my four-part shift.
The making of medicinal teas and baths (AKA: Instant Herbal medicine: just add water.)
Cop-out notice: Since it's not likely that I'm going to go out and harvest fresh herbal ingredients any time soon, what with over a foot of fresh snow on the ground and more falling, I'm going to assume that one has already gathered and prepared the necessary herbs. Even if gathering and preparing means going to the local natural foods shop and purchasing them. (Historical note: in last week's diary, I talked about gathering and preparing herbs for medicinal use.)
First, a few couple of free-style definitions. There are two types of so-called herbal teas. There are your standard, run-of-the-mill, relaxing by the fire, types of herbal teas. They usually consists of several plant ingredients that are mostly about flavor and aroma therapy. While they may contain ingredients like Echinacea or Ginko Biloba, those herbs are usually present in such minute amounts as to be medicinally ineffective. About a teaspoons of dried herbs in a cup of hot water, and it's sitting and sipping time by the fireplace.
Medicinal herbal teas, on the other hand, are concentrated, strong brews that are intended to have an effect on one or more of the body's systems. Here's where I put in my warning about allergies, and possible interactions with other medications that you might be taking.
WARNING: Because medicinal teas are much more highly concentrated than their Celestial Seasonings counterparts, it's especially important that you educate yourself as to the possible adverse reactions that could come from using specific herbal products.
So, here's how you make serious medicinal herb tea. You need a one quart mason jar or a ceramic tea pot (Don't use metal, please). Place one ounce of herbs in the container, and pour approx one pint of water over the herbs. Allow to steep for half an hour or so, then strain out the plant bits with a strainer or some cheesecloth, if necessary. You should be left with about a cup and a half of strong tea. This is to be consumed in three doses of one half cup each, three times per day, until and after the desired effect happens.
Example: A medicinal tea to be taken at the first sign of flu-like symptoms (Note, herbal preparations are not generally recognized by the establishment as substitutes for doctor suggested treatments!)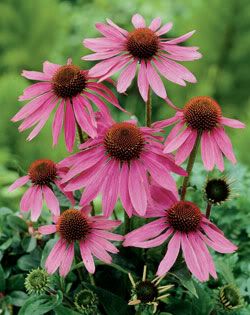 Echinacea or Purple Coneflower
2 parts (by weight) Echinacea root - to boost your immune system
2 parts peppermint leaf- as a stimulant
1 part licorice root Licorice root (and others, like marshmallow root) are known as Demulcents. They smooth out the process digestively.
Follow the instructions above. For any long term use, namely, if you plan to use the tea for a while, prepare a large stash of the herbs in advance, and label the container. A couple more hints... The total amount of herb for a pint of water is one ounce. If you are using just dried leaves and flowers, two good handfuls should be about an ounce. Otherwise, you should use a scale.
Herbal Baths.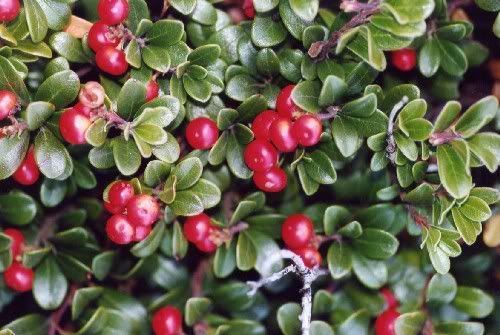 Uva-Ursi, or Bearberry
Medicinal Herbal Baths are sort of like taking a bath in tea. To make a decent herbal bath, you need a large pot (preferably ceramic lined), a colander or large strainer, some cheese cloth, and your herbs. Oh, and a tub is a good idea, too!
Drawing on my memories from when my daughter was born (26 years ago), I'll use a really neat post partum bath mixture as an example.
2 Ounces Shepherds purse (a vasoconstrictor, to help slow bleeding)
2 Ounces of Uva-Ursi (to help fend off potential infection)
1 Ounce partridgeberry, or squaw vine (astringent and uterine toner)
1 Ounce Myrrh (Yes, Myrrh!... it's an antibiotic)
A small handful of sea salt.
Place ingredients in cheese cloth. Tie up your oversized tea bag, and place it into a couple of gallons of boiling water. Remove from heat, and allow to steep for 20-30 minutes. Remove the cheesecloth bag (give it a good squeeze if it's not too hot.)
Pour "tea" directly into the nice warm bath you've drawn, and the happy Momma has an aromatic, healing bath waiting for her.
I encourage anyone with a serious interest in herbal medicines to do research for themselves. Back when I first got interested in this subject (almost forty years ago), there was a lot of printed material available to study. Now, with the Internets and all, there's a lot more info out there. Have fun looking and learning!
Next Week: Herbal Extracts
And now for a word from Wide Eyed Lib:
If you'd like to learn more about foraging but missed the earlier diaries in the series, you can click here for the previous 36 installments. As always, please feel free to post photos in the comments and I'll do my best to help identify what you've found. (And if you find any errors, let me know.)
Here are some helpful foraging resources:
"Wildman" Steve Brill's site covers many edibles and includes nice drawings.
"Green" Deane Jordan's site is quite comprehensive and has color photos and stories about many plants.
Green Deane's foraging how-to clips on youtube each cover a single plant in reassuring detail.
Linda Runyon's site features only a few plants but has great deals on her dvd, wild cards and books (check out the package deals in particular).
Steve Brill's book, Identifying and Harvesting Edible and Medicinal Plants in Wild (and Not So Wild) Places is my primary foraging guide. (Read reviews here, but if you're feeling generous, please buy from Steve's website.)
Linda Runyon's book The Essential Wild Food Survival Guide contains especially detailed information about nutritional content and how to store and preserve wild foods.
Samuel Thayer's book The Forager's Harvest is perhaps the finest resource out there for the 32 plants covered. The color photos and detailed harvest and preparation information are top-notch.
Steve Brill also offers guided foraging tours in NYC-area parks. Details and contact info are on his website.
Don Wiss's website is a treasure trove featuring hundreds of photos of common northeastern edibles.
Finally, the USDA plants database is a great place to look up info on all sorts of plants.
<-- Previous Diary in Series
Next Diary in Series -->