Last night as I lied awake I had an idea to look over what the most recognizable indicator of the American economy, the Dow Jones Industrial Average, has done during each Presidency as far back as I could go.
What I found won't be too shocking for us Progressives who know we're better managers of the economy, but it'll shock Conservatives to their very core. (Their very core being money)
Follow me past the fold as I take a revealing journey through the cold, hard, statistical facts of the last 80 years.
Using Yahoo Finance's Dow Jones Industrial Average Historical prices tool I first gathered all of the prices for the Dow from as far back as it would let me go: Oct 1st, 1928. I then pulled up Wikipedia's List of American Presidents and checked the dates each man became President. I saw that the 1928 date put me in the middle of Calvin Coolidge's Presidency. I wanted to get full presidencies as much as possible (except for Obama who is of course in the middle of what I hope is an 8 year term.) so I skipped ahead to Herbert Hoover, thus giving me a start date of March 4th, 1929.
I then loaded all of these numbers in to Microsoft Excel and separated it by president, the raw data of which, along with graphs showing each President's tenure on the Dow, you can find here.
Then I took the starting and ending date for each President and put it in to another spreadsheet, adding formulas to show Point Change, Percentage Change, and Value vs. Start (Which I define as what was the value of the Dow at the end of the Presidency vs what it was at the beginning of it, so if it was 50 when you became president and 100 when you left the Value vs. Start is %200)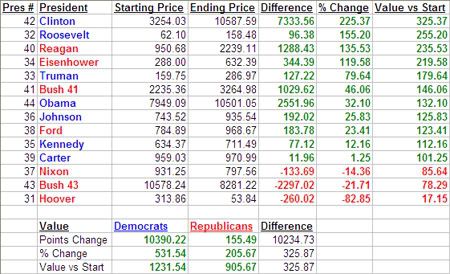 Click image to enlarge
Some interesting things I noticed in these results.
- Since March 4th, 1929 Democratic Presidents have gained a net 10390.22 points on the Dow, compared to Republican Presidents gaining a net 155.49.

- Percentage wise Democrats have more than Doubled Republicans.

- No Democratic President during this time period lost value during their presidency. The one who came closest to doing so was Jimmy Carter (+1.25%)

- On the other hand 3 Republican Presidents have lost value during their Presidencies. Herbert Hoover (-82.85%), George W Bush (-21.71%), and Richard Nixon (-14.36%).

- Democratic Presidents Bill Clinton and Franklin D. Roosevelt are the top 2 percentage gainers during this time period. Democrats are also 3 of the top 5, and 6 of the top 10. The bottom 3 are all Republicans.

- Democrats would still have better percentage results if you dropped off their top percentage performer (Clinton) and Dropped off the Republican's top percentage loser (Hoover). In fact, even if you drop off Clinton AND the 3 Republicans who have lost value the Republicans would only lead by 18.42%

- Bill Clinton gained more points (7333.56) than all the other gainers combined (5902.88) and yet even with Clinton Dropped Democratic Presidents would still have gained over 19.5 times as many points as Republican Presidents. Democrats without Clinton would still have 210.44 more points if you dropped the 3 Republican point losing Presidents.
Of course the DJIA is not the be all and end all Economic indicator, there are a myriad of other factors; but Conservatives always claim to be the better party for business, these numbers seem to tell a different story.