Coalitions in opposition can seem natural and easy, but coalitions in power are rarely either. Differences that seemed trivial when the coalition was united around a banner of We Must Stop Them can seem irreconcilable when the new banner reads We Must Go Forward. But often the differences weren't trivial before and aren't irreconcilable now. We can see them as wedges that divide us, or bridges that connect us.
Or we can look up at the stars for the New Year's Kossascopes....
More below the fold....
Wedges or Bridges? (Plus Kossascopes)
This week Morning Feature explores the progressive and Democratic Party coalition. Yesterday we offered and defined six progressive issues - Privilege, Education, Civil Liberties, War, Corporatism, and Environment - and asked readers to choose which they considered the "most" and "least important." As expected, the responses varied. And as we'll explore tomorrow, I think arguing over which should be The Most Important Progressive Issue is a pointless and divisive exercise. But for today let's take a closer look that the diagram from yesterday, its implications, and the inherent difficulties of coalition movements.
Interlocking progressive issues: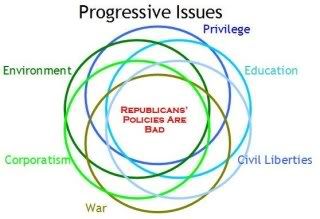 Perhaps the most common comment expressed yesterday was the difficulty of separating these six issues. I chose the issues, definitions, and the graphical image to highlight that difficulty, so I was pleased that this was the most common comment. Those six issues are both ideologically and structurally interlocked, and most specific policy questions and proposed solutions will fall in the diagram's large areas of overlap.
In one sense we see that play out here on DailyKos and throughout the Democratic coalition in the autumn of election years, when our attention tends to focus on the red text in the center: "Republicans' Policies Are Bad." The legitimate policy disputes within the Democratic coalition pale by comparison to our disputes with Republicans' policies. And when we're all focused on a general election, most of us set our intramural disputes aside and work together. Similarly, when Democrats were a minority party and our common focus was on criticizing and resisting Republican policy, it was easier to agree. In both of these situations, we move toward the center of that diagram. But having won the White House and majorities in Congress in 2006 and 2008, the task of governing often highlights our....
Differing progressive perspectives.
When I asked readers to name your "most" and "least important" issues yesterday, I wasn't quite playing fair. Of course they're all important and interconnected. But most of us frame our political dialogue - how we discuss problems and evaluate solutions - a bit more narrowly. It's hard to juggle six balls of thought, and while we hope not to be as simplistic as some of our opponents, there are upper limits on how much complexity we can process at any time. We do put down and pick up different balls at times, depending on our life experience and the specific challenges we face, but most of us have some durable (if not fixed) overarching goals.
As I noted in some comments yesterday, my main focus is Privilege. The question hovering in the back of my thoughts runs like this: Would this progressive reform in Education, Civil Liberties, War and Foreign Policy, Corporatism, and the Environment help reduce discrimination and systematic inequality based on race, sex, wealth, etc.? The more strongly and directly the answer is "Yes," the more I'll be committed to that reform. For me, the other five progressive issues are means toward the end of reducing the prevalence and effects of Privilege.
But that's my view, and I do not argue that it is or should be the universal True Progressive™ perspective. That view reflects my life experience and my specific involvement in progressive politics. It may not reflect your life experience or your involvement, and you'll discuss issues and evaluate policy solutions from a different yet equally progressive perspective that reflects your life experience and your specific political involvement.
Most of the time I celebrate our differences, and see the progress we achieve together as building a bridge across our progressive perspectives. That gives me hope. But sometimes I let myself think mine is or should be the universal True Progressive™ perspective, and see the lack of progress - on my own paramount issues - as exposing wedges between our progressive perspectives. That makes me despair.
Whether our differences are wedges or bridges depends on our perspective on our perspectives.
+++++
Hrmm, "our perspective on our perspectives." As the Janitor Professor of Astrology might say, that's almost absurd enough to be profound. But he's known for absurdist profundity....
Capricorn - This year will not be last year, which is good if last year was bad, or....
Aquarius - Think of the coming year as a chance to make those mistakes you avoided last year.
Pisces - Try a broader perspective. Make a new decade's worth of mistakes this year.
Aries - Perspective works better with both eyes open. Good party last night?
Taurus - Those interlocking rings would look good in your nose. If you were a bull.
Gemini - "Areas of overlap" does not mean the other half of the blanket.
Cancer - When people ask about "your issues," they don't mean this week's series.
Leo - Progress is often slow and halting, but sometimes you have diarrhea.
Virgo - You can sort your issues alphabetically or by importance, but they're still your issues.
Libra - Try a new environment this year. Or a new civil liberty.
Scorpio - Everyone should agree with you next year. Or the year after that. Maybe.
Sagittarius - When people ask about "your tissues," offer the clean ones.
+++++
Happy New Year!