(From TWD)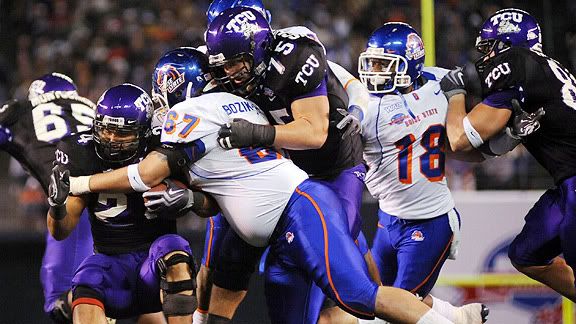 In a rematch of the Poinsetta Bowl last year, TCU and Boise State are about to battle in what should be a National Semifinal game if all was right and well with the cartel system that is the FBS (and their BS of a system that is called the BCS).
Most, including myself, feel that Texas Christian University is the best team in the state of Texas this year, and if it weren't for Hunter Lawrence's game winning field goal in the Big 12 championship against Nebraska, they actually still wouldn't be in the "title game" because of Cincinnati passing them in the final BS that is the BCS standings.
For Boise State, their significant first game win over Oregon has then been overshadowed with their lack of a power schedule thanks to being in the WAC conference. In comparison to TCU beating six bowl teams on their schedule, as well as the Mountain West being an impressive 4-0 in bowl games so far, Boise State is still viewed by many as being fortunate and not truly deserving to be considered as elite as their fellow non-BCS counterparts.
Let's get into the game, and how key it is going to be as to whether Kellen Moore will have enough time in the pocket to get the ball to playmaking receivers Titus Young and Austin Pettis (coming back form injury) against the nation's number one scoring defense lead by stalwart defensive end Jerry Hughes.
Maybe more important in this game is whether a Boise State defense can stop and contain the nation's most underrated signal caller in Andy Dalton of TCU. Dalton has gone from a serviceable quarterback to a true all-Mountain West performer who can throw the ball deep and accurately to Jimmy Young. They do have a quality NFL second round talent in cornerback Kyle Wilson, who is also dangerous on special teams.
Both of these teams know each other well, but I truly think though that TCU has gotten two times as better as they were last year in comparison to Boise slightly improving in my eyes.
And with that at night's end, I think some AP votes for the national title will go to the Horned Frogs tonight, unless Alabama puts a massive whipping on Texas on Thursday.
Enjoy the game.
----------------------------------------------------------------------------------
The In-Game Thread
Both star quarterbacks are a little shaky thus far, as Moore missed Young on what would have been a clear touchdown on their first play on offense.
Brandon Thompson takes it back to the house for Boise State. Overlooked by Kyle Wilson on the other side, Thompson puts Boise State up as he watches Dalton the whole way. 7-0 Boise State.
The noise has clearly bothered both offenses so far, but especially TCU, who look rattled so far in the incipient stages.
Boise State has clearly shown so far why they are undefeated, and hell, if they win, they deserve some first place votes just as much as TCU would if they come up on top here. Still, TCU has to established their run game much more than what they are already doing.
So far, Kellen Moore has gotten time in this game, and Titus Young has been clearly the best player on this field so far. He could easily have two touchdowns already.
A field goal that should have been made, but Kyle Brotzman shanks a 36 field goal. Still 7-0 Boise, and Kyle Wilson just SMASHES Andy Dalton here. MAN Dalton is shaken up here, but it seems like he may get back in the game.
Marcus Johnson, the backup, comes in the game for one play, and it will lead to a punt. Hopefully Dalton will come back in the game.
Kyle Brotzman this time is true from 40 yards, 10-0 Boise as their defense continues to shine right now.
Dalton finally wakes up, with his best pass of the day to Curtis Clay for the touchdown. 10-7 Boise now, with TCU having the momentum now.
Now with that touchdown, will TCU calm down and take over the game here. Or will Boise State's defense, lead by senior cornerback Wilson, continue in their domination here.
Darrel Washington is showing London Fletcher type talent. He is a machine out here.
That massive fumble recovered by guess who, Jerry Hughes, has TCU back in the ascendancy possibly here.
Evans is true from that easy distance to tie the game at 10-all.
4th quarter time......fitting these two teams are locked in a defensive battle. A reason why both of them are undefeated. 10-10, TCU with the ball.
Interception by Brandon Thompson, his second of the game. Dalton with not enough air on it, as Thompson gets his second INT of the game. Could be more like a punt through at day's end, so probably not big of a turnover there.
What a fake that was, and yet again, Petersen calls another trick play that works. Boise driving again now.
TOUCHDOWN Boise St, Dough Martin from two yards out! The fake punt was the key, as Boise takes the lead again, 17-10.
A 3 and out for the TCU offense again, as the Boise State defense does it again.
TCU gets a big 3 and out stop to get the ball back in Dalton's hands and it's a great return by Jeremy Curly.....outstanding job for Curly.
Awwww, Antawn Hicks mistimes his jump and drops a touchdown. 4th down here, crucial.
Turnover on downs for Boise State, they get the ball back with 4:14 left here. Big stop.
Big first down there for Boise, as TCU is in serious trouble here, and Boise State could go undefeated here again at the Fiesta Bowl for the second time in four years. Great way for the senior class to end their careers.
This is the game right here.
And TCU gets the stop here, as it is now TCU getting the ball, but they will have to drive 99 yards down the field in 76 seconds.
TCU calls time out with 54 seconds left, they have a lot to ask from here.
Deflacted and intercepted...Boise State will WIN AGAIN AND BE UNDEFEATED AT THE FIESTA BOWL!!!
They get revenge on TCU for beating them in the Poinseta Bowl, and TCU fans are in shock. What a tremendous performance indeed. The defense was awesome, and what can you say about Chris Petersen and the coaching job he has down at that school. Unbelievable.
And yes, they deserve first place votes from the AP after this performance indeed.
Well, in a sane world, Boise State would be in the real final, but nevertheless, they are 14-0 with wins over Oregon and TCU. No one can take that away from them at all.
Have a goodnight everyone.