EDIT: SuperSonic Dog just figured out (because I misread the article) that this Judge is still an active Judge. Yikes. **saves emails**
Haven't been on here in a while, and I almost hate to come on here with such an inflammatory and frankly, not very important diary considering the things going on in the world. Sorry about that.
See, about a year or so ago I started getting tons of emails for Dave Williford. My response? I replied kindly that I wasn't the person the email was intended, namely because my name isn't Dave and I'm not a dude, and also because it's the polite thing to do.
But still, they come every now and then. I reply again. They keep coming. Whatever. No biggie.
Now, I take it that poor Dave is probably a person who is conservative or who has a lot of family members who are conservative or whatnot because I get a lot of the "Stop Obamacare" type crap, and whatever, I still reply that it isn't Dave and I keep my opinions to myself since the email wasn't intended for me in the first place. Free country and all that.
But yesterday I got this email: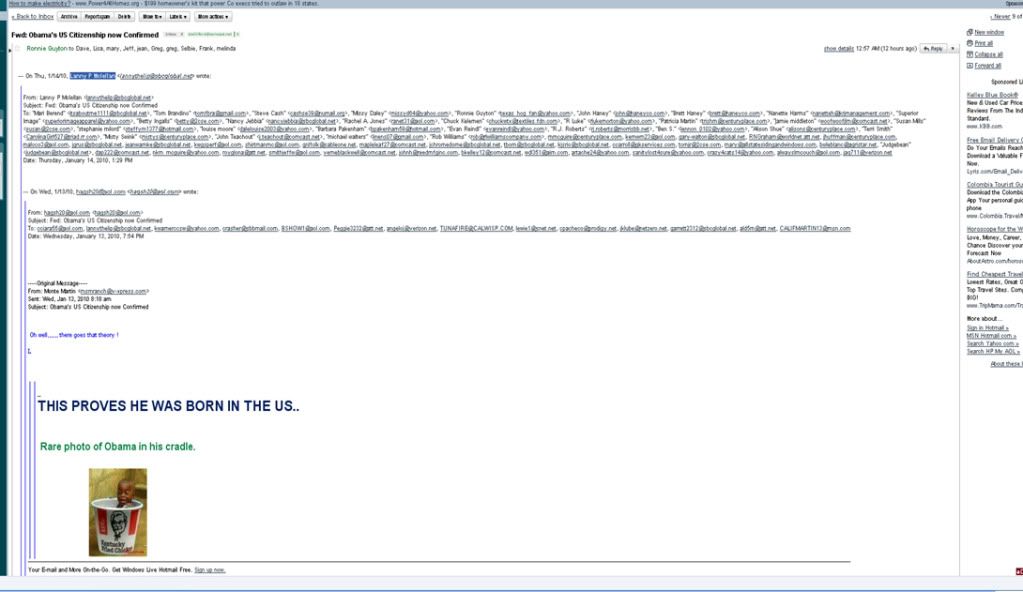 The email declares that it's proof that Obama was born in the US followed by a photoshop image of a black child sitting in a Kentucky Fried Chicken Bucket as his 'First Cradle'.
As you can imagine, I didn't find it very funny.
So, this left me with two options -
1.) Ignore it
2.) Post it publicly, with all of the email addresses of people who LOL'd at it in a reply all or forwarded to all their buds.
I guess you've probably figured out what my choice was.
This isn't saying that everyone it was sent to approves of this message, but I'm calling those who clearly did onto the dance floor. Publicly decry the message, or own it. If you think this way about black people, own up to it and suffer the consequences. This isn't political - nobody better give me that bullshit. This is racist, no ifs, ands, or buts about it.
People listed below, I'm holding YOU responsible for sending and chuckling about this shit. Freedom of Speech means you put yourself out there for ridicule. You don't get to hide.
*** Indicate "LOL" or otherwise positive replies. All other emails in snapshot are simply recipients to the one above and don't mean these people hold those views.
So... to .....
Ronnie Guyton <texas_hog_fan@yahoo.com> *** forwarded it to friends - Oh and for hating Obama so much he's sure has no problem with collecting that Federal Assistance)
Greg Campbell - gregc@arkansastrailer.com ***
Mari Berend itsaboutme1111@sbcglobal.net ***
John Haney john@haneyco.com ***
Brett Haney brett@haneyco.com ***
Nanette Harms nanetteh@krjmanagement.com *** Hey Briargrove Property, did you know your associate manager sends this stuff around? No? Now You Do!
Superior Image superiorimageapparel@yahoo.com*** (I wonder how many clients would love me to forward them your "Mmmm, gives me some Fried Chicken, Massah!" reply email. Clever.
Chuck Kelemen chuckwtx@textiles.fdn.com*** (What's with all the uniform people?)

Rob Williams rob@rlwilliamscompany.com***
jhuffman@centuryplace.com*** Since you own the business, I suppose your employees felt AOK to forward this crap. Hope all your clients feel the same. LOL, isn't that funny? Gosh, I kill me sometimes! http://www.centuryplace.com
Russell 'Judgebean' judgebean@sbcglobal.net *** Wow, Russell
Lanny McLellan lannythelip@sbcglobal.net *** forwarded it to friends
Monte Martin msmranch@v-xpress.com ***forwarded it to friends
Man up, rock the white sheet, or crawl back under the rock from which you crawled.
Lesson of the day folks? White sheets are WAAAAAY more private than the internet, so if you're a closeted racist who loves those email forwards be prepared to be called on the table.
Hugs and Kisses,
Lolly