Note that this is a photo heavy diary and many of the pictures might be a bit disturbing, but I really encourage you to work through them as they have good endings!
Part one of this series sets the stage for this still on-going hoarder rescue.
We are close to being done with surgeries, now, with only Venus and Galaxy left on the surgery list and Galaxy remains a question. The eye specialist wants to let her eye grow for another 3 months to see if that might help. If it doesn't, we will have to remove Galaxy's right eye.
Over the jump.
For your listening pleasure!

This last month or so has seen three more teenaged kittens find their furrever homes:
The wonderful and loving Moo (black and white huggie!)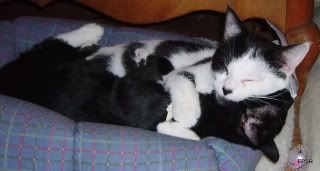 And the funny Mixed Nuts (we named him this as one testicle was white and the other was black)

Three more teenagers are now ready to go:
The amazing and extremely affectionate one-eyed pirate Mercury (at the fore of the photo). Mercury had to have his eye removed due to neglect.


And here he is reading dKos (this cat LOVES television and dKos):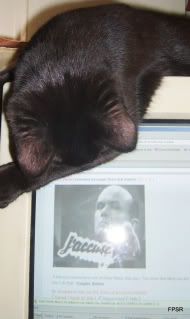 Jack, who is feisty AND a lover. Jack is only partially sighted in his left eye but it will get neither better nor worse. The white you see is corneal plaque, the result of having eye disease left untreated by the hoarder.

Garganzola, who is a wee bit timid but is coming around nicely, is certainly gorgeous and is also normal-eyed.

We have had three more eyes removed since last I diaried on the cats, and thank you to those of you who donated to help. It is greatly appreciated.
Swiss, who is a lovely and gentle petite teenager (surgery was done last week)
Swiss before surgery (at entry)

Swiss After her January 20th surgery

Black Hole (one of the eight space kittens) who is a wee bit shy but doing VERY well and getting more behaviorally strong all the time.
Before BH's surgery:

After his January 20th surgery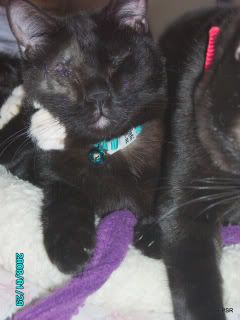 Saturn, who the vet would adopt but she already owns 12 cats! This is THE nicest kitten... almost one that a little girl could put doll clothes on. Very even tempered and sweet.
Saturn Before Surgery

Saturn being Saturn

Saturn 36 hours post surgery (she is on pain meds and antibiotics)

Black Hole, Swiss and Saturn should be ready to go in about 3-4 weeks and while adoptions are very slow, we hope some kind hearts will find a place for these three in them.
Mars is also ready to go to his furrever home. Mars is blind in one eye, but this eye does not need to be removed, thankfully. He is micropthalmic in this eye (tiny-eyed) but unlike many of the kittens here some with this condition, the eye does not give him trouble. Mars is a bit shy but is improving every day!

Next week, the beautiful and totally blind Venus will have both of her eyes removed. She is one of two totally blind teenagers. If you have never been around blind kittens, you would be amazed at what they can do! They learn to push their whiskers forward when moving to detect things in their way. They play with balls and toys that make noise just like sighted kittens. They climb (and when coming down, usually back down instead of heading down head-first). We are hoping to get these two blind teenagers, Venus and Mazzarella, into a blind kitten rescue.
Here she is as of now: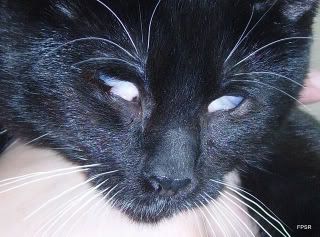 Here is a very short (and cute) video of some blind kittens at Blind Cat Rescue and Sanctuary in North Carolina.
You can see more here.
We have never discussed the seven adults within these posts, and that is what we'll be doing next time along with updating these kittens.
If you are interested in sponsoring a cat or kitten from this hoarder rescue, please contact us. Sponsorship is $25.00/month, and really helps us maintain the high quality of food and care we provide these cats and kittens. Besides these hoarder cats and kittens, we have a bevy of other cats up for adoption.
You can reach us at forpetessakerescue @ yahoo. com (remove three spaces).
Thanks for reading, we hope you enjoyed this update.
And just for fun, some additional photos:
This is the Dinner Death Star... don't even THINK about trying to get your hand in that bowl:) This is the reduced kitty version... only nine.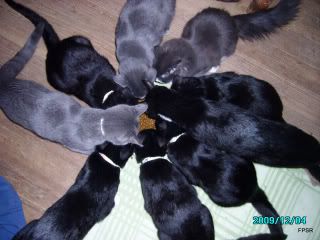 Here's the lovely Galaxy:

This one I am going to post on LOL Cats... you can see why:)

And this one just makes me want to crawl into bed and take a nap!