So, did anything big happen in the arena of GLBT politics this week? Anyone hear anything?
Oh yeah, there was that little hearing where Admiral Mike Mullen said the military's "Don't Ask, Don't Tell" policy ran contrary to the very foundation of integrity our military is based upon. And then, the GOP predictably tossed away all their legendary regard for military authority, fiscal conservatism and the best interests of national security to go whole-hog against the idea of rescinding the draconian policy.
And this site, on a whole, collectively rallied to the support of the commander-in-chief, and the LGBT community, our military leaders and our brave soliders. Dozens of great diaries and front page stories reiterated the need for change, and the righteousness of the cause. It was greatly appreciated.
So amidst all this sound and fury, what has WGLB got in store for this week?
How's about something lighter? After the fold, we present a overview of some of the GLBT films we recommend.
Time was, no one knew a gay person. Today, thanks to a 500-channel universe, fortified by NetFlix, that no longer need be true of even the most isolated and remote among us. Pop-culture imagery of the LGBT community has evolved by leaps and bounds since film's inception. We have progressed from sissy-boys, providing flouncy sight gags, to fully illustrated characters, displaying all the virtues and flaws that make us, like everyone else, human beings.
Vito Russo wrote the definitive book on LGBT imagery in film, The Celluloid Closet. It is required reading for anyone interested in the history how our community has been portrayed by Hollywood. If you're not up to reading, there's also a wonderful documentary of the same name, narrated by Lily Tomlin, also highly recommended, as it can provide examples no book can: actual clips.
To aid your viewing selection, the recommendations have been broken into broad categories to accommodate your mood. Clearly there's some overlap.
Comedies
Leave your political agenda and faint hearts at the door and have a laugh.

"The Broken Hearts Club," Dean Cain and Timothy Olyphant headline this light and breezy romantic comedy that reminds us pretty white gay guys in West Hollywood have troubles too.
"Noah's Arc: Jumping the Broom" The popular Logo show jumped to the big screen in 2009. The characters are the usual comedic assemble of gay men living in Los Angeles. Except this time, they're African-American.
"The Wedding Banquet" Ang Lee directs this clash of culture comedy centered around an American man who must watch in silence as his Taiwanese lover takes a Chinese wife to please his parents.
"But I'm a Cheerleader" Starring Natasha Lyonne at her best, it sharply lampoons the insanity of conversion therapy. And of course, there's RuPaul and Eddie Cibrian in tiny hot pants.
"La Cage Aux Folles," There's nothing wrong with the Robin Williams/Nathan Lane remake ("The Bird Cage"), but as a elite effete, you really should see the 1978 French original, don't you think? It played for a year at New York City's Paris theater.
"Priscilla, Queen of the Desert" This Australian film kicked off a mini-trend of drag queen chic, and is a triumph of camp with a heart of gold lame. Look for a young Guy Pierce.
"Jeffrey" Paul Rudnick's uproarious and popular play about HIV-discordant love, makes an awkward transition to film. Still, until your local playhouse mounts a production, worth a look for the stellar cast, and hilarious one-liners.
"Latter Days" A 2003 American romantic drama about a gay relationship between a closeted Mormon missionary and his openly gay neighbor. Did someone say "Mormon?"
See also: "Puccini for Beginners," "In & Out," "The Opposite of Sex," "Chasing Amy," "Relax, It's Just Sex," "Victor/Victoria," "To Wong Fu with Love, Julie Newmarr."
Dramas
This is serious stuff folks.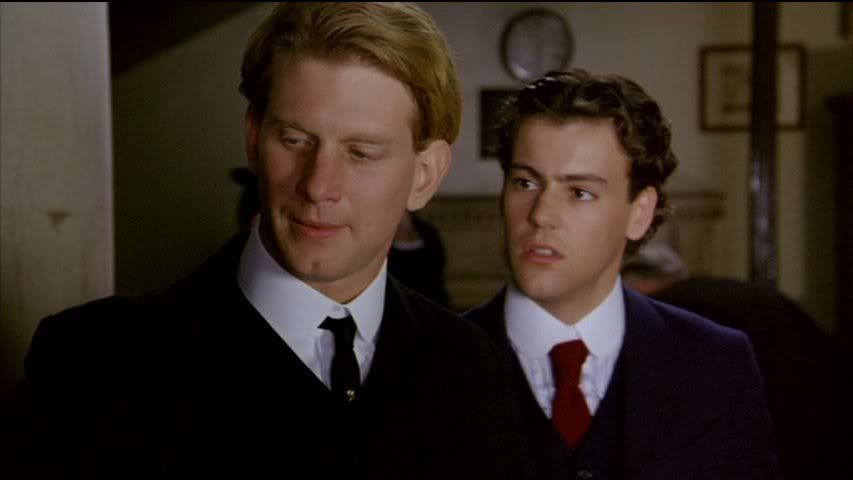 "Maurice" Long-time lovers and collaborators James Ivory and Ismail Merchant deliver a sumptuous period costume drama to call our own. One of Hugh Grant earliest outings, it provided a template for his career: playing cads that still made you swoon. Based on an E. M. Forster novel.
"Gods & Monsters" Ian McKellen plays "Frankenstein" director James Whale in this fictionalized account of his relationship with his Marine-vet gardener, played masterfully by Brendan Fraser. A transcendent film that is ultimately examines mortality with depth few films dare.
"Mulligans" This 2008 film offers a gay twist on the classic "The Graduate."
"Far from Heaven" Julianne Moore and Dennis Quaid struggle with their marriage in this artful, if depressing, homage to auteur Douglas Sirk's 1950s melodramas.
"Breakfast on Pluto," the Neil Jordan flick starring Cillian Murphy as a gentle crossdresser who has a relationship with an IRA member.
"Personal Best" Mariel Hemingway plays a lesbian on a track team struggling to qualify for the Olympic team.
"Prick Up Your Ears" Gary Oldman portrays groundbreaking sex-farce playwright Joe Orton. Alfred Molina plays his deranged lover. Directed by Steven Frears. 'nuff said.
"The Laramie Project" This film adaptation, directed by the celebrated play's original director and writer, Moisés Kaufman, explores the angst of the town made infamous by the murder of Matthew Shepard.
See also: "A Home at the end of the world," "Orlando," "Six Degrees of Separation," "The living end," "Sleuth," "Deathtrap," "Bound," "The Color Purple," "The Hours," "Kiss of the Spider Woman," "Flesh and Blood," "Love! Valour! Compassion!," "Transamerica."
Historical
Apart from dramas, this is your chance to learn a piece of the LGBT history. At least Hollywood's version of it. These films examine particular periods of importance from a LGBT perspective.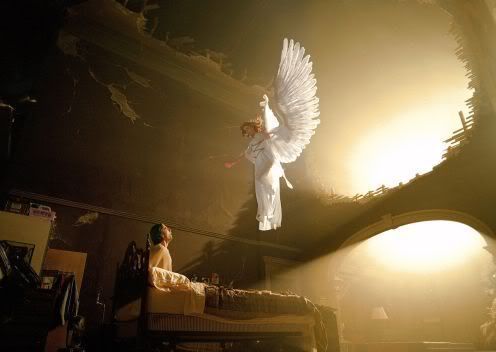 "Angels in America," Tony Kushner's lavish two-part Broadway Tony Award-winning play gets a equally lavish film treatment, with an expansive A-list cast.
"Tales of the City" & "Further Tales of the City" Armistead Maupin's poorly-concealed blind-items made his 1970's gossip column a dishy San Francisco sensation. Columns became best-selling novels, novels became fine films. A really fun look at pre-AIDS SF.
"Looking for Langston" This impressionistic film uses an abstracted, symbolic version of writer Langston Hughes around which it reconstructs the Harlem Renaissance from a black gay perspective. Features great archival footage and works of Hughes, James Baldwin and others.
"Longtime Companion" Traces the intertwining lives of circle of friends as they struggle their way through the AIDS crisis in 1980s era NYC. (Title is derived from the term the New York Times designated to a surviving lover in an obituary.)
"...And The Band Played On" A riveting chronology of the AIDS pandemic based on best seller by Randy Shilts carried by all-star cast including Matthew Modine, Alan Alda, Robin Williams, Richard Gere, Anjelica Huston, Ian McKellen, Lily Tomlin.
"Stonewall" This fictional account of the historic riot explores the opposing tactics of the early LGBT activists known as the Mattachine Society vs. the "street gays."
"Parting Glances" plays out over a two-day period in 1980s, AIDS-embattled NYC. Lovers Michael and Robert prepare to part over Robert's work-prompted relocation to Africa. Poignant, simple, and beautiful.
"Bent" A riveting film about gay concentration camp lovers in Nazi Germany with a cameo by Mick Jagger.
"The Naked Civil Servant" John Hurt won the BAFTA for Best Actor in 1976 playing out-spoken early gay rights icon Quentin Crisp in pre-WWII England.
See also: "Milk," "Torch Song Trilogy," "Another Country," "An Early Frost."
Love Stories
Of course, there are hook-ups and crushes in most films. But these films stand out that the celebration of a LGBT love affair is the central premise.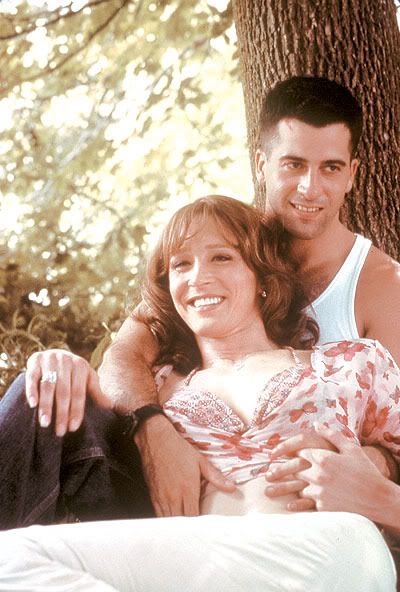 "Soldier's Girl" The true story of trans-activist Calpernia Addams' tragic love affair with active-duty military man Barry Winchell. Stand out performances respectively by Lee Pace and Troy Garity (Jane Fonda's hunky son). Stock up on tissues.
"My Beautiful Launderette" Didn't you always want to chuck your stuffy East Indian/British lifestyle, and rush off with a dashing, maybe dangerous ruffian (Daniel Day Lewis) and open a swank Laundromat? You will after seeing this.
"Beautiful Thing" Life with your barmaid mum in London's housing project can seem pretty bleak. Toss in a frisky football mate, and a rockin' Mama Cass soundtrack, and "it's getting better..."
"The Crying Game" Even if you know the big secret, this tale of IRA terrorist intrigue, and the lengths we'll go to protect those we love is gripping.
"Like It Is" An Irish boxer struggles with his attraction to another man, in this obscure, but well-received film.
"Trick" You know how go-go dancing Adonises always have sensitive souls and pine for nerdy pianists? No, me neither. But such escapist premises are Hollywood's stock-in-trade and fans of them (and Tori Spelling!) will find this popcorn flick charming and entertaining.
See also: "Brokeback Mountain," "Go Fish," "Mambo Italiano," "My Own Private Idaho," "Fried Green Tomatoes," "Bobbie's Girl."
Documentaries
Sometimes, the real life stories, trump the most fanciful of fiction.


"Coming Out Under Fire" Based on Allan Bérubé book of the same name, examine's military policy regarding homosexuals during World War II and includes interviews with veterans.
"The Times of Harvey Milk" Before we had Sean Penn, we had the real thing on tape. Don't miss it.
"Trembling Before G-D" A must see documentary exploring faith and homosexuality in the orthodox Jewish community.
"Small Town Gay Bar" To be LGBT in a small town in the south... (an experience best appreciated vicariously via movie).
"Go Dragons!" This Logo-produced documentary follows a Chicago gay rugby team.
"Before Stonewall" Eye opening look at life for GLBT Americans before the 1969 riot that kicked off a modern revolution.
"After Stonewall" (documentary narrated by melissa etheridge exploring post-stonewall glbt equality)
"Paris Is Burning" Strike a pose! Wonder where Madonna got the idea for Vogue? She swiped it form this classic documentary exploring the underground gay drag scene in New York City.
"Gidyup!" This documentary from LOGO documents lives of those who live on the international gay rodeo scene
See also: "Bi the Way," The Lady In Question Is Charles Busch," "The Celluloid Closet"
Proceed with caution
Many of these broke ground. But you may want to proceed with caution on some. One era's groundbreaker is another era's shame. Regardless, these films should be seen by any GLBT cinephile.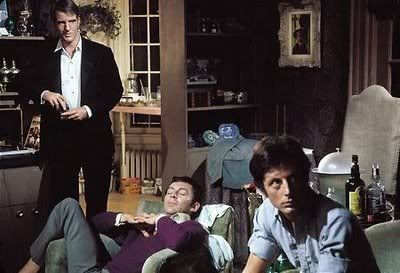 "Boys In The Band" Where did we get the idea that all gay men where miserable, bitchy queens? From this film.
"Making Love" This Harry Hamlin/Kate Jackson/Michael Ontkean love triangle will be remembered as one of the first, if not the best.
"Cruising" Al Pacino goes undercover in NYC's gay S&M scene to investigate murders.
"Dog Day Afternoon" Al Pacino again. This time he's robbing banks. Materful film, the motives of the anti-hero notwithstanding.
Please note: In this compilation, egregious mistakes have been made. There is no doubt, worthless films no one should suffer through have been included, while masterpieces ignored! Please use the comments to correct the record.
-This weeks diary was contributed by Clarknt67.