Welcome to Saturday Morning Home Repair Blogging or SMHRB for short. SMHRB is where we gather every Saturday morning to share frustrations, questions, possible solutions, and general wisdom about keeping our houses in good shape. Everyone is welcome and you should feel free to ask questions. Hopefully, the collective professional expertise and DIY experience here can help you out with your projects. I'm Milly Watt, serving as guest host for today's edition.
As you have probably seen (Daily-kOscars-2009:-Final-Noms-for-Diary-SeriesCommenters), Saturday Morning Home Repair Blogging has been nominated for the Daily kOscars 2009 in the Educational Series category. Voting will take place from February 22 to March 5. Please vote and do your part to shamelessly GOTV for SMHRB.
The theme for today could be entitled "Milly and TED's Excellent Adventure" (although I never saw that movie that just popped into your mind).
We just installed our new real-time, whole house energy monitor, TED 5000 -- The Energy Detective. We are having a blast trying to interpret the data, learning about how our house works (or doesn't work as we expected), and planning more methodical experiments of various sorts. We love us some data!
Here's a diagram on the TED website that shows how the transmitter box gets installed in the circuit breaker panel with clamps on the incoming power lines to sense the current. The data are updated every few seconds and the TED software can display various graphs and charts. TED also works with Google's PowerMeter if one chooses to send their data out to Google. However, we are mostly using the TED software, called Footprints, that runs on our local computers.
Here's an example of what we've learned.
This graph shows 4 hours of minute data.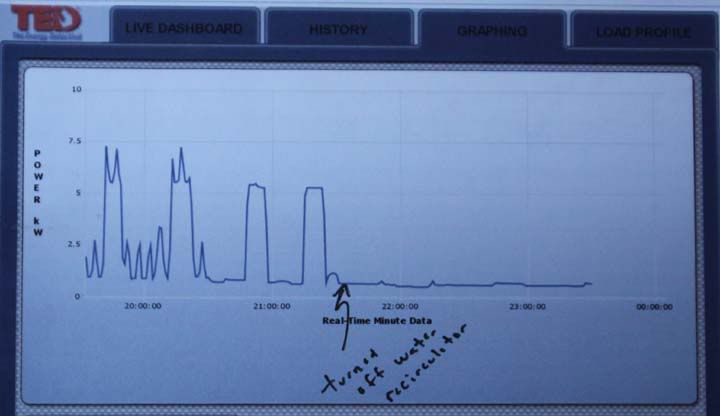 We'd been seeing these 5kW spikes, occurring pretty regularly day and night about every 30-45 minutes and lasting for 10 minutes. You can see some of them on the left hand side of the graph (there's some noise since I was also cooking dinner during part of this time). We speculated that these might be the hot water heater turning on and off and that this behavior was caused by the recirculation pump.
Our builder had installed a recirculation system with the argument that it saves water that would have gone down the drain while waiting for it to become warm, the energy use of the recirculation pump is minimal, and it draws room temperature water back into the water heater instead of pulling in cold well water to replace the wasted water. It was supposed to be set for just a few hours a day based on our schedules. However, it was actually set to be running all the time. Before TED, I never questioned why we had hot water at the faucets any time we turned them on (one tends not to notice nice things like that as potential problems).
At 21:30 in the graph, my husband turned off the recirculation pump and the regular spikes stopped. We figure that the cost of the extra water heating to provide instant hot water all the time was 28kWh/day and $80/month (not counting the power used by the pump itself). That represents 70% of our lowest bill from last summer. Ouch!
Of course, there are tradeoffs. The heat lost in the pipes during recirculation did go into the house, helping to heat it (not necessarily when or where we wanted the heat). So, it is possible that the heat pump could run more often now, but that is hard to measure at this point for several reasons. Without recirculation, we now dump about 1.4 gallons of cool water before the hot water arrives at the kitchen sink (on first use after awhile), so there is a water and energy cost in that.
Anyway, just in our first few days of living with TED, it helped us discover a device that was not configured and working as promised. TED will pay for itself in a few months with just this one discovery.
There is nothing quite like good feedback to guide energy efficiency efforts in your home. TED is tremendously entertaining. We still have many more mysteries to explore.
The floor is now open for discussion on any home repair topic. Please join in.