Who you are buying this for.


this is what you are buying.....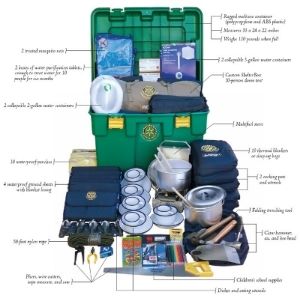 From the ShelterBox website...
It is now five weeks since Haiti was rocked by a catastrophic earthquake and there is still an urgent need for secure shelter which can stand up to the Haitian climate.

ShelterBox Response Team (SRT) member Jane Nash has just returned to the UK from Port au Prince. She says the importance of getting people into tents cannot be underestimated.

'The rains are going to be really hard and it's going to take a long time to get transitional housing up and running. Our tents will withstand heavy rain. Would you want to be in a tarpaulin sheet in a torrential downpour when the ground will be soaked? The look on one woman's face when I gave her a tent was like it was the best thing she had ever had, 'said Jane.

ShelterBox General Manager Lasse Petersen added: 'At present the vast majority of people left homeless have yet to receive even plastic sheeting. These families need immediate emergency shelter rather than becoming caught up in policy debates.

'A tent, as we've already seen, can be a life saving difference to many of the most vulnerable during what is likely to become a very lengthy wait for anything more permanent. It's vital we continue our efforts in Haiti; tents are the number one priority.'

So far more than 7,000 ShelterBoxes and disaster relief tents have been distributed in Haiti and another 1,200 are due to arrive in Port au Prince, Haiti's capital, by Friday. The SRT in Port au Prince already has a planned distribution in place for these boxes.

ShelterBox has committed another 5,000 tents to Haiti, which will provide shelter for another 50,000 people. These will start arriving at the end of February. ShelterBox tents undergo rigorous testing and will be able to stand up to the spring rains which will soon descend on Haiti.

Long-term commitment

On February, Tuesday 16, SRT members Mike Greenslade (AU) and Dave Ray (UK), who are in Port au Prince, worked closely with community leaders and the Red Falcon, US 82nd Airborne to distribute 180 ShelterBoxes.

Mike said: 'We could not have achieved a safe distribution without the 82nd Airbourne. The soldiers of Red Falcon ensured that boxes went to the most needy in the camp.

'Conditions in the camp are amongst the worst I've seen with people living cheek by jowl, camping out on piles of rubble, surrounded by rubbish and rotting waste. In this space people have to wash, cook, eat and sleep, many with no more than a bed sheet for overhead cover.
TexMex talking about the ShelterBox and it's contents at a Rotary meeting.

How to be an angel for Haiti
We want to make this easy so here's what you do.
Use one of the links at the top of this diary to get to a donation page. For on-line donations, there are two places to acknowledge Daily Kos: the "In Honor of" section, or the Comments box further down. You can do either or both.
Once your donation has been made, come back here and post a comment at the bottom of the thread so we can add the donation to the Daily Kos total. Please put the dollar amount in the subject line to help us find it easier. That way we can give you mojo for your gift and confirm any matching funds. ;)
People who don't want to report publicly, or who don't have a Daily Kos account (hi, lurkers!), can always email TexMex, who will then report the amounts for them (anonymously if desired.) To find her email address click her name in orange anywhere in the diary.
Now suppose you've got some money you'd like to offer as an incentive to bring in donations. Here's how that's done.
Scroll down to the bottom of the comments.
Post a comment about your intentions. Use the subject line stating how much you have available in matching funds.
State the terms of your match. For instance, if you have $50 which you'd like to use to encourage small donors to participate, you might say you'll match gifts between $5 and $10 up to a total of $50.
Check back and read the comments following your offer, to see if you've had any takers. The nice folks monitoring this diary will help you keep track. Once your $50 is fully matched, then you follow the link to ShelterBox and donate your 50 bucks.