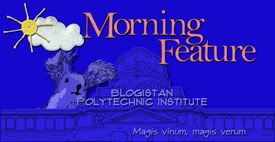 "The worst part is the awful randomness of it all. A bullet misses you and hits the guy next to you. One guy does everything right and gets blown up. Another does everything wrong and not a scratch. It makes no damned sense at all."
So wrote an American G.I. during World War II. Yet military historian and combat veteran Trevor Dupuy, author of Numbers, Predictions, and War proposed formulas to predict unit effectiveness and casualties, and found that training is a dominant variable.
Is combat all random, as the G.I. experienced? Or is training a dominant variable, as the historian's data suggest? The answer has a lot to do with Big Narratives - the stories we live by - which 'stick' and which don't, and why the Stickiest Narratives aren't always the most reliable.
More below the fold....
Sticky Narratives, Part I - How Many Are We?
My family know I like to read wonky books, so when they're out book shopping they often browse the history and politics sections for books they think I'd enjoy. I'm now reading Daniel Yergin's The Prize: The Epic Quest for Oil, Money, and Power. Next on my list is Franklin Foer's How Soccer Explains The World: an [unlikely] theory of globalization. After that, will be Wilkinson & Picket's The Spirit Level: Why Greater Equality Makes Societies Stronger. All three offer Big Narratives, stories that try to explain big swaths of history and experience.
For example, Dr. Yergin writes: "A third theme in the history of oil illuminates how ours has become a 'Hydrocarbon Society' and we, in the language of anthropologists, 'Hydrocarbon Man.'" He proposes that the past 140 years of history can be summarized as the quest, by individuals and nation-states, for oil dominance. The Big Narrative might be titled It's All About Oil, and it's a sticky narrative indeed. Yergin's book won a Pulitzer Prize, became a PBS miniseries, and has gained wide acceptance.
The Spirit Level also offers a Big Narrative, claiming that all of society's ills are caused by income inequality. This puppet show promoting the book claims it explains "everything, the whole shebang, start to finish, why we feel miserable, why we buy stuff we don't need, why we eat too much, drink too much, hurt people...."
Wilkinson & Picket have a mass of empirical data to support their Big Narrative, yet it's not widely accepted in the United States, and indeed the Tea Party GOP would doubtless dismiss it as "socialism" and say greater income equality would "kill economic growth." Why has Dr. Yergin's Big Narrative of It's All About Oil stuck, while Wilkinson & Picket's perhaps better-supported Big Narrative of It's All About Income Equality has not?
We'll explore several reasons this week, including the cultural clout of Big Narrators, but first let's go back to that G.I. and that military historian. Their Big Narratives of combat highlight an key component of narrative stickiness:
How many are we?
Is combat all random, as the G.I. experienced? Or is training a dominant variable, as the historian's data suggest? The answer is "Yes." Both are true, or seem to be, depending on your perspective. More specifically, it depends on how many your perspective includes.
For the individual G.I., who sees his own experience and those of his small unit, combat is horrifyingly random. He will see lackluster troops in his unit come through firefights without a scratch while some of best guys get hit. He may quickly scrape a few-inches-deep position and not get touched by an artillery barrage, yet see a shell crash through the reinforced roof of a well-prepared fighting hole. Why bother to "do everything right" when it makes no difference? Yet Dupuy offered data to prove training troops to "do everything right" makes a big difference ... for a big unit.
The difference is numbers, and specifically the Strong Law of Large Numbers. The wiki link explains the details, but the concept is simple and one we commonly express (not quite correctly) as "the law of averages." When you have a whole lot of individually random events, their sum will tend toward the average. Roll one six-sided die and it is equally likely to come up 1, 2, 3, 4, 5, or 6. Roll 1000 six-sided dice and their sum will probably be very close to 1000 times the average die roll, or about 3500.
In practical terms, say the soldier who "does everything right" will get hit on a 'die roll' of 1 or 2, while the lackluster soldier will get hit on a 'die roll' of 1, 2, or 3. The G.I. who wrote that diary saw a lot of good soldiers 'roll' 1s or 2s, and a lot of others 'roll' 4s, 5s, or 6s. Those aren't accurate probabilities - I made them up to keep it simple - and they're not literally rolling dice. Still the G.I. was right: whether an individual gets hit is brutally random.
But for a battalion of 750 men - and even more larger units - training and leading troops so that more of them "do everything right" will mean fewer casualties. Using my "inaccurate-but-simple" numbers, a battalion of "does everything right" troops would expect about 250 casualties, where a battalion of lackluster troops would expect about 375. The individual G.I might not see a difference, but generals and historians will.
"Doing it right" is often a small individual difference.
The key point is that "doing everything right," or not, often makes only a small difference for one person. Runner and author Jim Fixx quit smoking, changed his diet, took up running ... and died of a heart attack at age 52. Most of us know someone who smoked, ate poorly, rarely exercised, and lived well into their 80s. Those individual examples don't prove that smoking, poor diet, and lack of exercise are not harmful. Jim Fixx 'rolled a 1' and those someones we know 'rolled 6s.' But all other things being equal, a nation of people who don't smoke, eat well, and exercise will be healthier than a nation of sedentary, overeating smokers.
Most of us test our Big Narratives by our own experience and the experiences of people we know. That's rarely a large enough sample set, and the slight advantages of "doing everything right" may not show up for us. So our Stickiest Narratives tend to be those that are comfortable and reinforced by our culture ... rather than the most reliable.
And that's a challenge for progressives.
+++++
Happy Thursday!