Oh well this takes the biscuit and the tea caddy as well.
After the CBO says HCR will reduce the deficit the Party of NO are plotting in their padded cells to repeal the bill and hence increase the deficit:
Even as House Democrats search for the votes to send a health-care reform bill to President Obama, dozens of Republican lawmakers and candidates have signed a pledge to back an effort to repeal the measure, should the GOP take control of either chamber of Congress after this fall's elections.
Well that looks like a campaign winner
1] Lets uninsure 35 million
2] Lets increase the deficit exponentially
All because
We are spoilt brats.
This is not a fringe movement
In all, 37 House and Senate members and 163 congressional candidates have signed the pledge.
Its a united GOP temper tantrum
Its the tactic of a party so distanced from the reality that they are willing to say anything to stir up trouble.

And from Michele Bachmann's office we have this breaking news:
Yep, that just about sums up their considered reaction to the bill.
Have a great day
Alessandra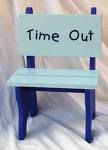 LMAO
;-)