CSPAN junkies, unite!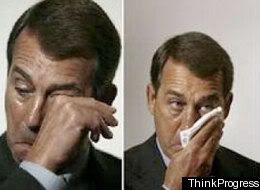 Maybe he's not sad; maybe he's just tired....
Please recommend THIS diary, as the other Mothership has fallen off the list
Shuttlepod #1 - sgary
Shuttlepod #2 Mothership #2 - this one right here
Next Shuttlepod - qixoto?
Watch live on CSPAN
Rules below the fold:
Final Senate Tally: 56 - 43. The Ayes Have It (no thanks to Lincoln, Nelson [NE], and Pryor). Now, the action returns to the House....
VERY VERY VERY IMPORTANT RULE #1:
Please Recommend this diary as the Mothership diary for the evening as the other one has fallen off the rec list.
VERY IMPORTANT RULE #2:
Please be kind to folks who are tracking this debate in dialup, or who find themselves in other video, photo, and audio unfriendly online venues. In other words, no photos in the comments. Please limit posts in the comments section to transcripts, text commentary, etc. Bonus points for keen, incisive, pithy wit!
VERY IMPORTANT RULE #3:
If you are interested in helping with the liveblog, please reply to the Tip Jar with the subject "I volunteer". I will be tracking volunteer requests.
Rather Important Rule #4:
Remember that some folks can only track the action "live" via our comments. If we have grudges to nurse, pet issues to hash out, I respectfully ask that these potentially thread-hijacking discussions be taken outside, figuratively, to respect the time of the folks who may desperately want to keep up with the Senate debate but may only have a few minutes to spend with us.
Of Note:
Update #1: Scott in NJ has a comment in the first shuttleblog that nicely catalogs the final Senate votes on the amendments, along with a tally of the Dem defectors. Snarky aside: Hey, you know who among the Dem Senators didn't defect even once, among others? Newly minted Dem Specter. Whatever else we can say about him, (which is a LOT), the man apparently learned something about party discipline in his long, long sojourn on the other side of the aisle. Heh.
Update #2: Final tally: Aye: 220, Nay 207. Motion is adopted.
And finally...
Huge props to all of the folks who have stepped up in the last few days to keep track of this Really, Really Deliberative Body. I'd try to name you all but I will slip up and miss one. You all rock!
Now, on with the show!