Note: I have to start out with an unpleasant issue which I needed to get off my chest but which didn't seem appropriate in yesterday's "Roses, not Rocks!" diary. However, fear not: it does end on a positive note, so please bear with me (and Rec it up one more time, if you don't mind; I promise this is the last time I'll Rec-beg for a long, long time...).
Now that the Great "Roses Not Rocks" Nancy Pelosi 70th Birthday Campaign® is over, I just wanted to give a little explanation about one of yesterday's updates (see Update #4), and about my brief overreaction regarding someone in the thread sending out a press release about the campaign.
I'm not naive; I knew when I started this on Monday that once you start ramping up a viral campaign of this nature, it takes on a life of it's own, and you'll find yourself trying to put out a hundred little fires at once; that's the nature of project management (for business types) or being a producer (for creative types). It's the nature of the beast.
Furthermore, I've been posting under the name "Brainwrap" for 7 years now, and it's not difficult at all to connect it with my real identity. Obviously if I wanted media coverage, I couldn't very well pretend not to exist, when I'm the one who called the florist, have been posting diaries every day and was the one to alert Speaker Pelosi's office in the first place. I was trying to have it both ways--I wanted the publicity for the campaign while remaining out of the spotlight personally, and it just doesn't work that way.
On the other hand...
--What I didn't know on Monday was that as many as a dozen or more members of the United States Congress would be receiving death threats over their votes. (Admittedly, just as any President is bound to receive such threats on a regular basis, I'm sure that Representatives, Senators and Governors probably do over one issue or another as well, although I'm sure it's not with nearly this much frequency or intensity.)
--What I didn't know on Monday was that the brothers of U.S. Congressmen would not only be threatened, but would actually have their gas lines severed.
--What I didn't know on Monday was that some guy who, as far as I know, isn't even remotely connected to anything political would have his health and safety--as well as that of his 10-year old child--threatened because some asshole decided to deliberately ram his SUV into the back of his car because the other driver dared to...have an Obama sticker on his bumper.
So yes, I've been a bit jumpy the past day or so, which I tried to cope with in two ways: On the one hand, there's no way I'm gonna let these jagoffs intimidate me from this project, right?
I mean, sure, they attacked an 11-year old boy who's mother had died because she couldn't get health insurance, but certainly they'd never attack some guy somewhere for sending flowers to a grandmother on her birthday, would they??
Of course not. How silly of me.
At the same time, I couldn't help but be at least a little jumpy about the tone of the past few days, and I took it out on someone who was made a minor error while trying to be helpful by overreacting, for which I apologize. I promised not to call this person out by name today, I really do want to thank him/her for his/her effort and initiative.
--------------------------
For the record, as of this writing, to the best of my knowledge I'm not the personal target of any smears or intimidation campaigns. I haven't heard anything about Michelle Malkin posting my address online or Bill O'Reilly making a harangue about how I'm letting myself be used as a tool of the far-left, or whatever.
But the fact that such concepts are even PLAUSIBLE should be disturbing to anyone with an ounce of sanity.
The fact that it's even remotely rational to be at all concerned about being attacked for buying flowers for a woman on her birthday is a testament to how f*cked up things have gotten of late.
The Republican Party, in coordination with the Tea Party movement and orchestrated by FOX News and Rush Limbaugh, has managed to bring about a situation and atmosphere in which it's not completely out of the realm of possibility that, say, a 4-year old girl could be personally attacked and mocked by Rush Limbaugh for, say, smiling at a picture of President Obama.
Of course, these are the same people who brought you John Yoo, who sees no legal problems with crushing the testicles of young boys, so perhaps I'm actually understating the case.
Update: I just wanted to clarify one point: My ego is as big as anyone else's, and if this week hadn't seen such an ugly turn by the nutcases, I would have been more than happy to hog the spotlight, shamelessly promoting my company and flapping my gums on any talk show that cared to interview me. It was only the batshit crazy brigade that started giving me the heebie-jeebies about making the story all about ME, ME, ME, so perhaps some good came out of the teabaggers going berzerk lol...
--------------------------
And now that I've put the image of childs' testicles being crushed into your head, let's move on to a more pleasant topic.
First, a brief update on the Walter Reed Army Medical Center postscript to the story: I received the following email late last night from Kossack llbear, who contacted Walter Reed by phone to get some feedback on their reaction. Here's what he had to say:
I called one of the units tonight, talked with a caregiver and asked if there were any stories she could pass on. (I'm sufficiently fuzzing this so no one gets into any trouble.)

--Most of these soldiers early in their admission to Walter Reed have problems getting their pay. One has a mother/aunt/grandmother coming tomorrow. That soldier now has a birthday gift to give and was so excited!

--Rumor has it that someone - a Marine - found a bunch of songs about flowers on YouTube and held an obscene sing-a-long :)

--By the way, the caregiver I spoke with wanted to know if it was really true that went sent Pelosi 2,600 roses - and wished he/she could have contributed, too!

--The Public Information Officer who expressed the thanks of everyone at Walter Reed for your thoughtfulness is named - really - Chuck Daisy! He called to confirm that the roses had arrived and was absolutely amazed at the sight and smell.
I want to thank EVERYONE who assisted in pulling this off. When it started, I just figured, hey, Speaker Pelosi did a great job on an important, high-profile bill, and her birthday is this week anyway, so why not send her some roses like we did for Barbara Boxer 5 years (has it been that long???) ago?
It quickly morphed into something much larger, of course, as such things tend to do. The GOP and Tea Party people, in a strange way, actually did their part to "help", by acting like even bigger dicks than they normally are; in doing so they just served to enhance the symbolic importance of our own effort (thus leading to the "Roses, not Rocks" tag, but that's neither here nor there.
--------------------------
While many people obviously contributed to this effort, I'd like to give a shout-out to four dKos members in particular who donated their own daily diaries to help keep the campaign on the radar: wide eyed lib, AntKat, DruidQueen and brigitsmom. I'd also like to thank mayrose for posting the "Bread & Roses" song (as well as everyone who encouraged me to use it in the letter).
Update x3: Kudos to mayrose for pointing out that she wasn't actually the first one to post the "Bread & Roses" poem; it looks like that was actually ebrown. So, thanks to ebrown for posting it, and to mayrose for bringing it to my attention!
And, of course, a special thank you to Mike Stark, who went above and beyond the call by not just getting photos of the original flower delivery itself, but followed up by getting some wonderful shots from the Walter Reed Army Medical Center afterwards, as well as llbear, who did the follow-up interview with a spokesman at Walter Reed about the soldiers' reaction.
Update: I also should give a shout-out to both Coast to Coast Flowers (they handled all the orders) as well as Conklyn's Flowers (they did the actual delivery). From all accounts, both florists did an excellent job in terms of both customer service as well as handling the logistics of the project. You can join C2C's Facebook fan page, if you like, and I highly recommend either company for your future floral needs.
The other point I want to make is that as proud as I am of how well the Pelosi Rose Campaign went, and as happy as I was to see the pics and watch the thank-you video that Speaker Pelosi posted, and as heartwarming as it was to see the photos of the soldiers and their families at Walter Reed...
...The truth is that for my own part, I've been most touched by some of the comments on the various threads over the past few days.
If you don't mind, I'd like to repost a few of my favorites:
wow!!!!!
I feel so good right now...

tears of joy!

she shared them with WR Hospital....
doesn't surprise me one bit :-D
it felt so nice to be a part of this...No good thing is easy and this was a tremendously good thing...It will be something I will remember for a long time and when people talk about Speaker Pelosi in the future I can say "oh, after the HC bill passed I was a part of a group that sent her over 2600 roses!"

We did a good thing.
I said this in Kos's account of this but it bears repeating. This gesture brought honor to this place. Made us look good, made us look classy, and right on to...all the Kossacks that made our speaker smile today.
[the campaign provided] me with an affordable and easy opportunity to express my appreciation to the Speaker and her staff. I have a personal investment in this healthcare reform as I have a child who was previously uninsurable. That now changes. Thanks again for letting me a part of this.
squeee! i swear, this has been like christmas in spring. first it was waiting for the summit. then it was waiting for them to take up the bills. then round two. now pelosi's roses. so much to look forward to lately!
I'm just so proud of you guys because I remember stumbling onto this little diary on the rec list which at the time had about 90 roses ordered. Look at this activity now! Talk about creating something positive out of nothing. I really think that activities like this represent DailyKos at its best: a ground level netroots interlocking of people in disparate locations collaborating in small amounts on something which results in a remarkable news story. DailyKos at its finest and I thank you all for it!

Made my week.
I've been so excited about this all week that I failed to put two and two together that "Friday" is the 26th, which is also my mom's birthday!

Good thing I sent her card and package last week or I might have forgotten
Why does this make me so happy?
I've been working on political campaigns for decades, from the days when we would get together around kitchen tables for long evenings of stuffing envelops and licking stamps. This is the first time I've been able to make a gesture that's not utilitarian, that's just a pure expression of gratitude, pride, and solidarity. I know the roses were for our fearless leader, but sending them made me feel even more a part of a joint victory. It was a way to acknowledge my stake in the struggle and my part in the community of people that accomplished won it.
And of course...
And Joe would say this project is A BIG FUCKIN' DEAL, too!
I couldn't agree more.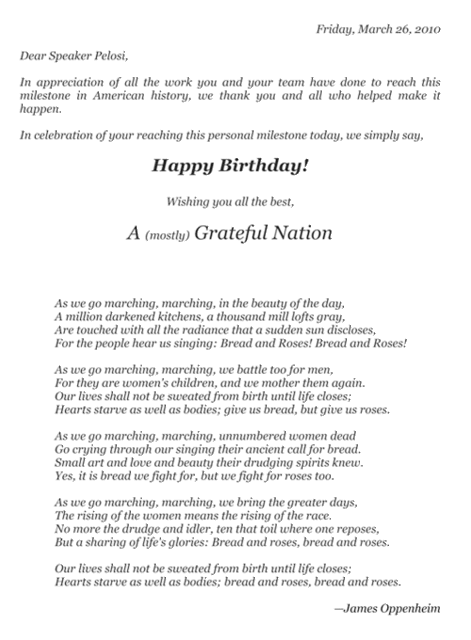 But of the more than 2,000 comments which people have left on the various "Roses Not Rocks! Campaign" diaries over the past 4 days, this is perhaps the single most important one:
The 26th of March was also my wifes birthday.

If she were alive today, she would have been proud to share the day with Speaker Pelosi.

She would have been 61 but, the healthcare system wouldn't allow that.

She died on inaguaration day last year.

--by viet vet on Wed Mar 24, 2010 at 02:43:11 PM EDT
As we celebrate this victory and the success of this campaign, let us never forget what this fight is really all about.
--------------------------
.
.
.
.
.
.
.
.
Update x2: Inspired by a diary by TheOrchid, I've decided to reveal the secret behind my name, "Brainwrap".
You see, I was a movie theater manager (and part-time projectionist) for 8 years in the '90's.
The cluster of spindles, pulleys and guides in the center of a movie theater platter projector system is called "the brain".
For those of you old enough to remember VHS and audio cassette tapes, do you remember the unholy mess of spaghetti that would occur when the tape got caught around the spindles in your tape deck or VCR?
Well, imagine that happening with a mile or more of 35mm film, and you have what's called a "brainwrap".
Allow me to demonstrate: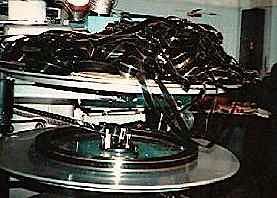 Oh, yeah, and it also happens to be what I named my web design company :)