A year ago, I wrote my first diary about Caitlin Racenet. She was then three years old, and she was desperately in need of a service dog.
This is Caitlin: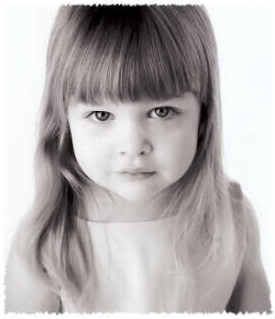 Her story (and the miracle this community performed, is over the fold.)
Caitlin's Story:
My name is Caitlin Racenet. I am three years old and I love to sing and dance and play. I look like a regular sweet little girl, however there is a lot hiding behind my sparkling blue eyes. I suffer from Tuberous Sclerosis Complex, a non-curable disease that causes tumors to grow in major body organs.

I have several brain tumors that cause a severe, difficult-to-control seizure disorder. My mommy and daddy first noticed my seizures when I was 16 months old.

I have multiple seizures every day, especially when sleeping. I stop breathing in my sleep when seizures happen, which makes Mommy and Daddy very scared. It scares me too. I don't sleep alone.

If I had a seizure doggy, then I hope the dog would make me feel better about sleeping alone and help Mommy and Daddy sleep too, because the dog will let them know when I am having a seizure.

Most days I have 6-8 seizures, although sometimes I can have 24-30. I take my medicines very good, but the seizures still come, and they seem to be getting worse. I don't like it, but I know it's not my fault.

My mommy and daddy are often scared to leave the room or do normal household things because they might not be there when I have a seizure. I know that they will think a seizure doggy is a gift to the whole family!
I included Caitlin's story in a diary about animals I had written. Little did I know. The next day:
Twenty-four hours ago, I posted a little diary, in which I asked for help for Caitlin. It was posted very late, and I went to bed not too long after posting it.

During the night, many very generous kossacks gave money. After I had gone to bed, llbear donated and sent an email to 4 Paws, letting them know about the diary and the donation efforts.

And I was so thrilled to get this email from the head of 4 Paws this morning:

I was not able to post a comment because I am not a member of Daily Kos. I wanted to say thank you for your story blog and help offered to Caitlyn. It was so cool to read what you posted and all the comments. What a neat Blog. Donations have been rolling in!
A year ago today, I received this email:
This is Caitlin's mom Rebecca and I just want to sincerely thank you so much for helping my Caitibug get her seizure assitance dog! I just received a call from 4 Paws For Ability and we have not only met but exceeded our goal by over 2,000.00! This means that not only will Caitlin get a dog, but someone else will be given the extra money that is having a more difficult time in their fundraising. They were amazed at how quickly it happened. To their knowledge, this is the quickest that fundraising has been accomplished.

Again, thank you so much! We have been placed in the January, 2010 class. The dog will be selected and trained just for Caitlin. I would love to keep you updated on our progress. Please continue to support and promote 4 Paws and the wonderful work they do. There are many children waiting for a helper friend!

So Sincerely!
You all need to see what you accomplished, a year later: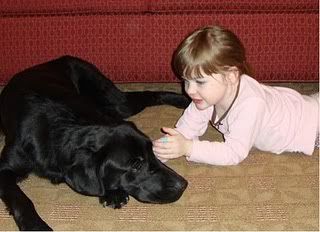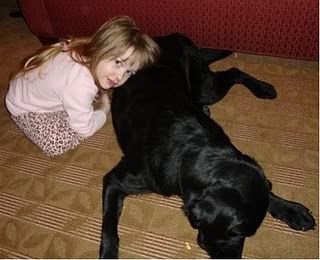 Caitlin & Abrah are doing well. They are bonding more and more and we are hoping to get them out in public a little more often in the next few weeks.
Three years ago this weekend, I wrote an Easter Diary about Hope. There, as here, I spoke about celebrating a central definition of resurrection – "a rising again, as from decay, disuse, etc.; revival." That is what this community has done in so many ways, in so many places, since then.
And tonight, as the Easter sun rises across this country, I would like to thank this community again, from the bottom of my heart, for granting hope and renewal to Caitlin.
Bless you all.
If you would like to donate to help another child: 4 Paws for Ability.