Deniers freaked out by the prospect of EPA regulation of CO2 emissions under the Clean Air Act. Now, President Obama has opened the door to potential regulation under the Clean Water Act (CWA) of CO2 that causes ocean acidification. The EPA has commenced a public process to take comments to evaluate the issue of increasing ocean acidification to discuss how states can determine if their coastal waters are affected and how states may limit the pollutants causing the acidification. It was an environmental group that filed a lawsuit that triggered an EPA settlement resulting in commencement of this process. At this point, the settlement requires only that the EPA seek guidance and public comment on the best approaches to address ocean acidification, but it could lead to regulations down the road. Remedial measures could include regional cap-and-trade or reduction of emissions from industrial plants. The American Petroleum Institute is not a happy camper because the court would not allow it to intervene in this lawsuit as representative for its hundreds of oil and gas companies.
Ocean acidification is the decrease in the pH of the ocean caused by absorption of CO2. Each year the ocean absorbs around one-fourth of the anthropogenic greenhouse gases. However, when CO2 dissolves in ocean water, it forms carbonic acid. Two years ago, a study showed that the speed of acidification or dropping of pH level was "going down 10 to 20 times faster" than previously predicted.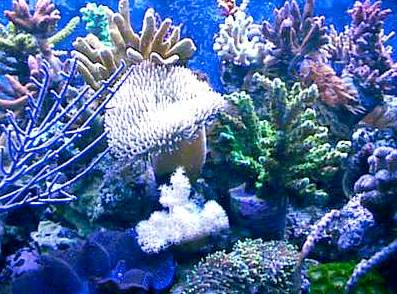 Coral reefs are threatened with extinction and one of the culprits is CO2 that causes acidic oceans that decrease the ability of corals to form skeletal reefs:
Coral reefs are home to more than 25% of total marine species. Take out the corals, and there are no reefs — remove the reefs, and entire ecosystems collapse.

...Unfortunately, that's exactly what appears to be happening around the world. According to a comprehensive survey by the Global Marine Species Assessment (GMSA) published Thursday in Science, one-third of the more than 700 species of reef-building corals are threatened with extinction. Compare that to a decade ago, when only 2% of corals were endangered.
Today, oceans absorb 22 million tons of carbon dioxide each day that impacts the marine food chain ranging from microscopic plankton to whales because acidification impairs the ability of marine life to build their protective shells and skeletons needed for survival:
Scientists suspect that acidic water connected with upwelling killed several billion oyster, clam and mussel larvae that were being raised at the Whiskey Creek Shellfish Hatchery near Tillamook on the Oregon coast in the summer of 2008. The hatchery provides baby shellfish to growers up and down the West Coast.

Shellfish growers in Washington state, who supply one-sixth of the nation's oysters, increasingly are concerned that corrosive ocean water entering coastal bays could threaten their $111 million industry.
This affects marine life, our food supply and potential medicines:
One concern is the devastating impacts of failing to take action now:
Feely said the oceans' acidity levels were higher than they'd been at any time in the past 20 million years. Based on "pretty good" evidence, Feely said, previous high acid levels in the oceans have caused mass extinctions of marine plants and animals, which can take 2 million to 10 million years to re-evolve.

"The decisions we make now, over the next 50 years, will be felt over hundreds of thousands of years," he said.
Fortunately, under the CWA, high acidity is already a pollutant. Thus, the Center for Biological Diversity filed a lawsuit claiming that the waters were impaired by rising acidity. The EPA settled by agreeing to use the CWA to address ocean acidification, and thus the EPA commenced the process by providing notice in the Federal Register to obtain public comment (pdf file) on whether the CWA should be used to regulate CO2.
EPA is soliciting information on what the agency should consider to determine if waters are impaired by ocean acidification; impaired waters are those requiring limits on pollution to protect water quality. EPA's action aims toward issuing guidance on how to approach ocean acidification under the Clean Water Act.
This settlement requires the EPA to commence a process to take public comments on the issue of increasing ocean acidification, how states can determine if their waters are affected and how states can limit the pollutants causing the increasing acidity of oceans.
This settlement does not require the EPA to issue regulations but only requires the EPA to develop guidance for the states. The settlement agreement "creates a public process for the EPA to prepare guidance for all the states with coastlines on how to address ocean acidification," which includes "helping states assess and monitor the chemistry of their coastal waters, working with them to determine acceptable daily maximum levels of acidification, and providing support as they try to develop regulations controlling the pollutant involved: carbon dioxide."
However, the outcome of this process could be using the CWA to place restrictions on carbon dioxide emissions. Similar to past measures that states used under the CWA to regulate mercury emissions and acid rain, additional measures could include "regional cap-and-trade systems to limit carbon-dioxide emissions from the burning of fossil fuels or requiring industrial plants to reduce their emissions as a condition of any discharge permits granted under the Clean Water Act."
If you want to participate, comments must be received on or before May 21, 2010. You can submit your comments by one of the following methods:
• http://www.regulations.gov: Follow the on-line instructions for submitting comments.

• Mail: Clean Water Act Section 303(d): Notice of Call for Public Comment on 303(d) Program and Ocean Acidification, Environmental Protection Agency, Mailcode: 4503–T, 1200
Constitution Ave., NW., Washington, DC 20460.

• Hand Delivery: EPA Docket Center Public Reading Room, EPA West, Room 3334, 1301 Constitution Avenue, NW.,
Washington, DC.

Instructions: Direct your comments to Docket ID No. EPA–HQ–OW–2010–0175.