Of all the places we have hiked and photographed, Yellowstone and its surrounding wild lands are by far the most spectacular - no contest. There is something about the American west, and Yellowstone in particular, that has taken hold of us over the years and that hold only gets more intense with each passing adventure. Is it the wide open spaces? Or the abundant wildlife? Maybe the geology and natural beauty? The wildflowers? Yes, yes, yes, yes! It is also something far less tangible that brings us back year after year.
More over the next ridge...
Forgive any errors in uploading the photos - this is my first real attempt at a photo journal.
Yellowstone in all its Glory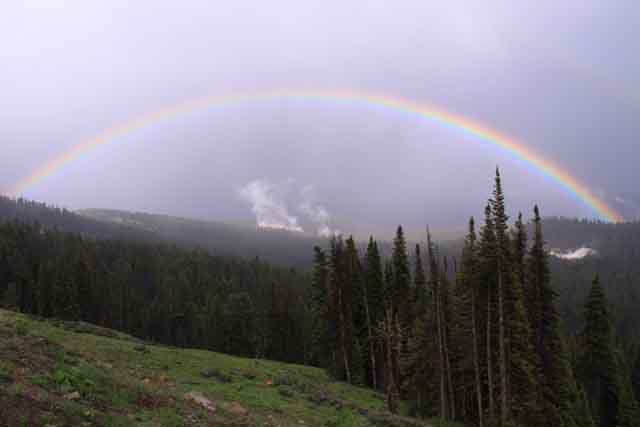 Journal note: Stopped on way to spot for bears. Rained hard but sun broke out. Amazing!
The Greater Yellowstone is made up of nearly 20 million acres of quintessential natural western heritage. With both Yellowstone and Grand Teton National Parks, numerous federal Wilderness areas, and millions of acres of additional public lands, you can spend a life time exploring the region and never cease being awed by its grandeur (both large and small).
Below are a few of the thousands of images we have taken over the years. I will add to this journal over the coming months and years as a labor of love for this remarkable part of our great country.
Hayden Valley
Hayden Valley is great for photos; however, it is at its absolute best during rough weather, mornings, and evenings. Be very careful hiking in Hayden Valley though - it is thick with grizzlies and the rolling terrain makes it very hard to spot bears until you are almost on them. We know this from experience.

In June 2009 we hiked out to a small ridge (visible on the horizon in the photo). The ridge was only a half mile or so from the road. No big deal. We always pay careful attention when hiking in grizzly country and even a small jaunt like this warrants the usual precautions. We took some great photos and hiked back in order to make for Dunraven Pass to do some spotting.
A little later in the day we were relaxing on Dunraven Pass looking for bears when someone we know from past trips stopped by to chat. He suddenly realized that we were the ones he saw in Hayden Valley a couple of hours earlier. He laughed and said he saw us hike out to a small ridge and in the process hiked right past a grizzly and her cub! We were stunned since we are always very observant when we hike and never even saw this bear. Moral of the story - leave Hayden Valley to the bears.
Journal note: Watched grizzly sleeping on snow patch. Rolled side to side. Put paws in air and rolled in slow motion. Snow patch shaped like crescent moon.
Life and death in Yellowstone
This elk skull cap and full rack were found on a little known section of the old Bannock Trail which will remain undisclosed. It is hard to know exactly how old this rack is but it is in such an arid location in the park it must very old indeed.

We found the trail in 2007 while scoping a valley we had seen on a previous trip. It was faintly visible and digging through old books led us to believe it was an old Native American trail. Rangers confirmed that we were correct.

The hike in to find the trail was arduous and very warm and dry. This is not a hike to be attempted without adequate water. Once into the valley we explored the area thoroughly. We did not see any signs of recent human activity. We hiked up an intriguing dry wash and there was the rack. It looks as though it has always been there and had taken on the color of the surrounding soil.

2009 was the third year we hiked in to check on the racks status - it looked no different than the previous two years. The hike into this valley has become somewhat of a ritual I suppose. It is beautiful and very interesting. We also get a deep sense that we are in an important part of human history that is sadly long gone.
Journal note: Old Bannock trail cut through thermal area. Thin soil. Turned back. Colored stones and smell of sulfur.
Druid Peak wolf
June of 2009 was a good year for wolf watching. We were able to view wolves throughout the park and in quiet serene locations. We witnessed dramatic wolf/grizzly and wolf/coyote interactions. It was an amazing spectacle of life in Yellowstone.

On one occasion, at sunrise, we witnessed five wolves trying to harass a large grizzly off of a bison carcass but could not seem to make much progress. This went on for at least three hours. Finally, and to the wolves delight, the bear slowly moved off. Then suddenly, and explosively, the grizzly turned on the wolves scattering the pack in all directions. The grizzly plopped back down on the bison carcass. The wolves wandered off and took a day nap.
Journal note: Wolves driven off carcass. Seem aggravated. Chase coyote across valley. Coyote escapes. Wolves sleep.
Bald Eagle on the way to Mammoth Hot Springs
Over the years we have often remarked about the strangest places we will spot Bald Eagles when scoping large valleys and hillsides. We spot them just perched on the ground and have observed that they will stay that way for long periods of time.

If you visit Yellowstone in the spring make sure you visit Lamar Valley. At the entrance to the valley is a Bald Eagle nest that has been active for years. We have never failed to find a pair of eagles raising young. It is near the entrance to the valley but across the Lamar river. You can find it in a tree on a shallow bench that is populated with numerous trees. Look for a tree at the top of the bench that looks like it has had its top removed. It is tilted slightly at an angle and looks like a large shrub (not W). Once you have the marker tree spotted take a visual straight down - the nest is in a large tree slightly below the top of the bench and is plainly visible with 10x binoculars. It is a much better view with a spotting scope however.

The adult eagles will sit on the nest for long periods of time with one of the pair often out hunting in the valley. These are large birds but in this vast setting they look tiny.



Guarding the turf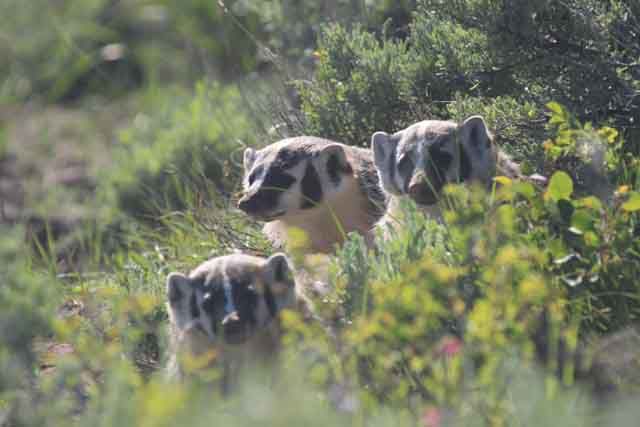 Journal note: Badgers seem everywhere. Adult and three cubs. Four cubs. Adult hunting rodents.
Beware adult badgers. They will brook no encroachment on their turf.
| | |
| --- | --- |
| Sunset Over Northern Yellowstone | Reflections |
| | |
| --- | --- |
| Waiting at the Trailhead | Pronghorn |
Blacktail Deer Creek to Gardiner Hike
This is a magnificent hike on the northern range of YNP. It is a long day hike but would be better served as an overnighter. We did it in a day but seriously regretted not having more time to enjoy the back country.
The hike begins in the sagebrush covered rolling hills between Mammoth and Roosevelt. In a few short miles(~4mi) descends over 1000 feet into the Black Canyon of Yellowstone. There are numerous kinds wild flowers all along the way. If you have a camera you will not be disappointed.
A couple of miles into the hike you pivot and descend into the Blacktail Deer Creek drainage (look for a small waterfall along the way). We have seen a lot of bear activity in this area (grizzly and black) so use good sense when hiking this trail. On a warm day this is a great place to take in some shade and enjoy the creek environs.
In short order you leave the shaded creek drainage and start a more rigorous descent into the Black Canyon. Along the hike you will pass numerous wild flowers and a few noxious weeds that the park service needs to deal with. The hike down can provides some nice views into the Black Canyon. It also gives you the sense that civilization has been left far behind. As you descend you will start to see views of the Yellowstone River through the trees. You are getting close to the bottom.
Once you round the corner near the bottom you will come to a junction that heads up river to a backcountry rangers cabin. This is definitely worth the side trip. The cabin is in a spectacular setting along the river. It also has some nice seats on the porch where you can enjoy your lunch. We always take a half hour or so and relax at the cabin. It is also a nice spot to wet your shirt if you are running hot during the hike. You might want to think about this on your way back up if you are making this an in and out day hike.
When you leave the cabin you will head back down the main trail and cross and fantastic suspension bridge. The views are awesome!
A small side story here - in 2002 we were near the suspension bridge when a large bird came flying into the canyon. We could tell it was a very large bird and so we broke out the binocs. As it approached we knew this was different and just needed to confirm our sighting. It banked showing its underside and started to head up a small branch off of the Black Canyon. We were stunned - we knew immediately it was a California condor - no question. We reported the sighting to the Audubon Society upon our return to civilization.
When you cross the suspension bridge you will wander through an interesting meadow covered in small wildflowers including the Bitterroot (Montana state flower). You then begin to swing to the left and drop down to Crevice Lake. Gardiner is only 7.5 miles away! Keep an eye out for water fowl in Crevice Lake. A gorgeous back country lake worthy of several photos. You are on your way to Knowles Falls.
Journal note: Bitterroot are everywhere. Never seen so many. Mother load. View of Crescent Lake awesome from here. Walk carefully. Elk carcass.
Bitterroot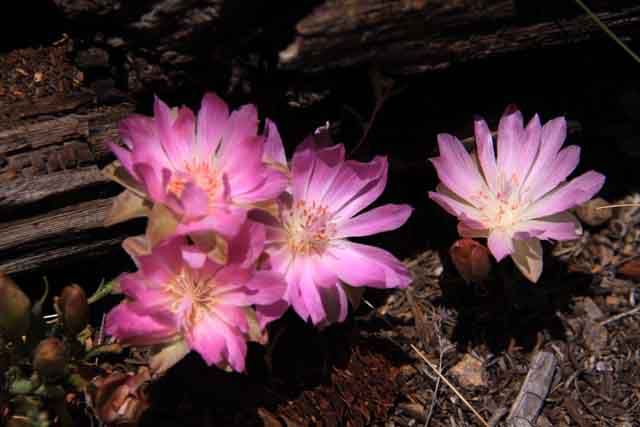 Knowles Falls is a nice 15' foot waterfall and is a beautiful stop over. It gives you another chance to relax. The views up and down the river along this stretch are fantastic. Take your time if you can.
The final push to Gardiner is wonderful but long. Beware of the final couple of miles. You will hike along some treacherous talus hills that when wet are very dangerous and virtually impassable. If rain is on the horizon or if there has been significant rain in recent days, do not even attempt this section. As it was we had great dry trail conditions and enjoyed the last stretch of trail. In the final mile we were able to watch some Osprey and elk. This slowed us down and was a nice end to a very long hike.
Looking Forward to the Next Adventure...
Journal note: Bison came out of nowhere. Tail up. Took images and bailed. Bison thrash sage and then roll. Tons of dust and bellowing. Young bull runs away.