While it has been supplanted by electronic keyboards the past three decades: the Hammond B-3 electro-mechanical organ changed popular music in the 20th Century. Its counterpart was the Leslie rotating speaker, which brought the sound of this instrument out like no other. Yet because the Leslie came from a rival manufacturer: what should have been a 'beautiful friendship' became, instead, a feud.
I wrote of this in my song-of-the-week tribute this past September - and am just now recounting this story as a separate diary, as more than one person suggested.
(more after the jump)
To understand this saga: one needs to know about their inventors Laurens Hammond and Donald Leslie - who grew up less than 200 miles from each other - and how (amazingly) they worked at cross-purposes for many years: when in fact their inventions were a match made-in-heaven. Despite this, their products originally designed for churches and homes changed popular music in the 20th Century.
Laurens Hammond (photo left) was born in Evanston, Illinois in 1895 and whose father committed suicide when he was only three. His mother moved the family to France to further her art studies and young Laurens already showed himself to be a prodigy: submitting a primitive design of an automatic transmission (in 1909) at age 14 which the engineering department at Renault decided .... to forego. Graduating with a mechanical engineering degree from Cornell, Hammond served in WW-I before inventing a spring-driven clock (the Hammond Clock) at age 24. The company he founded struggled during the Depression; other products he developed to diversify included: electro-mechanical organs which Hammond developed from a piano.
The use of mechanical tonewheels (in lieu of the prevailing pipe organ technology in use at churches) made for a new way for people to play the instrument when introduced in 1935 and - while it was heavy - it could be transported to public venues. It meant that groups using one could forgo having a bassist, with the pedals providing an ensemble's bottom end. The model that sold best with popular musicians was the Hammond B-3 developed in 1954. It was popularized in its early days by the jazzman Jimmy Smith - a former pianist who began using organs in the early 1950's and was often described on TV/radio as "Jimmy Smith on the Hammond B-3" - you would not hear other musical instruments so noted.
Electro-mechanical organs were eventually supplanted in the mid-1970's by electronic keyboards (although the Hammond Company did release a "New B-3" in 2002). Some of the bands/musicians who used a Hammond organ: in jazz (Jimmy Smith, Joey DeFrancesco, Dr. Lonnie Smith), and in rock (Santana, Procol Harum, Boston, Pink Floyd, The Allman Brothers and Deep Purple) and even in the post-1975 era, fully electronic Hammonds were used by The Dead's Brent Mydland, Page McConnell of Phish and Danny Federici of the E Street Band. Yet with all of the new designs able to reproduce the old organ sounds (and weighing much, much less to carry) there are musicians to this day who will not part with their old electro-mechanical models - to the chagrin of sore-backed roadies.
Laurens Hammond helped design guided missile controls during WW-II, and his retirement from his company in 1955 didn't stop him, either: he was granted another 20 patents after age 65 (to go along with the 90 he previously held). Laurens Hammond died in July, 1973 at the age of 78 - and at the time of his death, there were over 31 manufacturers of electric organs, a true testament to his work.
But for all of his work in creating a new instrument for-the-ages: the speakers used on Hammonds in their early years sounded fine in a concert hall, but poorly in a smaller, more confined space (flat and brittle, with no resonance). It was left to Donald Leslie (photo right) - a native of Danville, Illinois (less than 200 miles south of Laurens Hammond's birthplace) - to solve the problem. Leslie worked at the Naval Research Laboratory in Washington D.C. during WW-II, and was a radio repairman at a Los Angeles store in the mid-1930's who owned a first generation Hammond organ. Around 1938, he heard a truck pass by his home with a horn broadcasting a political announcement, and noticed the sound trailing off as it passed by - the Doppler effect.
That gave Don Leslie the idea for a dynamic type of speaker: which he built at home with both a rotating horn speaker and a separate woofer, creating a vibrant sound (with the Doppler effect) that swirls around as if in a concert hall. He made the first commercial production of the Leslie speaker around 1940, when he offered to either license it (or sell outright) to the Hammond Organ Company. But Laurens Hammond was quite paranoid about this interloper, and rejected the offer. Donald Leslie founded Electro-Music as a result, and marketed his device on its own. And the improved sound was so evident, his company took off in production. The Hammond company improved its own speaker on several occasions - but never equalling Don Leslie's unit.
And here is where this story moves from merely business into the world of human drama. Laurens Hammond wanted control of his instrument's sound so badly, he (a) had his engineers constantly switch its cable connectors to thwart the use of Leslies and (b) forbade music dealers from selling Leslies if they wanted to be Hammond dealers. It led to a Kabuki-like dance, where dealers sold cable converters and Leslies secretly through rival stores - which aspiring organists were willing to put up with. In 1957 (seventeen years after the founding of Electro-Music) the Hammond Company finally contacted Leslie about buying-him-out: "Too late" was his response.
It should be noted that use of the Leslie speaker isn't limited to organs: numerous musicians use it with other instruments (or voice) on their recordings: examples are The Beatles ("Tomorrow Never Knows"), Elton John ("Goodbye Yellow Brick Road"), Black Sabbath ("Planet Caravan"), Aerosmith ("What it Takes"), Tori Amos ("Horses"), Smashing Pumpkins ("Rhinoceros") and Eric Clapton with Cream ("Badge").
Don Leslie eventually sold his company to CBS in 1965, and after the death of Laurens Hammond in 1973, relations between Hammond's company and Electro-Music warmed considerably. The Hammond Company bought Electro-Music from CBS in 1980, and today the company is part of the Hammond Suzuki company. Donald Leslie died in September, 2004 at the age of 93. He obtained over fifty patents himself, and lived in the same house in Altadena, California for over sixty years.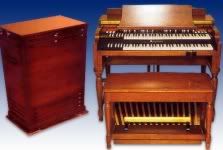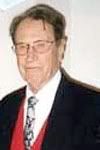 One musician who has long used Hammond keyboards with a Leslie speaker (and who is a student of their history) is Steve Winwood - and the song by which this veteran Englishman broke onto the US charts some forty-three years ago (at only age 18) was Gimme Some Lovin' (fair-use extract below) written by himself, his brother Mervyn ("Muff", later to be a record producer) and their bandleader, the Welshman Spencer Davis who now lives and performs on Catalina Island in California. The song begins modestly, before the swirling Hammond/Leslie sound takes over. The organ part was recently featured in some financial planning TV commercials (with Dennis Hopper) and at this link or by clicking below, you can hear the original.
Well, my temperature's rising
and my feet left the floor
Crazy people knocking
'cause they're wanting some more
Let me in, baby:
I don't know what you've got
But you'd better take it easy,
'cause this place is hot

And I'm
so glad we made it
so glad we made it
You gotta: gimme some lovin'
gimme some lovin'
Gimme some lovin'
every day