read one of the signs carried by a woman at the local tea party tax-day protest in Kingston NY today.
Glenn Beck's message... was echoed by a group of about 100 - 130 all white faces who lined local county route 9w, which is the way to the mall in my area.
I arrived at around 3:30 PM when they were just getting started. I rushed into the Staples in the mall and bought some posterboard and magic markers – red and black and blue, and hurriedly crafted a hand made sign of my own. Since the local group of Tea partiers all came with American flags and "Don't Tread on Me" ones as well, I decided to keep my message simple.
"Real Patriots Pay Taxes".
I found an empty corner to stand on, across from where they were gathering.
I wore an Obama tee shirt for the occasion. Figgered that might make it clear I was not part of the group.
I was waiting for Vodou Chile (another Kossak) to show up to join me, because he was going to photograph the event. While I stood on the corner alone, the only brown face as far as I could see, as cars whizzed past honking in agreement with the tea partiers, I began to notice that more cars were not honking than those who were. I paid closer attention to the roadway, and moved nearer to the curb, holding my sign high as cars stopped for the light. I made eye contact with many of those folks who were shaking their heads in dismay. I began to get "thumbs up" signs from drivers. One woman rolled down her window and yelled "Go Bama!"...another shouted "these rejects are Glenn Beck zombies" and I grinned back at her. Another woman just said "bless you for being out here".
A young brother "beeped" at me, as he stopped at the light. and smiled" I walked over to his car and he rolled down his window. I joked with him about being the only spot of brown in a sea of white. He grinned, and pulled off..shaking his head in disgust.
A 20 something female reporter from the local daily paper was taking pictures of the protesters. She came over to me and asked to photograph my sign. She remarked ..."have to add a little balance". She asked me why I was there, and I told her I had seen the announcement for the "protest" and decided to do a counter protest of my own, adding "my taxes pay for this highway they are protesting on". I gave her my name and she left. I'll see tomorrow how they cover this.
After about 15 minutes doing my solo protest, two of the Tea partiers decided to cross over to edge me off my corner. I said "I'm opposed to what you are doing, and held my sign up for them to read. Their response was they had a first amendment right to stand next to me. " No problem" I relpied . "It's a free county".
Rather than ignore them I decided to ask them questions. The man said he was a Vietnam Vet and was angry about the health care he didn't get at the VA. He complained about taxes, and mentioned a global conspiracy... "One World Government" (this must be some Beck thing). I asked him if he thought all people should have health care. He agreed that "people who worked hard and paid into the system should have health care", but he then went into a rant about foreigners getting health care with our tax dollars. I asked him who did he think should be picking the pears and apples our local farmers are famous for. He responded "American's should have those jobs". I asked him if he would pick tomatoes for a living. "Hell no" was his response. "Who should do it then?" I asked. "They (the local farmers) have combines to do that kind of work," he replied " No, most of the crops have to be picked by hand", I said. "Well are you gonna take one of those jobs" he asked me. "No, I replied, and I don't know many US citizens who will". He had no answer and changed the topic to local taxes going up.
Then the woman, who was walking with a cane piped up. She introduced herself and said, after reading my sign "I pay taxes" too. "Good "I said "...so you don't believe in all of this?" "Well" she said " I don't like what the government does with my taxes" Do you think the government should pay for police, and fire-fighters, and schools and roads and the military?"I asked "Oh yes, she said, "I just don't like what they are spending my money on." I see you have a disability"I commented, "do you get Medicare? "Yes, she replied "...I do and I believe in Medicare because I paid into that" . I responded "Oh...well what about people getting covered for pre-existing conditions?" Oh yes...they should..and she added "But I think we should be able to shop for a health care plan, you know, one that is out of state", adding "the free market approach will drive down costs" "Hmmmm", I replied. I changed the subject "so what do you think of Sarah Palin? "Oh, I like Sarah Palin she said. "As the next President?" I inquired " Oh no...she's not ready....yet." ( I mumbled under my breath...ever) but she went on to explain that her choice for President was Newt Gingrich.
While chatting with them, and holding up my sign, I noticed that another lone protester had appeared about 50 feet away. I walked over to him to read his sign. He didn't look very friendly until he realized I was not "one of them". After he read my sign and saw my tee shirt he allowed me to photograph his and told me, his name was Phillip, and he had a local public access tv cable show.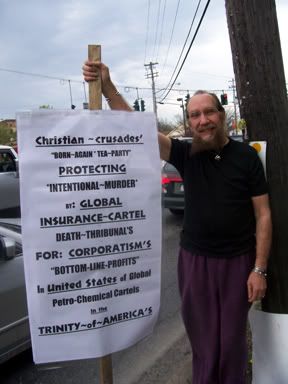 After rapping with him for about 15 minutes, stopping to wave at the thumbs up folks and ignoring the loud honkers and American flag wavers, I walked back over to my car for a few minutes and saw a State Trooper parked in the gas station, observing the demo. I strolled over to chat with him. He was African American. It was clear from his expression that he was not in sympathy with the protestors, but he was doing his job and we exchanged a few pleasantries and I went back to my spot on the curb.
Several more teapartiers had drifted over to "my corner" and were shouting to drivers "Glenn Beck, Sean Hannity, Fox News ..be informed!"
By that time, to my relief, Vodou Chile had arrived and he snapped a photo of me and my sign and then headed off to mingle with the tea partiers. He came back in a few minutes and said "I found the coffee party people" Yay!!!! They were about a quarter of a mile away, at the other end of the Teas partiers which is why I hadn't seen them.
We walked through the line-up of protestors, and Vodou took more photos:
I wonder if this guys understands the irony of his Cuba sign - they all have health care and we don't. Guess not.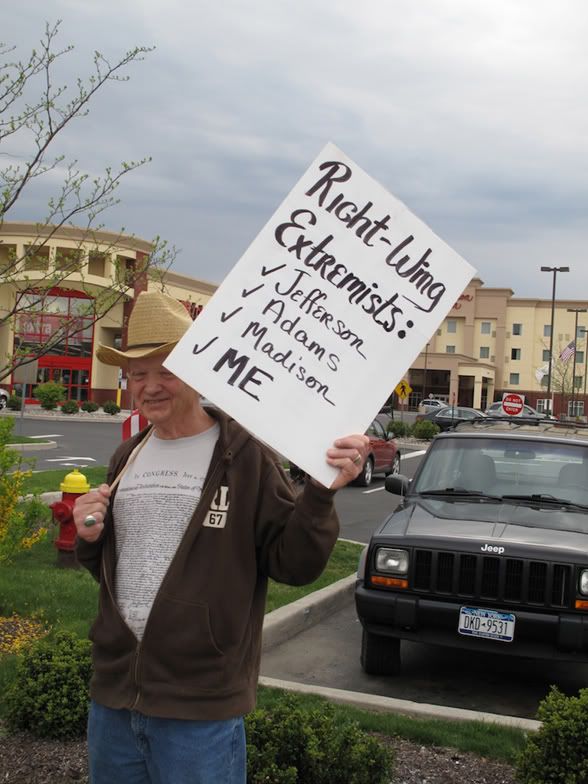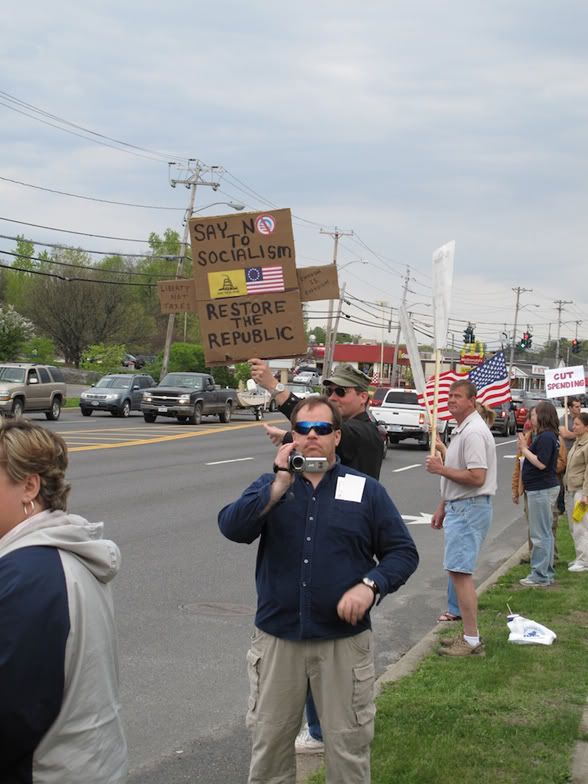 I found out the Coffee Party folks had arrived early and had set up a "Hate Free Zone", and actually had coffee!
Me and Vodou Chile
There were only 3 of them, with their two kids who looked grade school age.... but as we stood there, introduced ourselves and, and chatted with them a few more folks walked up, relieved to find a sea of sanity in the midst of a bedlam of reactionaries. Two young people from the area, a woman from Woodstock, another from Kingston and a woman who was wearing a teeshirt with Native American imagery. The woman from Kingston stated bluntly – "these people are upset because someone is in the White House who doesn't look like them". I agreed with her.
They signed up for the Coffee Party movement.
Vodou Chile went off to interview some of the protesters on video, which he's posted to You Tube.


He asked one of them, a middle aged white man in a trucker cap and an army tee-shirt "What exactly about the health care bill are you so up in arms about?" The guy replied "It is socialism!!! " Voudou asked "What about it is socialism? " The man couldn't come up with an answer. The guy then said "You guys are probably against banning gun ownership too." Vodou replied, Not at all- I'm trying to get a pistol license".
He later went over to talk to another guy who thought "the health care bill is unconstitutional. It is unfair that we are being forced to pay for health care", so Vodou pointed out that we have to have insurance when we drive a car, and asked him why that was okay and a health insurance mandate was not, and the guy said that "We are a nation of laws and some laws are okay and we have to follow them", then he walked away before Vodou could ask his final question, which would have been "if you are against having to pay for health care insurance would you then support a single payer system?" ... we won't know the answer, but I can guess it would have probably been no.
By this time it was about 6PM and the teapartiers were leaving. A young boy walked over to us and handed us fliers. He had a don't tread on me flag and a stack of CD's with titles like "Obama's Deception" ......" I politely declined his offer, and asked him how old he was. "12" he replied. I asked him if he had gotten his information from tv......."We don't watch tv." I asked him if he had gotten his information from school. " I don't go to school" he responded, proudly..."I'm home schooled".
He walked away, and the woman who had walked up to join us shook her head – "that's why we need public schools. He's out here with his sister, and she tried to tell me that 'I needed to accept Jesus as my personal savior'. I tried to explain to her that what was important about America was that we each had a right our own beliefs...but she didn't seem to want to hear it."
We exchanged phone numbers, signed the mailing list and Vodou promised he would send the photos to the Coffee Party folks, and we headed home.
Dusk had set in. Tax day in Kingston was now over. I wondered if any of the protesters even understood the history of Kingston, which used to be the capitol of NY till the British burned it to the ground during the Revolutionary War. Doubtful. They only seem to know what Fox news tells them. They would probably have sided with the British.