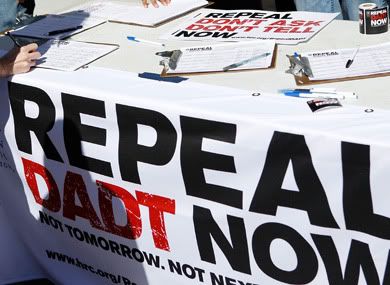 The Atlantic's Marc Ambinder attempted on Friday to paint a picture of activists opposing military's Don't Ask, Don't Tell policy as being overheated "conspiracy theorists" that were really just upset over nothing. The piece purports to weight the claims of don't ask don't tell activists against the plans of the administration (as relayed through Ambinder) to give "the inside story."
It is not a good piece of journalism, nor does it make any serious attempt to address the substantive concerns of don't ask, don't tell activists. Instead the piece cherry picks complaints and offers red herrings in an attempt to discredit and dismiss what are very reasonable concerns and objections to the direction the administration is heading. Ambinder fills space by giving unnecessary attention to minor sideshow issues, to distract from key facts that present reasonable cause for concern among repeal advocates.
Most disappointing was the credulous reception his piece received. Ana Marie Cox, a pundit I've grown to admire for her ability to see progressive issues in sharp focus, called it "smart." She's wrong, it is not smart.
I saw the article touted in this communityas some sort of definitive last word. I was glad to see many of the commenters recognized the folly of accepting Ambinder's claims and reporting at face value—as the diarist did—given Ambinder's history. To recap, Ambinder previously claimed, even faced with direct evidence to the contrary, that leftists were wrong to suggest George W. Bush would play politics with terror alerts. That column quickly prompted both Glenn Greenwald and Marcy Wheeler to unceremoniously eviscerate him. (See: "Fringe leftist losers: wrong even when they're right" and "Ambinder: Sorry I Was So Stupid, But I Was Right To Be Stupid.") I would have hoped a history as a Bush apologist and progressive scold would have earned his punditry a little skepticism, particularly from the left and in matters of authoritarian deference.
Aside from the author's history, there are serious problems with the piece itself. Within hours of posting, the piece was riddled with corrects, clarifications and walkbacks, calling into question Ambinder's actual expertise to speak to the subject. And if one is seeking to get a balanced picture of the story, it is as fair and balance as a Fox News segment. Engaging in lazy, rhetorical dismissal, Ambinder describes activists as conspiracy theorists no less than four times, which we all recognize as punditry short hand for "Koo-Koo."
Ambinder also picks and choose the facts he'd like to present, as most befitting his narrative. The bulk of the piece is devoted to sideshow attractions, such as the unusual incident in Lafayete Park,and dredging up some old history between LGBT community and White House Deputy Chief of Staff Jim Messina, while paying no attention to actual legislative and strategic concerns that activists having been working to draw Congress, the White House, the press and the public's attention to.
For example, Ambinder makes no mention of the previous day's revelationthat Aubrey Sarvis, Executive Director of the Servicemember's Legal Defense Network(SNLD) has been locked out of legislative repeal strategy meetings for over a year. SLDN is the oldest, most experienced and most credible LGBT lobbying group and legal authority on the military's DADT policy. From their website:
Founded in 1993, Servicemembers Legal Defense Network has become a widely regarded expert on the military's "Don't Ask, Don't Tell" ban on open service and other policies and issues impacting lesbian, gay, bisexual and transgender service members, including anti-gay harassment, issues impacting service members living with HIV/AIDS, regulations regarding transgender service personnel and policies and laws impacting same-sex military families. SLDN has answered more than 7,600 requests for assistance and effected more than three dozen changes in Pentagon policy.
The administration is certainly free to pick and choose who it wants to talk to. But one would hope they'd respect the LGBT veteran community's opinion of who best speaks on their behalf, and the consensus would surely be that it's SLDN. So it certainly doesn't make DADT activists conspiracy theory nuts to be concerned that SLDN is not in the loop. (Think of it as akin to reproductive choice legislation proceeding without input from NARAL.) One might be doubly concerned if one looked at the peculiar coincidence of the timingof when the group stopped receiving invitations to meetings.
Ambinder's use of DADT advocate Lt. Dan Choi as the voice of the movement is an egregious example of a shameful and intellectually dishonest tactic. Though self-appointed, Choi has emerged as a excellent spokesperson for the DADT activists. Though many may know him only for his headline-grabbing demonstrations, in truth, he's dedicated his time to real grassroots activism as well, touring the country, speaking at colleges and rallies and making media appearances. And he's proved himself a remarkably good spokesperson for the movement, speaking thoughtfully, passionately and at great depth, showing a firm grasp of the policies and politics involved. If Ambinder wanted to present Choi as speaking for the repeal movement, Dan is a good choice, and there's a wealth of material from which to draw. Sadly, Dan Choi's voice in the piece appears only in the form of one, perhaps ill-advised tweet he sent to Twitter.
If Ambinder is ever inclined to grant Choi more than 140 characters to make his case, I'd advise him to look at what Choi said in Newsweek interview:
We all know the political reality now. The only way for the repeal to go through is for the president to take leadership and put it in the Defense Authorization Bill. There's a sunset on this, and it's happening quickly.
This is the key point of contention, one that Choi has made many times in interviews and speeches and writings. Also one Ambinder does not address at all. This is the heart of what is driving LGBT and DADT activists fierce sense of urgency:
There's a sunset on this, and it's happening quickly.
Ambinder declares with certainty that:
Senate will vote on a repeal either in the rump session of Congress late in 2010 or early in 2011.
But DADT activists that are fired up—and I'm sure Dan Choi himself—recognize that this as a facile claim.
By that time frame, the legislative window for including it in the 2010 military spending budget will have closed. Folding it into the military budget (the same process the law was first enacted) makes it virtually impossible to filibuster. Neither Ambinder nor the administration has addressed, very real-world concerns about how,—absent millitary defense budget inclusion—the bill will be able to pass the Senate? Democrats are sure to lose seats in the midterms, making the vote harder. Passing it in "late 2010 or early 2011" (and it's a big difference between the two) seems unworkable. A stand alone bill in the Senate will be stopped by filibuster. Tasked with finding a supermajority, we are far more likely to lose conservative Democrats than we are to pick up "liberal" Republicans. There's confusion and speculation, but Sen. Scott Brown is on record as opposing repeal.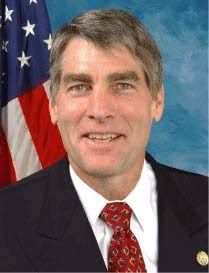 It isn't only the gay people who are concerned. Repeal bill sponsor Senator Mark Udall from Colorado, said just four days days ago:
The Pentagon is studying how to implement an end to "Don't Ask, Don't Tell," and while I agree that is a necessary step, I also believe strongly that we must repeal it this year. I will continue to work with other senators to ensure that the repeal is included in the Defense Authorization bill, which will be marked up in the Senate Armed Services Committee next month. But we still face an uphill battle, and we will need a bipartisan push to clinch this urgent effort.
This was always the plan, fold it into the Defense Authorization Spending bill. It was the plan that Barney Frank stated in November 2009, it was the plan that Mark Udall himself enunciated to this communityon March 3, 2010:
The plan is to include it in the Defense Authorization Bill. As a member of Armed Services Committee, I will play a major role in the first part of the process before the bill makes it to the Senate floor.
The White House is in disagreement with that plan. We activists do not hate the President. We worked for him. We donated to him. We voted for him. We merely disagree that the administration is charting a plan that will succeed, and are seeking to change his mind. This is even harder to do when your lobbying group isn't invited to talks. We agree with Lt. Choi and Senator Udall's assessment of the situation. Ambinder's piece, from it's divisive headline to it's focus on personalities not policy is just a smokescreen to obfuscate the message activists are trying to put into the public discourse about DADT: Put it in the next military budget in the next 30 days.
That can't happen with Ambinder's timeline of late 2010 or early 2011. And he, like so many others, totally ignores the legislative reality of what that means.
That window will close in the next 30 days. That is the driving force behind DADT repeal activism at this time. It is not that they are overheated, conspiracy theorists who are worrying about nothing. They are worried about the goal posts being moved and into terrain that is potentially very, very damaging for the chances of this repeal to become a reality in the near future. If the House is lost in November—not out of the realm of possibility—repeal will be off the table for years. There is no good reason for delaying what everyone agrees is inevitable.
Activists have placed a perfectly reasonable offer on the table: vote in 2010 for repeal, with a delayed implementation until after the Pentagon study is complete in December. The law can be sunset for sometime in 2011, accommodating White House and Pentagon wishes to wait for the results of the repeal implementation study. The major LGBT lobbying groups including Human Rights Campaign,Servicemembers Unitedand the Servicemembers Legal Defense Networkhave indicated they are amendable to such a compromise. And my sense is, the grassroots will be too.
CALL TO ACTION: Our task is to convince the Senate to assert themselves and work independently. Repeal is in their hands alone. Activists have identified six key members of the Senate Armed Services Committee we'll have to lean on extra hard to make repeal happen in 2010: Bill Nelson, Ben Nelson, Evan Bayh, Jim Webb, Robert Byrd and Scott Brown, their contact information is below.The only pragmatic strategy for repeal this year is for the Senate Armed Services Committee (listed below) to attach it to the military spending budget.

Technically, yes, Congress can do whatever it wants. But only if 15 members of the Senate Armed Services Committee agree to let them. The fate of DADT repeal in 2010 lays in the Senate Armed Services Committee.